Alberty Leads PBR BlueDEF Tour After Round 1 in Bangor
By: Devin Vaughn
March 12, 2016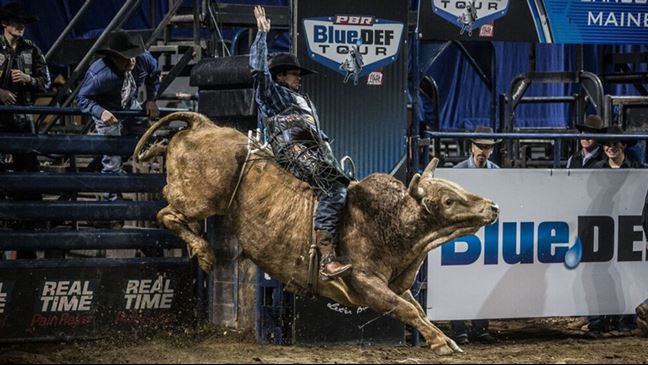 BANGOR, Maine – Kade Alberty won the first round of the Professional Bull Riders BlueDEF Tour event in Bangor, Maine, in front of a sold out crowd of more than 4,600 inside the Cross Insurance Center.
Alberty earned the win after riding Pete (Mike Miller Bucking Bulls) for 87.5 points.
In second place was Cody Rodeo Tyler with 86 points on Magic Mike (Triple R Bull Co). Reese Cates, Colt Galven, and Robson Aragao tied for third place with scores of 84.5 points each.
Uptown Funk (J Bar W Ranch) was the high-marked bull of Round 1, earning a score of 44 points with a 2.42 second buckoff of Fabian Marcelo Dueck. 
The action returns to Cross Insurance Center on Saturday night. The action will start at 7 p.m. ET.
Bangor is the 14th event of the 2016 BlueDEF Tour. The season will culminate with the 2016 BlueDEF Finals taking place Oct. 29-31 at South Point Arena in Las Vegas. The 2016 BlueDEF Champion will be the rider who earns the most world points throughout the 2016 BDT season, including the BlueDEF Finals. The top rider will receive $50,000 and qualify to compete at the $2.3 million PBR Built Ford Tough World Finals.
Professional Bull Riders BlueDEF Tour Event Results:
Mar. 11 – Bangor, ME
Round 1 (Round 1-Round 2-Total Ride Score-Earnings)
1. Kade Alberty, 87.5-$800
2. Cody Rodeo Tyler, 86.0-$600
3. Reese Cates, 84.5-$200
Colt Galven, 84.5-$200
Robson Aragao, 84.5-$200
© 2016 PBR Inc. All rights reserved.