Watson an Integral Part of PBR family
By: Justin Felisko
December 06, 2018
The small folding table that is normally outside of the locker room at a 25thPBR: Unleash The Beast event is only a few feet wide, but it is a common location of budding activity on a weekly basis.
On the table is an Apple MacBook Pro laptop that is a time machine to 23 of the PBR's 25-year history.
The key holder to the PBR visual encyclopedia is Bull Stock Media's Andy Watson.
The PBR's veteran photographer is usually perched on the table with one foot on the ground and his camera beside him, but he isn't focused on snapping any additional photos at the table.
Instead, he is helping riders find pictures of themselves that will be forever treasures of a career that will one day come to a close.
It is here at his table where the 46-year-old has had some of his greatest joys during his 23 years of photographing the PBR.
Yes, Watson's images have been blown up and posted on billboards all across New York City, including the World's Most Famous Arena – Madison Square Garden.
Yes, his photos have appeared on the side of the MGM Grand Hotel & Casino in Las Vegas and up and down The Strip.
And yes, Watson's stunning, electric and even sometimes terrifying photos of man vs. beast have reached billions of people all over the world on social media and billions more in magazines, newspapers, websites, posters, billboards, ticket stubs, movie covers, calendars and much more.
It has been a remarkable career to say the least for a self-taught Montana photographer from the scenic area between Grand Teton National Park and Bozeman.
Many photographers would die for the kind of career and reach of Watson's.
However, for as grateful, humbled and proud of how far he has come since first experimenting with a camera he received from his parents as a high school graduation gift, it is this small folding table where Watson has stayed true to his roots.
Twenty-eight years into his career and Watson still cherishes the moment when a bull rider looks through each frame of his 8-second bull ride.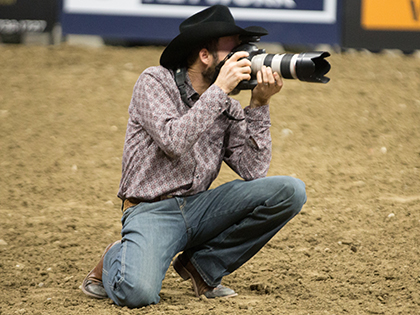 "I love seeing pictures on billboards and pictures on the side of the MGM, Madison Square Garden and all over New York, but it is all of those guys," Watson said. "It makes me proud that when they go back in 20, 30, 40 years, and they will show their grandkids their bull riding career, that they will have Andy Watson signatures on every single one of them photos.
"It is cool to know I captured that super important part of their career, their history and their legacy. That is probably one of the things that brings me the most joy out of what I do."
The transaction between photographer and rodeo athlete is engrained in Watson.
He attended Casper College in Wyoming and was a member of the rodeo team from 1990 until spring 1992.
The bareback rider began to take a few photography classes and later applied for a part-time job on with Donna Davis in the college's photo lab.
Davis, who became Watson's first mentor, eventually let Watson use some free film and paper and said, 'Go shoot stuff.'
Therefore, Watson went to where he felt most comfortable – the rodeo arena.
It wasn't before long that Watson was beginning his tradition of setting up a folding table and selling pictures, then at college rodeos for $5 a pop.
"This photography thing sure seemed a lot easier than rodeoing," Watson thought to himself.
"Over the next couple of years it didn't take very long to realize I could buy a lot more beer with photography money then I could buy with rodeo winnings," Watson, chuckling, said. "I still loved to ride, but I just shifted strictly to rodeo photography instead of trying to ride."
By the time the spring came in 1992, Watson was hauling a camera case up and down the road and leaving his riggin' bag in the dust.
Becoming a rodeo photographer did much more than lead to a couple six packs of Keystone Light beer. It led to him meeting his future wife, Jacey, who was then a barrel racer, and a lucrative career with endless memories.
Watson "never" expected to meet his wife through photography.
"As soon as we started dating, she went back through all my proofs and made me print her a bunch of photos. I gave her a discount," Watson said.
He then laughed.
"Looking back on it, I should have charged her double."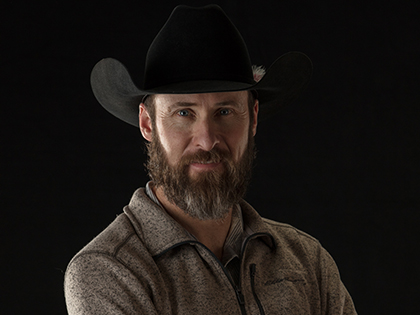 Jacey has long been Andy's biggest partner and supporter.
She is the master behind the scenes, managing the Bull Stock Media database, uploading photos, creating meta tags, sending live photos for PBR social media platforms and handling contracts and much more.
"Without her, I couldn't do a fraction of what I do now," Watson said.
One of Watson's teammates on the Casper College rodeo team was PRCA photographer Dan Hubbell's daughter.
Hubbell would help get Watson on his way to long and successful career.
Watson was taking photographs within two years at the National Finals Rodeo.
He would shoot his first PBR event in Billings, Montana, in 1996, and his first World Finals a year later.
Watson officially joined the PBR full time in 2001.
It was only a few weeks before the PBR Global Cup in Sydney, Australia, that RidePass commentator and three-time PBR World Champion Adriano Moraes was looking through some of his photo albums.
Watson believes Moraes is one of the riders who has purchased the most photos.
"I have no idea, but I have a bunch," Moraes said. "I have four or five albums. Hundreds of photos. I have pretty much one picture of almost every single ride I made. For us older guys, we like paper photos. We don't like those phone photos. It is a piece of a living moment. It is solid. You can touch it. It is a better reminder of that particular moment."
Moraes was inducted into the PBR Ring of Honor in 2009. He holds Watson's importance to the PBR alongside many of the legends that have helped the PBR grow into a worldwide organization.
"He is a part of the PBR," Moraes said. "We cannot see PBR without Andy. He is a part of it. He is as much a part of it as the riders themselves, but maybe even more than that. Riders come and go. Andy has been here 23 years. He sees it all. Good times. Bad times. Good rides. Bad rides. Good bulls. Bad bulls.
"He has seen it all. He is a history book."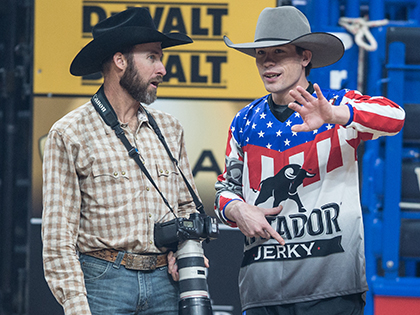 Fellow Montana native Matt Triplett has a Watson picture hanging on his stairwell of his 87.25-point ride on 2018 Brand of Honor recipient Pearl Harbor.
"To be able to live every moment that you have done something great is what it is all about," Triplett said. "You get to go and look through your folder of photos when you retire. You have somebody in the business for however many years he has been in it that has taken phenomenal photos."
Through the years, Watson has become more than a photographer too.
He has become a mentor and personal friend to many of the athletes.
"It is a guy that if you needed help, he would go out of his way to help you," Triplett added. "He is a down to earth good guy."
Stetson Lawrence and Watson have become good friends in the last five years. He said Watson's personal connection to the riders and sport only adds to his value as a photographer.
"It is great that he has been around for 23 years. You can always go back and look at history. He takes great pictures for one, but I Iike him as a personal guy too. We would go hang out and have a couple of drinks back when I drank. He is just a good guy to hang out with."
Taking photos has brought Watson together with the cowboys he shoots, but his photos bring generations of fans together.
The conversations he has at that small table are only the beginning of further conversations between riders and their families, friends and fans.
"Who doesn't like photography?" Watson concluded. "Photography does bring people together. People do show those images thousands or millions of times. It is a talking point and something everybody can relate to.
"It is a huge part of our society."
© 2018 PBR Inc. All rights reserved.