Another Talley in the Win Column in Dodge City
by Justin Shaw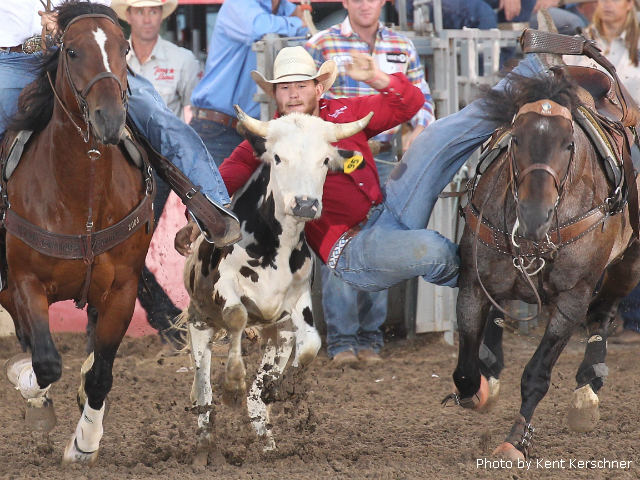 DODGE CITY, Kan. – Jacob Talley's 2016 season has officially gone from a dream to a reality.
The 25-year-old steer wrestler from Keatchie, La., won the 40th annual Dodge City Roundup Rodeo Sunday night, continuing his career-best year.
He clocked a time of 4.2 seconds to win the short round, and took the average title with a time of 13.6 seconds on three head.
"I knew I had a good steer drawn – they had been 3.8 and 4.4 on him this week – so I just had to score well," Talley said of his run in the short go. "He did exactly what I thought he would do, and he was outstanding on the ground."
Talley's emergence into the top 10 of the WEATHER GUARD® PRCA World Standings has been rapid. He picked up big wins earlier this season in Clovis, Calif., and Pleasant Grove, Utah, and hasn't lost any steam.
He entered the weekend ninth in the world, but with the $6,237 he earned in Dodge City, along with a few thousand dollars banked in Idaho Falls, Idaho, and Heber City, Utah, Talley is going to make a run at the top five.
"It doesn't feel real to be having this kind of season, and it won't sink in until the regular season is over and I'm in the top 15," Talley said.
His goal when the season started was to qualify for the Wrangler National Finals Rodeo presented by Polaris RANGER. He had earned a combined total of $70,613 during his first five seasons in the PRCA, and could very well eclipse that amount by the end of the 2016 regular season.
"I've been trying to stay consistent since Clovis (in April), and I've been blessed to have success at these big rodeos," Talley said. "I try not to think about the NFR, because I don't want to mess up. I clear my mind when I'm in the box – but it's hard not to think about it."
Talley, who played football in high school and ran his first steer only five years ago, has been a fast learner. He's the youngest in a rig which includes Nick Guy, Kyle Whitaker and Cody Kroul, and has soaked up everything they've taught him.
"We've been practicing down in Louisiana with Tom Karney, and have a bunch of great horses in our rig," Talley said. "I just needed to fine-tune the little stuff, and that's made all the difference. I've worked on getting a better head catch; getting them square instead of going in sideways. That's made everything a lot easier."
Now that Talley is not only looking good to make it to Las Vegas in December, but be in the gold buckle hunt, he's changed his mindset.
"It changes from getting there to winning it all," he said. "I'm not going just to go; I want to walk away with the world title."
Other winners at the $326,543 rodeo were all-around cowboy Cody Doescher ($6,457 in steer wrestling and team roping), bareback rider Tim O'Connell (165 points on two head), team ropers Clay Smith and Paul Eaves (17.3 seconds on three head), saddle bronc rider Chet Johnson (172 points on two head), tie-down roper Clint Nyegaard (26.6 seconds on three head), barrel racer Tamara Reinhardt (51.33 seconds on three runs), steer roper Chet Herren (35.4 seconds on three head) and bull rider Scottie Knapp (91 points on one head).
For more coverage of the Dodge City Roundup Rodeo, check out the Aug. 26 issue of the ProRodeo Sports News.
Courtesy of PRCA