Askey has Good Time at WCC Pasadena Event
by Tracy Renck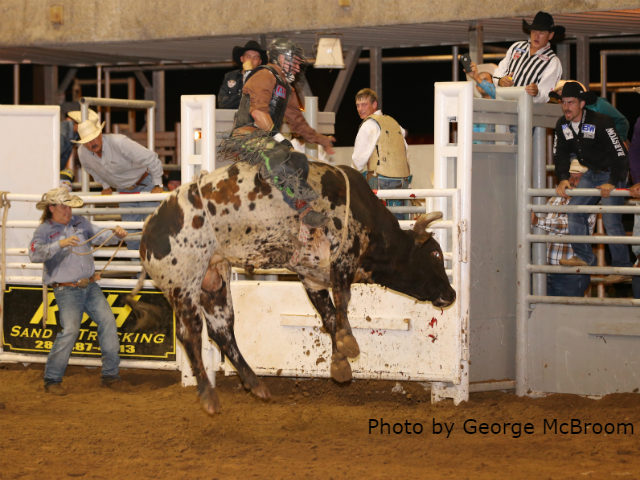 PASADENA, Texas – A year ago, bull rider Jeff Askey experienced the agony of defeat.
Askey just missed going to his inaugural Wrangler National Finals Rodeo presented by Polaris RANGER by $206 as he came in 16th place in the regular season standings.
That frustration has been all but forgotten by Askey this season. He came back stronger than ever as he was fourth in the Sept. 19 WEATHER GUARD® PRCA World Standings with $102,894.
"It has definitely been a different year," Askey said. "I think I've had a carefree attitude this year. I don't really get upset over the losses and I don't get caught up in my wins. I just stay level with the highs and lows and keep doing my job."
Askey was in top form Sept. 23 at the Wrangler Champions Challenge presented by Justin Boots.
Askey, competing for Team Las Vegas, had an 84.5-point ride on Frontier Rodeo's Good Time Charlie to claim the victory at Ross Kelly Arena.
"I've seen that bull around a lot, he's kind of an older bull and I had been on him one other time and he threw me off," Askey said. "He's a big, long-bodied bull and he usually steps ahead a little bit around the left, but (Friday) he came out back to the right into my hand and stepped ahead a little bit and was moving forward and I was able to keep going to the front to make the bull ride."
This was the final WCC event of the 2016 season. Experience Kissimmee won the team standings with $108,735. As for Askey this was his second WCC career win and second this season. He also was tops at the WCC event June 11 in Kissimmee, Fla.
"This feels really good," said Askey, 28. "It's getting close to the end of the year, and it's nice to get a check like this ($5,304) in the last week (of the PRCA regular season which concludes Sept. 30). I like these events, they've been pretty good to me. You never really know what's going to happen in the bull riding, sometimes they ride them all and sometimes they don't ride very many. I waited it out and won."
Now, Askey is looking forward to the Wrangler NFR Dec. 1-10 in Las Vegas.
"I'm going to have fun and it's definitely going to be an enjoyable experience," Askey said. "The mission is to win the gold buckle."
Other winners at the $124,800 rodeo were bareback rider Jake Vold of Team PRCA (86 points on Frontier Rodeo's Delta Ship),steer wrestler Dakota Eldridge of Team B&W trailer Hitches (3.8 seconds), team ropers Clay Smith/Paul Eaves of Team Justin Boots (4.9 seconds), saddle bronc rider CoBurn Bradshaw of Team PRCA (87 points on New Frontier Rodeo's Miss Ellie points), tie-down roper Cory Solomon of Team ProRodeo Gear (8.2 seconds) , barrel racer Ivy Conrado of Team Wrangler (15.86 seconds) and bull rider Jeff Askey of Team Las Vegas (84.5 points on Frontier Rodeo's Good Time Charlie).
For more coverage of the Wrangler Champions Challenge presented by Justin Boots in Pasadena, check out the Oct. 7 issue of the ProRodeo Sports News.
Courtesy of PRCA