Aus-ome Effort Captures First Austin Title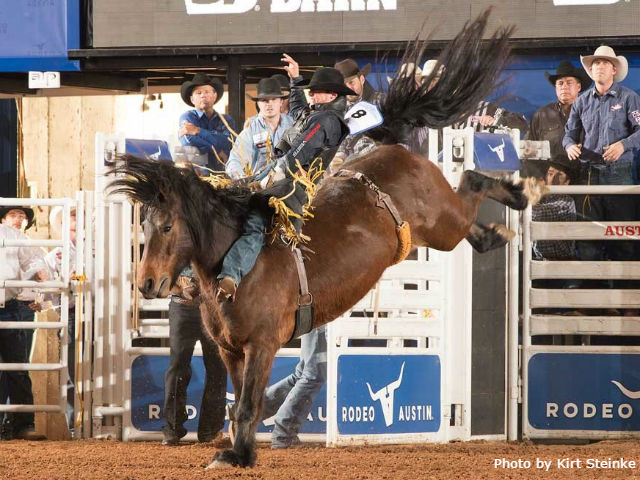 AUSTIN, Texas – Tanner Aus had come painfully close to his first Rodeo Austin win a few years back. On Saturday night, he made sure that he'd be collecting the coveted branding iron that goes to each champion.
The 26-year-old bareback rider scored the win in the final round with an 89-point trip on Beutler & Son Rodeo's Hollywood Hills. He earned $9,400 for that ride, as well as the branding iron, which he was most excited about.
"One year, they told me I had split the win and they had me in the arena with the branding iron, but it turned out I was a point off the win," Aus said with a smile. "That makes this win even sweeter, because I think about this rodeo all the time.
"This is the cap to the winter season, and Austin is a rodeo that has always seemed to treat me well. I've been second here twice, and to finally come out of here with a 'W' is great. I got my hands on one of those branding irons, and that's awesome."
Aus also won the first round with an 86.5-point ride on Beutler & Son Rodeo's What Happens, which brought his total winnings in Austin to $12,562.
He admitted the large payday for winning Austin was in the back of his mind.
"When you're focused on the task at hand, you don't really think about the money as much, but you know it's there," he said.
Aus was third in the WEATHER GUARD® PRCA World Standings entering the weekend, and should move somewhere close to the top.
"I haven't been paying much attention to the standings, because it's always a grind this time of year," he said. "We get on a lot of horses down here in Texas during the winter, and I'm very thankful for the position I'm currently in.
"I drew really well – I got on three Beutler horses. I just snuck into the finals in the eighth and last spot. But I knew I had drawn a horse that would test me and that was good enough to win the short round on."
The Granite Falls, Minn., native has been to the Wrangler National Finals Rodeo presented by Polaris RANGER the past two years, finishing sixth and fifth in the world in 2015 and 2016.
He's been on quite a hot streak the past several months, which included winning three rounds at the 2016 WNFR.
"It's been a blessing, and I'm very thankful," Aus said. "It's mostly attributed to the time I'm not rodeoing – when I'm at home and in the gym. There's a lot of stuff that goes on behind the scenes that people don't see that leads to being successful in the arena."
Other winners at the $516,154 rodeo were steer wrestler Tommy Cook (3.9 seconds), team ropers Garrett Rogers/Jake Minor (4.0 seconds), saddle bronc rider Zeke Thurston (89 points on Andrews Rodeo's Fire Lane), tie-down roper Marty Yates (8.5 seconds), barrel racer Tammy Fischer (15.41 seconds) and bull rider Tyler Taylor (there were no qualified rides in the finals, and Taylor won by having the best two-head score of any cowboy).
For more coverage of Rodeo Austin, check out the April 14 issue of the ProRodeo Sports News.
Courtesy of PRCA