Avi River Stampede & Xtreme Bull Riding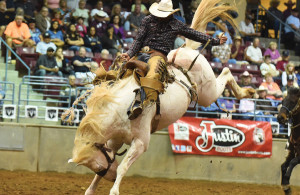 Rodeo is all about that point of no return. All the practice, preparation and perspiration comes down to that last wrap of the bull rope, pulling down the Stetson, giving that nod before the cowboy and his animal explode out of the chute and into the arena for those precious few seconds when anything can happen.
All that matters is this moment, this ride, this trip about the barrels, or the unspoken connection between a roper and his horse when precision teamwork is the difference between a paycheck and going back to the barn empty-handed.
Rodeo is about man battling beast and man and beast finding balance and the arena is where it all comes down to a test of wills and courage. The sport is all that's left of the "wild west," where traditions are continued in the form of both friendly and serious competition.
Rodeo has been apart of the River Cities area for years, and a perfect fit for the open desert like that found in our area of the Mohave. But in March, other elements in the mix could be rain and our ever-present wind, which usually happens any time outdoor events are planned. It almost never fails—from craft fairs to chili cook-offs, the wind always seems to enjoy reeking havoc on vendors and cooks.
And that is why the Fort Mojave Indian Tribe built the area's biggest indoor arena more than a decade ago. They like to stage rodeos and equestrian events as well as their annual Pow Wow, so they took on the expense of building the Mojave Crossing Event Center on their land just across the Colorado River from the Avi Resort & Casino.
That event center gets full use on Fri-Sun, March 10-12, when it plays home to both the Avi River Stampede PRCA Rodeo and Xtreme Bull Riding.
The Avi River Stampede is a Professional Rodeo Cowboys Association (PRCA) sanctioned event with its traditional full complement of rodeo action. It takes place on Fri, March 10 (7:30 p.m. AZ/6:30 p.m. NV); Sat, March 11 (2 p.m. AZ/1 p.m. NV), and Sun, March 12 (time change on Sun so rodeo action at 2 p.m. both AZ/NV). Gates open 90 minutes before each event.
The Xtreme Bulls event is also sanctioned by the PRCA and takes place on Sat, March 12 only (7:30 p.m. AZ/6:30 p.m. NV). Gates open 90 minutes before the event.
Tickets…
Ticket prices for the rodeo and Xtreme Bulls are sold as separate events. They are $25 for Gold Buckle seats (near the chutes); $15 for reserved seats; $10 for general admission; $5 for ages 10 years and under occupying a seat (in any section except Gold Buckle).
Tickets for either the rodeo or the bull event can be purchased by calling 1-866-495-0061; by visiting avicasino.com; or ticketfly.com. Tickets will also be sold at the Mojave Crossing Event Center on event days beginning 90 minutes before show times.
Xtreme Bulls ..a two-fer event…
Combining both the PRCA rodeo and Xtreme bulls events has proven to be a smart move for contestants and fans.
"Fans like it because it's bull riding and rodeo," said Jerry Honeycutt, producer and the main stock contractor of the events at the Avi. "They're mostly the same fans but there's a break-over part where there's a difference, so I think it helps both. Some of the rodeo fans come to the bull riding and some of the bull-riding fans come to the rodeo.
"I've got to give kudos to the Fort Mojave Indian Tribe and the Avi for this one," said Honeycutt. "The credit goes to them for stepping up to the plate. Our goal has been to get the rodeo back to the way it was up the river years ago. It's tough for one casino and the tribe to do it, but they've given it a go.
"Last year, the arena was packed for the bull riding by itself. We're now one of the biggest bull riding events in the country with $30,000 in added money at the Xtreme Bulls event. We've filled up in all our events with contestants. In fact, I had to limit it and turn people away. We have so many competitors this year, so it's grown by leaps and bounds."
The Honeycutt family has been bringing rodeo to these parts for more than 25 years, and this year Roy and Virginia Honeycutt, the husband and wife team at the helm of the whole clan, will be making an appearance.
"They're doing well and praise the Lord, they're coming to the events this year, I think," Jerry said. "We're excited about that. I miss 'em when they're not here, but they're doing their thing. They've both had health issues, but overall they're doing good. Dad's gonna get someone to do his chores so he and my mom can come this year."
Helping with that draw is a prize purse that swells to $130,000 and the sanctioning body, the PRCA. This includes inclusion of contestants, mainly from three circuits—the Wilderness (Nevada), Turquoise (Arizona and New Mexico) and California. This means when a contestant wins money at this rodeo and he belongs to one of the three circuits, his or her earnings count toward their circuit standings. Most rodeos are approved only for the circuit or state in which the rodeo is held but because this is a tri-state area, it helps the cowboys and the fans.
"Our best draw of contestants come from California, the Wilderness and Turquoise Circuits, but everybody's coming from all over this time," Honeycutt said. "There's a lot of guys coming from Texas—from all over the United States.
"This is a record-breaking contestant list this year—not only in numbers but talent," Honeycutt said. "Just the talent behind the cowboys and cowgirls that are coming we're offering a double whammy. This is one of the biggest Xtreme Bull Riding events around. There are only a couple bull riding events that offer more money than here—and here they've added $30,000.
"My hat is off to all those guys at the tribe for the amount of money they've put into this, to make this rodeo happen," he added. "That's pretty awesome."
"Something that's new this year, the event is gonna be broadcast on satellite radio's Rural Radio channel 147. Steve Kenyon has a show on there and he does a lot of rodeos throughout the year, including the NFR and a lot of people listen to him—a lot of us driving down the road love to listen to Rural Rodeo."
The riders…
For the above reasons, more than 430 cowboys and cowgirls are headed to the Avi River Stampede. That list includes over 63 National Finals Rodeo qualifiers and world champions. World champion bull riders include Sage Kimsey, who has won the world title three times; Saddle Bronc Riding World Champs Jesse Wright and Jesse Cruse and five-time Steer Wrestling World Champ Luke Branquinho. More than 40 percent of the Xtreme Classic Bull riders are NFR qualifiers.
"Sage is gonna be there and he's a world champion," Honeycutt said. "He just won $433,000 at the American, so he's on fire as far as winning money. He can ride the hair off a red-eyed lion—let me tell you, he's a good bull rider.
"But there are so many good guys that are gonna be there," he added. "I will tell you about one up-and-coming guy, his name is Lon Danley, watch out for him one of these years. He's from New Mexico and not only does he have talent, but he's a good guy. So when you can get the combination of both, that's exciting."
The ridden…
In rodeo, it takes two to tango. The cowboys are famous and have a following. But so too, do some of the four legged competitors. The scoring in the popular events of saddle bronc, bareback bronc and bull riding give the animal a score for their performance as well as a score for the rider. So good stock make for a good rodeo.
"Because we have so many competitors coming from all over the Southwest, I have to get some subcontractors bringing bulls and horses from four western states," explained Honeycutt. "I got a couple new ones this year. Of course, I'm using Bar T out of Utah, owned by Jeff and Cody Flitton—they're coming again. I'm using Championship Pro Rodeo again. They're out of Texas and they're gonna bring bulls and horses. This year I'm also using Western Rodeo and using Summit Rodeo stock.
"We've been working on our breeding program," Honeycutt said. "Before my dad retired, he bought a stud colt out of World Champion Grated Coconut, who was also the Bucking Horse of the Year like six times at the Calgary Stampede. We named the stud colt, Colorado Coconut, and he looks just like his dad. We started our breeding program with him and just finally a couple years ago we started bucking colts out of him that come on like gangbusters. I'm bringing some of his sons and daughters who are really bucking great, Omaha and Hillbilly Hush. I'm also bringing Soul Saver and one named after September 11 called Never Forget. That's a handful right there.
According to Honeycutt there will be a lot of NFR bulls at the Avi event as well, including Pair-A-Dice and Red Sky.
"We have a great bull herd coming," he added. "It's probably the best herd of bulls we've ever owned. They're phenomenal—Bragging Rights is one of the bulls people need to watch out or and Crop Hopper is another one. Red Sky is one we took to the NFR, along with Pair-A-Dice. He won us a buckle at the NFR so that's exciting. Smokin' Hot is an awesome bull. Riders are gonna earn a lot of points on him."
Others…
The specialty act this year is trick roper and rider Rider Keisner.
"I don't know if you remember him, but he's been there one other time. He's got more talent in his little finger than I've got in my whole body," Honeycutt said. "This boy can rope, he does whips, spins guns and entertains the people. He's been to the NFR and performed there.
"I see so many guys in the rodeo business, so many specialty acts and most of the time, I just go get something to drink or take a break, but when Rider performs, to this day, I still watch him cause he's so talented.
"He puts a little bottle cap on the top of his head and the end of the whip comes around and hits this little bottle cap. That's just amazing. He has bullwhips that he catches while they're on fire and then does other stuff with them."
Keisner is also the barrel man for the bull riding events.
"Not only is Rider the specialty act, he's the barrel man now, too," Honeycutt said. "I gotta pay him a lot of money, but we keep him busy.
Announcers this year will be Bob Edmonds, who has been a PRCA card-carrying member since 2006 and Steve Kenyon from Rural Radio, who will be announcing the rodeo in conjunction with Edmonds.
"Steve is going to announce the bull riding for his radio broadcast, so Bob will announce the bull riding event for the spectators in the crowd by himself," he added.
Bullfighters will be Dusty Duba, Joe Butler, and Kris Furr.
Rodeo royalty will include rodeo queens from various spots, across the southwest.
Cowboy Church…
Keeping with a Honeycutt produced rodeo tradition, the public is invited to attend Cowboy Church held in the Mojave Crossing Event Center on Sun, March 12 (10 a.m.—both sides of the river are on the same time starting Sunday). The service is free and open to the general public.
The event center will empty before the gates reopen at 12:30 p.m. for the Sunday rodeo performance at 2 p.m.
AVI RIVER STAMPEDE & XTREME BULL RIDING
Mojave Crossing Event Center
Friday-Sunday, March 10-12. Rodeo on Fri (7:30 p.m. AZ; 6:30 p.m. NV), Sat (2 p.m. AZ; 1 p.m. NV), Sun 2 p.m. AZ & NV) Xtreme Bull Riding on Sat (7:30 p.m. AZ; 6:30 p.m. NV). Tickets from $5-$25 for each performance