Baggage Doesn't Slow Injured Larsen Down
by ProRodeo.com | Dec 08, 2016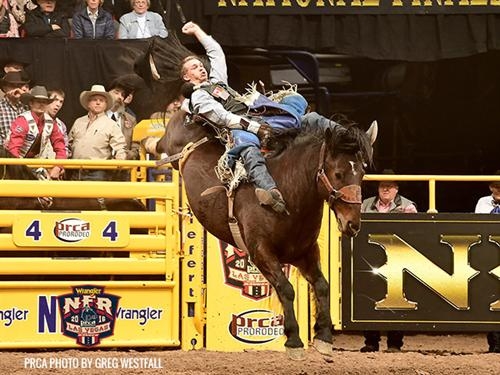 LAS VEGAS – Orin Larsen celebrated Canada Night in style.
The Inglis, Manitoba, bareback rider won Round 8 of the Wrangler National Finals Rodeo presented by Polaris RANGER with an 87.5-point trip on Frontier Rodeo's Full Baggage, earning a much-needed $26,231.
Larsen badly separated his ribs on the third jump of the first round of this WNFR. He's been receiving daily treatment and riding through a lot of pain. It was all worth it Thursday night.
"I don't have a choice," Larsen said of gritting his teeth and gutting it out. "I've worked my whole career to be tough enough to never say 'uncle,' and I've made it this far. So I'm not quitting and will ride through the 10th round. The gold buckle isn't in my picture this year, but I want to leave my mark. Winning tonight really made the last seven nights a lot better."
It was his first ride aboard the acclaimed horse, and the win came on Canada Night, which made it all the sweeter for Larsen.
"I've wanted to do better in the early rounds at both of the NFRs I've been to, but to win on Canada Night is icing on the cake," he said. "I've always wanted to have Full Baggage, and there's no better place to draw him than here in Vegas. It was like a boxing match, and luckily I came out on top. I've been waiting since I was 8 years old to win a go-round buckle here, so it'll be emotional to get it tonight."
The bareback riding world title chase seems like it's just about concluded, as Tim O'Connell has a $104,000 lead over the field with two nights left, and also leads the average.
If O'Connell holds a world standings lead of more than $93,500 after Round 9, he will clinch the world title.
Clayton Hass is trying to run down his friend and traveling partner Tyler Waguespack, as both men are chasing their first gold steer wrestling buckle.
Hass put more pressure on his buddy in Round 7, winning with a time of 4.1 seconds and moving to within $30,000 of Waguespack, who's currently the leader in the world standings and the WNFR average.
"I knew the round was pretty soft, and I needed to go make a business run and try and make all the money I could," Hass said. "I didn't want to push the barrier too hard, and wanted to be professional about it."
Both Hass and Waguespack are riding Cadillac, the 2016 PRCA/AQHA Steer Wrestling Horse of the Year. It appears the world title may be won on the impressive horse, either way.
In addition to chasing a world bulldogging title, Hass is also right in the thick of the all-around gold buckle race. He currently only trails Dustin Bird by about $20,000, and has a good chance at the all-round with two more solid runs.
"These guys are battling it out just like I am, and they are trying to win first every time they nod their head," Hass said. "I have to go first before the guys I'm chasing, and they will know what I do, so if I put pressure on them, that may make them press a little bit. If not, I will just have to see how the cookie crumbles come Saturday night."
Dustin Bird and Russell Cardoza are in the same position as Hass – they won Round 8, and are second in the world, trying to catch Luke Brown and Jake Long, who lead the world standings and the WNFR average.
Bird and Cardoza stopped the clock with the fastest team roping time of the 2016 WNFR, a blistering 3.7-second run. They both trail Brown and Long by less than $15,000, making the team roping race tight as can be coming down to the wire.
"We knew he was a good steer, and that if we did our jobs we'd have a chance to win the round," Bird said. "I had to let him out a little. I must have been a little close to the barrier, but I got out."
For Cardoza, winning the round was a bit of redemption for what happened in Round 7.
"Last night I roped a leg – I got in a hurry, and wasn't in good position," Cardoza said. "We won a check, but we could have won the round. Sometimes when I rope a leg, I get mad at myself. Then I come out next time and try to focus as much as I can."
Bird and Cardoza are 1-2 in the world all-around standings, yet Bird has $10,000 more won than his partner, making it impossible for Cardoza to win the all-around title. He's still a team-first guy, and wants to help Bird win two gold buckles.
"I'd love to win the all-around title, but I'd rather win the team roping because then Dustin will win the all-around," Cardoza said. "The team roping gold buckle is the goal."
Cody Wright isn't going to capture his third gold buckle at this WNFR, but in Round 8 he showed the talent that grabbed those titles.
The 39-year-old won Round 8 with an 88-point ride on Powder River Rodeo's Lipstick N Whiskey, the same horse his son Ryder won Round 3 on.
"I've had her before in Plains, Montana, and she is an outstanding horse and has been for five or six years," Wright said. "I was excited to have her. She jumped and kicked with Ryder, and was just what a guy wanted. I thought if a guy had a shorter rein he could ride better, so it was an advantage to see her before (I rode her)."
Wright has now won 15 rounds in 12 years at the WNFR, but had never won Round 8, until Thursday night. He's now won every round at the WNFR, except for Rounds 1 and 5.
"It's pretty awesome to have the best ride, any time," Wright said. "We are against the Top 15 guys in the world, and heck, it seems like a big accomplishment to beat those guys. Rusty, Ryder, Jake and Jesse, they are going for first and don't care if the guy ahead of them was a 90 or a 50. They will try to beat it."
Jacobs Crawley is closing in on his second straight world saddle bronc riding title, leading the entire field by nearly $52,000 with two nights left. Crawley is also third in the average.
Shane Hanchey, the 2013 world champion tie-down roper, did his grandmother proud in Round 8.
Earlier in the day, Irene Hanchey passed away. Although he didn't know it at the time, her grandson honored her by winning Thursday night with a time of 6.8 seconds.
"My brother (Jason) helps me every night, and after I got done with my run for some reason he was teared up," Hanchey said. "He let me know my grandma passed away today. She broke her hip (Wednesday), they operated on her today and they ended up losing her on the table. She had a heart attack. It happened earlier today, and they didn't want to tell me until I roped. Jason was crying and told me that the reason I won was all her up there. That's pretty crazy."
Hanchey hasn't had an ideal WNFR, as he's only earned three checks – including a Round-1 win. He won't be collecting a gold or WNFR average buckle, but is fighting until the very end.
"I knew I had a calf that I could take a rip at the barrier, and if things worked out I could be fast," he said. "After Matt Shiozawa (he was 7.1 seconds) went, I thought that was about the best run I've seen in awhile. It's just hard to comprehend that I won."
The tie-down roping world title race is still wide open with two rounds remaining. Brazilian Marcos Costa leads the world, but is fifth in the WNFR average.
Tyson Durfey and Hunter Herrin are the two men with the best shot at catching Costa.
Only two bull riders survived the Round-8 pen – Tyler Smith and Brennon Eldred.
Smith took the victory lap with an 89-point ride on Wayne Vold Rodeo's Cooper's Comet – the same bull Roscoe Jarboe won Round 2 on.
"I got to see video of what he did with Roscoe, and if you weren't expecting him to reverse it (his spin), he'd get you," Smith said. "But I was expecting it, and sure enough he did. It helps me when I see a bull beforehand, so I can get a game plan. I was waiting for the reverse, and it came at a bad time, but I knew he would do it. That's the only way I got by him."
Smith earned the first-place check of $26,231, while also splitting the ground money with Eldred – both men got a check worth $18,827, which won't count in the world standings.
"It's awesome – money comes and goes, but the go-round buckles last forever," Smith said. "Money is just good to feed yourself. I don't have any plans, just put it in the bank and pay some stuff off. I'm going to buy a new roping horse."
Eldred scored a 71.5-point ride, which was good enough for second place in the round, and moved him to second in the world. Both he and Shane Proctor have a shot at dethroning two-time and defending World Champ Sage Kimzey in the last two rounds.
Barrel racer Amberleigh Moore put her name into the record books in Round 8.
The Keizer, Ore., native tied the arena record of 13.37 seconds set by Taylor Jacob in 2013.
A tipped third barrel in Round 7 cost Moore and her horse, Paige, an arena record, but the duo got the job done the next night.
"Paige is a perfectionist, sometimes too much so, as you could tell from last night when she got just a bit too close to that third barrel," Moore said. "But tonight, being first on the ground, I knew that I wouldn't have to run through anyone else's tracks, so I knew I could push her up in there.
"I rode her hard to the first barrel, and when she nailed it I thought, 'Here we go again.' When we got to the third one I made sure to ask her for just a little more so we could get around it."
Moore is third in the world standings, and second in the WNFR average race. Mary Burger is still in the driver's seat with two nights left, with Lisa Lockhart lurking in second, should Burger slip up.
The 58th annual Wrangler NFR continues Friday with the ninth round at the Thomas & Mack Center. The action will be televised live and in HD on CBS Sports Net (DirecTV channel 221 and DISH Network channel 158) from 7-10 p.m. PT.
Courtesy of PRCA