Bandy Right at Home Headlining Las Vegas Helldorado Days
By: Andrew Giangola
April 20, 2016
NEW YORK – When the PBR storms onto the Las Vegas strip as part of Las Vegas Helldorado Days, a major Western festival on May 13-15, the musical headliner will be a country music star known for singing about riding, roping, and bull hooking.
But for Moe Bandy, the Western lifestyle isn't just a backdrop, it's his way of life.
Bandy is known around the world for 20 Top-10 country hits and countless sold-out concerts, including a show at the White House. But as a kid growing up in Texas, Bandy wanted nothing more than to ride bulls and broncs, and he has the scars to prove it.
"Riding was a good way to get girls, and I had incredible thrills on top of both bucking bulls and bareback horses," said Bandy, who started competing in bull riding and bronco busting when he was 16 years old. "I just found I got all danged up; couldn't take it after a while. When I recall getting on those bulls, it only increases my appreciation and admiration of the athletic skill, courage and toughness of these professional bull riders."
Though he no longer rides, Bandy now co-owns several bulls in the PBR.
Bandy first mounted a calf when he was 9 years old. As a teenager, he competed in rodeos across Texas where the injuries piled up. He likes to say a bad back is what forced his retirement from riding bulls and broncs.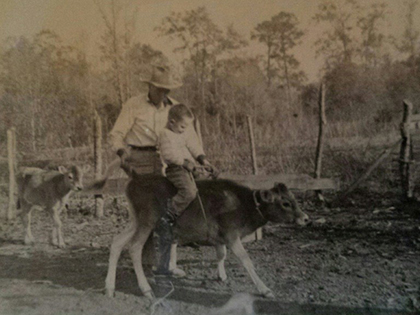 "I have a yellow streak down it," Bandy joked. "After breaking your collar bone the second time, it's not hard to discover music is a whole lot safer."
Rodeoing and bull riding – the physical turmoil on the dirt and emotional turmoil off it – inspired a number of Bandy's hit songs, including "Rodeo Romeo" and his personal favorite and first number-one hit, "Bandy the Rodeo Clown."
As Bandy traded his bull rope for a six string to muse about "8 second rides" and the "silver saddle I never won," his brother Mike kept riding and competed at the PRCA's National Finals Rodeo six times.
The brothers would occasionally team up when their tours crossed paths on the road, Mike riding and Moe singing. There were plenty of nights in the '70s when Mike would win a major rodeo at the Houston Astrodome where Moe then performed shortly after.
Over the years, Bandy often scheduled his shows near rodeos and PBR events where his tour bus would invariably fill up with cowboys after shows. He was awed by the riders' taut physical brew of timing, balance and strength. More than admiring their athleticism, though, he was a student of what he calls the "fine art" of each tumultuous ride pitting a determined cowboy against a fearsome animal ten times his size.
Bandy found a musical affinity with one rider, and they'd often get together in buses and hotel rooms with their acoustic guitars.
"Justin McBride was one of my favorite riders," he said. "Bull riding and music were shared interests, and we got to be very good friends."
He's thrilled McBride will join him onstage as a special guest in the Cooper Tires Saloon at Helldorado Days, along with T.J. Sheppard, Wynn Varble, and Kelly Lang — a lineup that's tallied more than 25 No. 1 country hits. In addition to his classic fan-favorite rodeo songs, Bandy will work in new tunes from his upcoming album, "Lucky Me," due out soon and featuring performances with the Oak Ridge Boys, Ricky Skaggs and Riders in the Sky.
It is just one of a multitude of special events taking place at Helldorado Days, which will be highlighted by the final PBR Major of the first half – Last Cowboy Standing.
Bandy is also busy with a TV project, "The Gene and Moe Show" with Gene Watson. The series will mix storytelling and singing, which is what fans can also expect at Helldorado Days. As co-owner of bucking bulls Bandy's Bad Boy and MoeBandy.com, Moe has already interviewed PBR Director of Livestock Cody Lambert and rodeo legend Larry Mahan, and he plans on shooting bull rider interviews on location at several Built Ford Tough Series events.
In the meantime, he's eager to entertain fans at a festival that's hosted legends such as Roy Rogers, Dale Evans, Larry Hagman, George Strait and Hank Williams Jr.
"I just love the sport of bull riding and rodeo, and I love being part of an event like Helldorado Days," Bandy said. "It's a great celebration of the old west– really my kind of thing. I compare these big, proud festivals to traditional country music.  It's a great part of our heritage and history that we should carry on."
© 2016 PBR Inc. All rights reserved.