Benton Snares Reno Xtreme Bulls Crown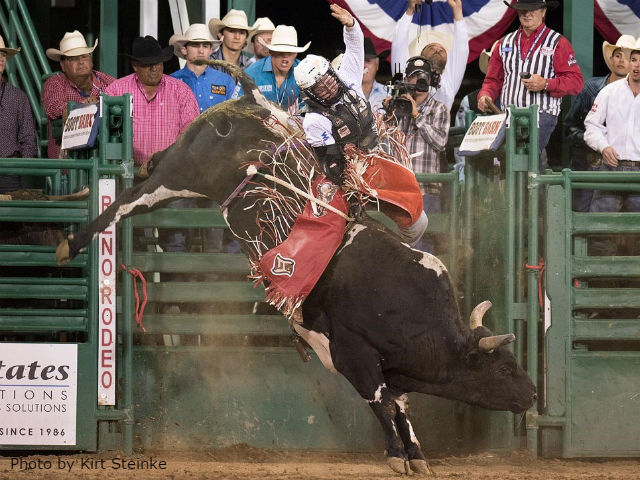 RENO, Nev. – With his first career Xtreme Bulls Division 1 victory within reach, Trey Benton III rose to the occasion.
The Rock Island, Texas, cowboy had an electric 88-point ride on Big Stone, Moreno & Growney Rodeo's Spotted Demon in the short round to win the two-head average with 174.5 points on June 15.
"I had never been on that bull before, and he's pretty widely-known for not being ridden, ever," Benton said. "I just knew I needed to stay in the middle. I was trying to keep it as simple as possible."
When Benton was bucked off, winning the event was the last thing on his mind.
"It was a dogfight and I was going to him the whole time and I didn't know how long I was riding," he said. "I landed on my feet, but I didn't think I made it (the whistle). I was hoping I made it, but I knew it was close. I was ready for heartbreak because I ride for seven seconds all the time. When they said I did make it, I was like heck yeah, I will take it. That bull was strong and definitely as good as advertised."
The victory formula for Benton was set in motion when he had an 86.5-point ride on Western Rodeos' Area Code to finish second in the long round at the Reno Livestock Events Center.
Benton III finished just in front of Brennon Eldred (172.5 points), Tim Bingham (172) and Sage Kimzey (168). Kimzey is the reigning three-time PRCA world champion.
"I was so happy that I did good and won because I don't think I have ever placed at an (Xtreme Bulls) Division 1 event in my career," Benton said.
Benton is no stranger to success. He's a three-time Wrangler National Finals Rodeo qualifier (2012-2014), and in 2014, he finished a career-best third in the world standings with $164,471, thanks to placing in three rounds at the WNFR.
Unfortunately for Benton, his 2015 and 2016 seasons were sabotaged by injuries. In 2015, he was sidelined because of knee surgeries. Then, in 2016, he once again was out of action with a torn groin, a tear in his labrum, his right hip and a sports hernia.
Finally, healthy, Benton has returned to top form in 2017, capturing big wins at the San Angelo (Texas) Rodeo and the Red Bluff (Calif.) Round-Up. He was 15th in the June 12 WEATHER GUARD® PRCA World Standings with $37,412, but likely will move up near the top 10 with his big Reno victory.
Still, Benton is keeping things in perspective.
"Nothing," Benton said about what this victory means. "It's a long summer. My goal is just to stay on every bull."
This was Benton's second career Xtreme Bulls victory as he also won a Division 2 event in Gladewater, Texas, in 2014. Benton joins the 2017 Xtreme Bulls Division 1 winners list which is comprised of Kimzey (Fort Worth, Texas, Jan. 17-18), Ty Wallace (San Antonio, Feb. 25) and Tristan Mize (Fort Mohave, Ariz., March 11).
Courtesy of PRCA