BFTS Bucks Back into the Windy City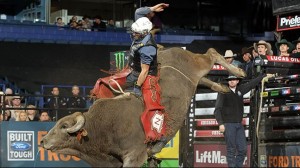 CHICAGO ― The Professional Bull Riders Built Ford Tough Series blows back into the Windy City this weekend with the Top 35 bull riders in the world facing off against their 2,000-pound counterparts during more than two hours of heart-stopping, 8-second battles, Saturday, Jan. 11, and Sunday, Jan. 12, at Allstate Arena.
The action begins at 8 p.m. CT on Saturday, and at 2 p.m. on Sunday. Tickets start at $20 and are available at the Allstate Arena box office, www.ticketmaster.com, and by telephone at (800) 745-3000. For more information, visit www.pbr.com.
The bull riders will face one bull each during Round 1 on Saturday and Round 2 on Sunday. Following Round 2, the Top 15 riders with the highest cumulative scores after two rounds will advance to the Built Ford Tough Championship Round that same day. The overall event winner will be the rider with the highest-combined score from all three rounds, earning at least $30,000 for first place.
Last year's event winner, Billy Robinson, will be back to defend his title this year. Robinson rode Smackdown for 92.5 points during the championship round in 2013 to match the highest ride score of his career and notch the victory.
Reigning PBR World Champion J.B. Mauney will attempt to continue his ride streak, which he extended to 15 while in New York last week, matching a PBR record first established by Terry Don West.
Also expected to appear are five other former PBR World Champions: Silvano Alves (2011, 2012), Renato Nunes (2010), Kody Lostroh (2009), Guilherme Marchi (2008) and Mike Lee (2004). Also competing will be fan favorites L.J. Jenkins and Austin Meier, as well as young guns Jory Markiss, Matt Triplett and Nathan Schaper.
Rock River Red, previously known as Incognito, (Dakota Rodeo/Chad Berger/J.R. Scott/Schott) will challenge Robinson in Round 1. Rock River Red was attempted twice during the 2013 season, by Mauney and Marchi. Marchi was the only one to come out victorious against the big bull and rode him for 85.25 points in Oakland, Calif.
RELATED: Billy Robinson wins first event in 10 years
Mauney will take on Dakota Rodeo/Chad Berger/Clay Struve's Kiss Destroyer, who has been attempted three times on the Built Ford Tough Series, but never ridden. If successful, the world champ could set a new ride record for the first time since 1998.
Josie McElroy's Dracula will be waiting for current No. 1 rider Fabiano Vieira in Round 1. Dracula has never bucked in the BFTS, but has yet to be ridden on the Touring Pro Division circuit.
Triplett will go up against a bull he is already familiar with in Double Clutch (Dakota Rodeo/Berger/Struve), who he rode while at the PBR TPD event in Big Sky, Mont., last July for 86.50 points.
The former Chicago PBR event winners are:
2013: Billy Robinson
2011: Robson Palermo
2008: Adriano Moraes and Dustin Hall
2006: Austin Meier
CBS Sports Network, the home of the PBR, will broadcast Round 1 on Saturday at 10 p.m. ET and Round 2, as well as the championship round, on Sunday at 8 p.m. ET.
The BFTS is televised every week on CBS, CBS Sports Network and networks around the world. BFTS telecasts are produced for the PBR under a multi-year agreement with David Neal Productions, a Los Angeles-based production company led by 34-time Emmy® Award winner and Peabody Award winner David Neal, who serves as executive producer.
Chicago will be the second of 27 stops on the 2014 PBR Built Ford Tough Series schedule. The series also will travel to Anaheim, Calif., and Dallas on its 18-state tour, culminating with the PBR Built Ford Tough World Finals in Las Vegas on Oct. 22-26 when the 2014 PBR World Champion, the bull rider who amasses the most points during the 2014 season, will receive the coveted World Championship belt buckle and $1 million bonus.
© 2014 PBR Inc. All rights reserved.
Courtesy of  PBR