Big Week 2019 Concert, California Rodeo and Professional Bull Riding Tickets on Sale November 30th
Special Discount on Rodeo Tickets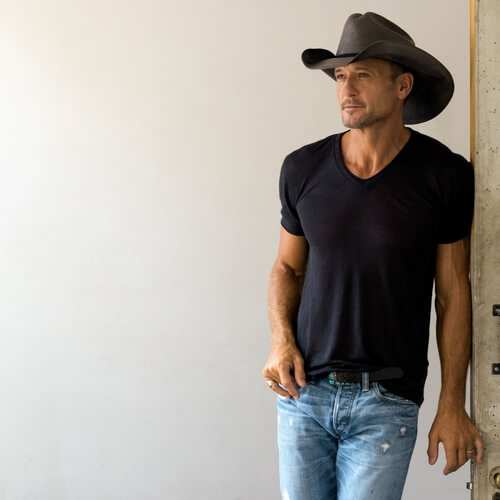 SALINAS, CA, November 27, 2018 – Tickets for July 2019 events at the Salinas Sports Complex go on sale this Friday, November 30th. Tim McGraw is headlining the California Rodeo Salinas' Big Week Kick Off Concert on Friday, July 12th at the Salinas Sports Complex. Presented by Taylor Farms, the concert will start the festivities for Big Week in Salinas. The week includes parades, a carnival and more, but the signature event is the California Rodeo Salinas July 18th-21st and the sellout Big Week Professional Bull Riding July 17th.
Concert tickets go on sale Friday, November 30th at 9am at the box office and 10am online or by phone. Discounted California Rodeo Salinas adult grandstand tickets will go on sale at 10am (via phone, walk up and online) for $15 along with adult general admission tickets for $10, a savings of $5 on each ticket type. This special will be available online until January 1st. The Big Week Professional Bull Riding (PBR) tickets will also be available for purchase at the same time as the California Rodeo Salinas tickets. PBR tickets will not be discounted, but this event sells out each year; this is the first time the California Rodeo Association is offering tickets this early and fans are encouraged to buy them while they are still available. The box office will also be open Saturday, December 1st from 10am to 6pm at the Salinas Sports Complex located at 1034 N. Main Street in Salinas. Tickets will be available online starting Friday, November 30th at 10am until the day of the show or until tickets sell out. The Salinas Sports Complex Box Office will open full-time for the 2019 season on a date to be determined in March.
Concert ticket prices will start at $35 for grandstands, $85 for box seats, $85 for reserved floor seats and $70 for standing floor tickets.* Big Week PBR tickets start at $10 for children (ages 2-12) grandstand seats, $30 for adult upper grandstand seats, $40 for adult lower grandstand seats and $55 to $60 for box seats for all ages depending on the section.* Visit www.carodeo.com for full details about each event.
Visit www.carodeo.com/events/2018/timmcgrawconcert for links to music, videos and updated information as the event nears. Opening acts will be announced in the near future.
*All tickets are subject to applicable fees.
About California Rodeo Salinas
The 109th California Rodeo Salinas will take place July 18th-21st, 2019. The California Rodeo Association is a not-for-profit organization that strives to preserve and promote the traditions of the California Rodeo Salinas and the West. We support the community and other non-profit organizations through the staging of the annual California Rodeo Salinas and other year round operations of the Salinas Sports Complex. Through donation of our facility, vending and fundraising opportunities during Rodeo and other events, the California Rodeo Association returns over $400,000 annually to local non-profits. For more information about the California Rodeo Salinas, log on to www.CARodeo.com or call the California Rodeo Office at 831-775.3100. 'Like' the California Rodeo on Facebook at www.facebook.com/CARodeoSalinas or follow us on twitter @CaliforniaRodeo for updates, photos and more.