BlueDEF Finals Moves to Las Vegas
By: Denise M. Abbott
February 22, 2016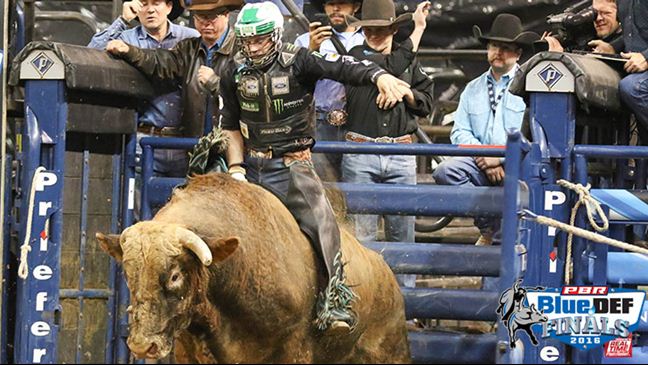 PUEBLO, Colo. – The PBR's (Professional Bull Riders) BlueDEF Tour (BDT), presented by Real Time Pain Relief, will wrap up its 2016 25-city tour at South Point Arena & Equestrian Center in Las Vegas on Oct. 29-31 with the BlueDEF Finals.
"South Point has always been an advocate of promoting the growth of bull riding events," said Ryan Growney, General Manager of South Point Hotel, Casino & Spa. "This partnership between South Point, PBR and the BlueDEF Tour will help drive the bull riding industry to new heights, and we look forward to being part of PBR's expansion as the sport offers new opportunities for competitors, fans and its many dedicated industry stakeholders."
The BDT is the premier expansion tour of the PBR and primary qualifying events for the Built Ford Tough Series. The BlueDEF Finals will feature the Top 35 riders from the BDT standings along with five champion qualifiers from the PBR's international tours. This event also represents the season's last opportunity for riders to qualify for the PBR Built Ford Tough World Finals. The final five positions will be awarded to the winner of the BlueDEF Finals, the second and third-place finishers, the highest finishing international athlete, and the 2016 BlueDEF Tour Champion.
The BDT Finals competition will begin at 7 p.m. each day, Friday, Oct. 29, through Monday, Oct. 31. Tickets start at $25 for general admission, $40 for reserved seating, and $100 for a three-day reserved seating package. Tickets go on sale Friday, Feb. 26, at 10 a.m. PT at the South Point Arena box office, www.Ticketmaster.com, and by telephone at 800-745-3000. For more information visit www.pbr.com.
Fans will also have the opportunity to enhance their BDT Finals experience by purchasing exclusive PBR Elite Seats. Priced at just $125 each day, PBR Elite Seats will feature the best seats in the house plus a unique pre-show VIP experience. Contact the PBR Customer Service Department at 800-732-1727 for more information.
All BDT Finals tickets also include daily admission to all of the events taking place inside South Point Arena, including the Chris Shivers Mini Bull Riding Finals, Bullfighters Only – American Freestyle Bull Fighting Finals, ABBI (American Bucking Bull Inc.) Finals and other activities throughout each day.
Throughout the weekend, South Point Hotel will also be the home of the PBR Fan Experience and Western Gift Expo. This free event is open to the public and will feature interactive displays, rider meet-and-greets, entertainment, shopping and more. The hours of operation are 10 a.m. – 10 p.m. Oct. 29-31 and 10 a.m. – 5 p.m. Nov. 1-5.
"South Point is the perfect partner to host our BlueDEF Finals," said Dave Cordovano, head of the PBR BlueDEF Tour. "Their continued support has been key in the development of the greatest Western sports week to come to Las Vegas."
© 2016 PBR Inc. All rights reserved.