Boardman Cashes in at Puyallup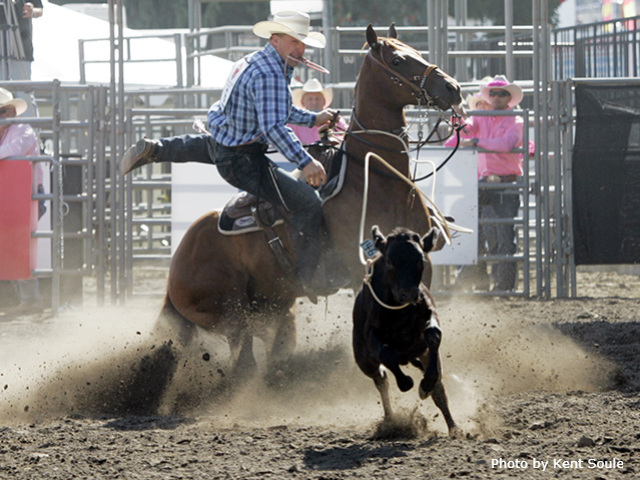 PUYALLUP, Wash. – It's a mad dash to the finish line as the end of the 2017 season approaches, and tie-down roper Cimarron Boardman isn't letting off the gas. Fresh off his first win at the Justin Boots Playoffs at the Washington State Fair Pro Rodeo in Puyallup, this 36-year-old cowboy is running and gunning from one rodeo to the next and picking up checks along the way.
"This is the biggest one I have won this year," Boardman said. "The competition was the Top 24 in the world, so it was the best ropers and the calves were strong, so it was stiff competition and I had to tie them fast."
On Sept. 9, Boardman picked up $1,237 at the Tri-State Rodeo in Fort Madison, Iowa. The next day, he was nearly 2,000 miles west in Puyallup where he won $6,060.
"This is a win I had to have," Boardman said. "I had to get a big check to get in tracking distance (of the Top 15). I can't ease on it now, I've got a lot of ground to cover."
Boardman has about eight big rodeos scheduled between now and the end of the season. Prior to his wins this weekend, he was 21st in the WEATHER GUARD® PRCA World Standings with $63,546. He was about $13,000 shy of breaking into the Top 15 and qualifying for his first Wrangler National Finals Rodeo presented by Polaris RANGER.
"I've got to keep getting checks and hopefully they add up," Boardman said. "It's dang sure a big win, and it gives me a boost.
"It's a good rodeo, especially for this time of year. Any time you can get an average win within the Top 24, it helps your confidence. Right now, I'm a bit behind so I needed some good checks this week."
Consistency was the name of the game at the Playoffs, and it paid off well – clocking in at 8.7, 8.6 and then 8.7 seconds, again, added up to $6,060 for having 26.0 seconds on three head.
"My horse had been good all week and that helped a lot, and then I had some decent calves and made some good runs," Boardman said. "I was just trying to chill out and make good runs."
The final round proved to be the easiest to top as the second-fastest time was a 9.8, more than a second slower than the second-place scores in the first two rounds.
It doesn't take a detective to figure out that Boardman's 7-year-old American Quarter Horse, Dragnet, played a big role in taking Boardman to the lead.
"I started hauling her as a 4-year-old and she's been a work in progress," Boardman said. "She was green at first, but she had all the tools – she can really run and has a great mind.
"It's been up and down all summer, but when it's good, it's good," Boardman said, adding that steer roper Shay Good and Good's daughter have been riding Dragnet to help her stay fresh.
"She can really run, and today there were some barriers (broken) and some misses, so I didn't need to press on it and tie it in 7 (seconds). Just had to be consistent like the rest of the week."
Up next, Boardman's hitting the Pendleton (Ore.) Round-Up; the West Texas Fair & Rodeo in Abilene, Texas; the New Mexico State Fair & Rodeo in Albuquerque, N.M.; the Pasadena (Texas) Livestock Show & Rodeo; and the Cowboy Capital Of The World PRCA Rodeo in Stephenville, Texas. Boardman will finish the season in his home state at the American Royal Rodeo in Kansas City, Mo.
"They are some good ones," Boardman said, while adding that his family is helping him get from one rodeo to the next. "So much planning and traveling goes into it, it dang sure is a business getting from here to there.
"The hardest part is staying sharp mentally, and staying focused on one at a time and not thinking about where you've got to be. Staying strong mentally is the hardest part, and staying rested up too since you're sharper when you're rested. But, that's the life we chose."
Other winners at the $258,753 rodeo were all-around cowboy Josh Peek ($1,924 in tie-down roping and steer wrestling), bareback rider Clayton Biglow (261 points on three head), steer wrestler Baylor Roche (13.1 seconds on three head), team ropers Hayes Smith and Clint Summers (14.2 seconds on three head), saddle bronc rider CoBurn Bradshaw (253 points on three head), barrel racer Jessi Fish (41.90 seconds on three runs), and bull rider Garrett Smith (174 points on two head).
For more coverage of the Justin Boots Playoffs at the Washington State Fair and Rodeo, check out the Sept. 29 edition of the ProRodeo Sports News.
Courtesy of PRCA