Bolton's Ascendancy is a Win for PBR and Western Sports
By: Andrew Giangola
July 10, 2017
PUEBLO, Colo. – Bonner Bolton's wild ride as a top model is lasting a heck of a lot longer than 8 seconds.
The Texas cowboy's latest campaign has just broken with American Eagle with Bolton as a face for a new collection, "The New American Jean."
Additionally, in a sign of increased desire for cowboys, he's "The Cosmo Guy" in the August issue of the iconic magazine seminal to female empowerment.
The American Eagle campaign was shot by Cass Bird, represented by IMG's Art + Commerce business, who trained her lens on a dozen bull riders at the 2015 PBR World Finals.
Photos of the then 28-year old bull rider, who is still out on injured reserve, caught the eye of Ivan Bart, the star-making head of IMG Models. Bolton was signed while still in a neck brace after shattering his C-2 in dismounting a bull two months after that photo shoot.
"It's kind of cool to come full circle with the photographer who originally brought me to Ivan and IMG Models," Bolton said.
The soundtrack for the American Eagle campaign is "Can I Kick It" by A Tribe Called Quest. Bonner and professional basketball player Brandon Ingramshow how they kick it in their American Eagle jeans, now available in stores.
Chad Kessler, global brand president for American Eagle Outfitters, told "Women's Wear Daily," (not your regular Western sports magazine, but that's the whole point of the push behind Bolton) that the new campaign relays a "message of empowerment" and shows that "young Americans come in all shapes, sizes and colors."
For PBR and parent company WME | IMG, a cowboy's presence in an inclusive campaign geared toward millennials and setting new definitions on what it means to be American, represents another step into the mainstream.
Bolton's first taste of global attention outside a bull ring came on the latest season of "Dancing with the Stars."
He made it through 10 weeks of competition with professional dancer Sharna Burgess while physically gutting out daring dances with a metal-filled neck. Along the way the pair stoked romance rumors along with seemingly endless memes. The experience built his social media following with frequent "Insta-stories," while bringing attention to the PBR, and having a lot of fun.
Seated at a LA Fashion Awards party while on the hit ABC series, he met Laird + Partners' Trey Laird, who had just bought a place near Bolton's family ranch in west Texas.
The two men bonded as "two good ol' Texas boys," Bolton recalled.
When Laird was casting for a rugged look in the American Eagle campaign, he knew who to call.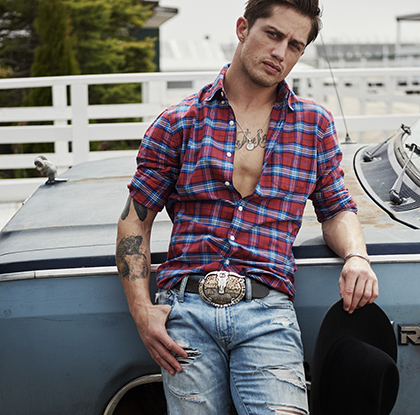 "In this business, careers are made based on who you sit next to at the right party," said Bart, who oversees the world's largest and most successful modeling agency with clients including Gisele Bündchen, Gigi Hadid, Alessandra Ambrosio, Karlie Kloss and Ashley Graham.
Such champagne-and-hors d'ouvres connections for the cowboy everyone wanted to meet also spawned a campaign for Saks Fifth Avenue and photo shoots with world-famous photographers Mario Testino, Bruce Weber and Steven Klein.
When Laird was casting for jeans, he quickly recalled his new cowboy buddy with the great genes.
Bolton was gung-ho to shoot on a beach near John F. Kennedy Airport in New York City. The site was not far from where PBR will hold its Buck Off The Island, presented by Cooper Tires, at NYCB LIVE, home of the Nassau Veterans Memorial Coliseum in Uniondale, New York, on Sept. 23-24.
"They had an old pickup truck and a horse for me to ride," Bolton said. "I love beat-up old trucks. I bought my first pickup — an old yellow 1937 Ford for $700 — with the money I earned riding junior rodeo and drove it around the ranch."
Bolton's next fashion spread hitting the glossies in September is with a top IMG model who has the social media following of a small European nation. The two shot a steamy session on a horse in inner city Philadelphia.
Bolton also has a brand campaign on the way for a new premium fragrance.
In fashion circles, such projects intended to splash are guarded with carefully concealed secrecy.
Bolton and his reps at WME | IMG are therefore unable to share details on either project for the ascending model, other than to say that as cultural winds shift into a search for the real America and Madison Avenue clamors for cowboys, Bonner Bolton is open for business.
© 2017 PBR Inc. All rights reserved.