Boore Captures Average Title at RNCFR
by Tracy Renck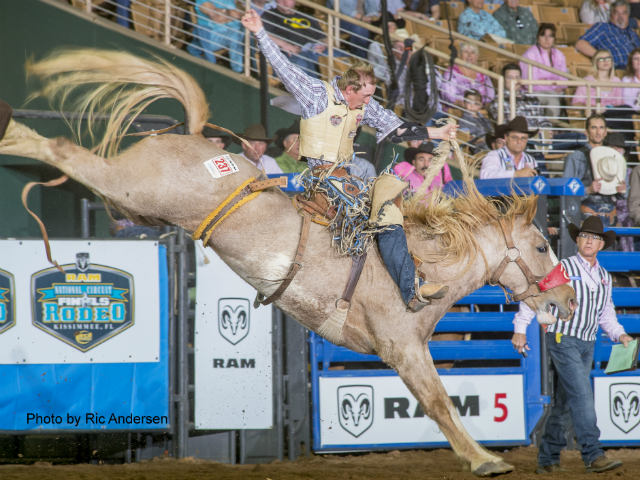 KISSIMMEE, Fla. – Being a saddle bronc rider in the Wilderness Circuit is no easy task.
The circuit is loaded with talent, namely the Wright family of Utah.
Saddle bronc Allen Boore of Axtell, Utah is trying to make a name for himself, and he's doing a good job of that at the RAM National Circuit Finals Rodeo.
Boore won the two-head average with 163.5 points Saturday at the Silver Spurs Arena.
"This has just been a great time so far," Boore said. "I don't really think I could have asked for much more."
Boore, 24, has had a very profitable RNCFR thus far with $13,113 in winnings. Boore is making his RNCFR debut, thanks to winning the average at the RAM Wilderness Circuit Finals Rodeo.
"Hopefully I can keep things going here," Boore said. "There are a lot of good saddle bronc riders coming out of the Wilderness Circuit, but it makes you ride better because you see so many good riders everywhere you go in the circuit. I know having guys like the Wrights around makes me want to ride better to beat them or compete with them."
Boore had an 81.5-point ride on Pete Carr Pro Rodeo's Miss Molly to place fourth in the second round Saturday, but it propelled him to the average title. Boore set the tone for himself with an 82-point ride on Harry Vold's Mountain Climber, which was second in the first round.
Despite his success this week, Boore is keeping things in perspective as he prepares for the semifinals, which begin at 2:30 p.m. tomorrow.
The top eight contestants from the two-head average in each event advanced to the semifinals tomorrow, with all previous scores and times thrown out. The top four move on to the final round, and a sudden-death competition determines the national circuit champion in each event.
The Wrangler Network will be live streaming all the action from the RNCFR. The coverage begins at 2:30 p.m. (ET) tomorrow. Log on to www.wranglernetwork.com to watch.
"I'm just going to go to bed (Saturday night) and not worry about anything until I get to the arena tomorrow," said Boore, who finished 18th in the world standings a year ago with $56,072. "I just want to have a clear mind when I get ready for my ride and do the best that I can."
When Boore hasn't been winning money at the RNCFR, he's enjoyed being tourist in the Kissimmee area, going to the beach and the Kennedy Space Center.
"My wife, Katie, is here with me and we have our 3-month-old daughter, Berkley, with us, so we are just taking it easy and having fun," Boore said.
In addition to Boore, the other two-head average winners are bareback rider Tim O'Connell (170.5 points on two), steer wrestler Riley Duvall (9.0 seconds on two), team ropers Jake Orman and Tyler Domingue, and Billy Bob Brown and Garrett Jess (12.5 seconds on two), tie-down roper Sterling Smith (17.0 seconds on two), barrel racer Sherry Cervi (31.44 seconds on two runs), and bull rider Jake Gowdy (160.5 points).
The other second-round winners were bareback rider O'Connell (87 points on Harry Vold's Painted Coast), steer wrestler Josh Peek (4.0 seconds), team ropers Coleman Proctor and Jake Long (4.8 seconds), saddle bronc rider Joaquin Real (83 points on Pete Carr's Classic Pro Rodeo's Another Gray), tie-down roper Clint Kindred (8.2 seconds), barrel racer Emily Miller (15.71 seconds) and bull rider Parker Breding (86 points on Painted Pony Championship Rodeo's Sour Mash).
The tournament-style RNCFR format determines the national circuit champions in each event. All 24 qualifiers from the 12 circuits, including year-end and circuit finals champs, competed in the two preliminary rounds of the rodeo.
Courtesy of PRCA