Braden Earns Much-Needed Win in Estes Park
by Justin Shaw | Jul 11, 2016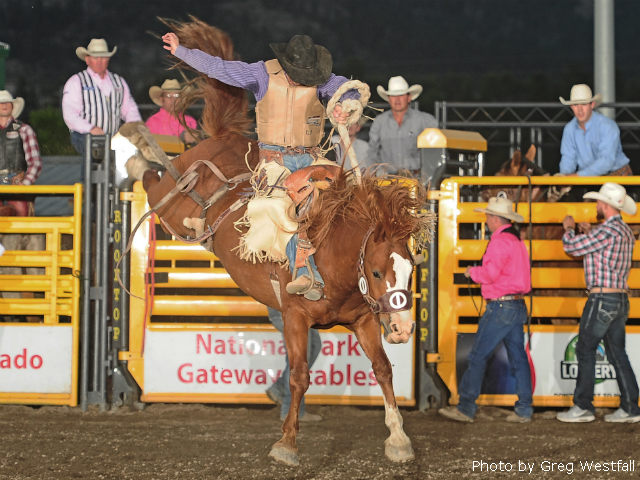 ESTES PARK, Colo. – Saddle bronc rider Hardy Braden didn't find much in his Cowboy Christmas stocking after the Fourth of July weekend run.
He was hoping for a late present, and got one when he drew Cervi Championship Rodeo's Hell's Fire Hostage at the Rooftop Rodeo in Estes Park.
"I was nervous to have that horse, and I didn't want to mess her up," said Braden, who rode July 9. "She's a really nice horse to ride; she gives you a lot of timing and rhythm, and is the one you want to draw every day. You can set your feet and lift on the reign and have a great ride, but you don't want to stub your toe and miss a jump."
Braden channeled his nervousness into an 84-point ride, which held up until the last night of the six-day rodeo, earning him one of the biggest wins of his career and a check for $5,499.
He and traveling partner Will Smith stayed in Estes Park and watched the final perf July 11.
"We had nowhere else to go until the next weekend, so this was a good place to hang out," Braden said. "It was a neat feeling to win this rodeo – not only for the money, but to win in a place like this in a beautiful arena. It's exciting, not just for the scenery, but the crowd. The crowd is hooting and hollering, and they cheer no matter what and get you all jacked up."
"It's a relief, because money was getting tight there after the Fourth – we went to eight rodeos and didn't have any luck at them. This will take pressure off things to know I have cash to keep going down the road."
The 27-year old from Welch, Okla., will move inside the top 50 of the WEATHER GUARD® PRCA World Standings for the first time this season.
For a guy who had just $8,105 won before his Estes Park triumph, Braden was thrilled to come out on top with the likes of World Champion Jacobs Crawley and CoBurn Bradshaw – currently third in the world – in the field.
"It's a confidence booster, but I was more lucky than anything to draw that horse," Braden said. "If you try hard and do your best, good things will come. It's helpful to try to carry this on to the next rodeo. I feel like I do belong here with the likes of Jacobs and CoBurn."
Rodeo is nothing new for Braden, whose father, Butch, rode saddle bronc horses for many years before becoming a PRCA pickup man, and whose mother, Tammy, has been a timer at multiple Wrangler National Finals Rodeos.
"My mom is on top of things, and I'll have a text message waiting before I even get off my horse," Braden said. "I let her know tonight that I had won and she was ecstatic. I watched my dad ride bulls and broncs for a long time, and he rode until I was 10, so I remember a good bit of it. Rodeo was never pushed on me, and I liked that."
Braden attended Fort Scott (Kan.) Community College on a rodeo scholarship, and then transferred to Oklahoma Panhandle State University (Goodwell), where he finished his degree in agriculture science.
He now works on his dad's ranch when he isn't rodeoing, and is glad after the large check in Estes Park that he won't have to head home anytime soon.
"It seems like I haven't drawn very well, and you can only do what you can with the horse you draw," he said. "It's just been that kind of year for me and Will; we've had crappy luck, but hopefully it's turning around. There's only one way to go from rock bottom."
Other winners at the $157,959 rodeo, hosted at the newly-renovated Granny May Arena, were all-around cowboy Josh Peek ($4,445 in steer wrestling and tie-down roping), bareback rider Brian Bain (84.5 points on Cervi Championship Rodeo's Sugar Daddy), steer wrestler Josh Peek (9.0 seconds on two head), team ropers Dustin Egusquiza and Clint Summers (4.1 seconds), tie-down roper Ike Fontenot (8.3 seconds), barrel racer Katie Carroll (17.51 seconds) and bull rider Kurtis Turner (84.5 points on The Cervi Brothers' Rank Frank).
For more coverage of the Rooftop Rodeo, check out the July 29 issue of the ProRodeo Sports News.
Courtesy of PRCA