Bradshaw Takes Title at Another WCC Event
by Justin Shaw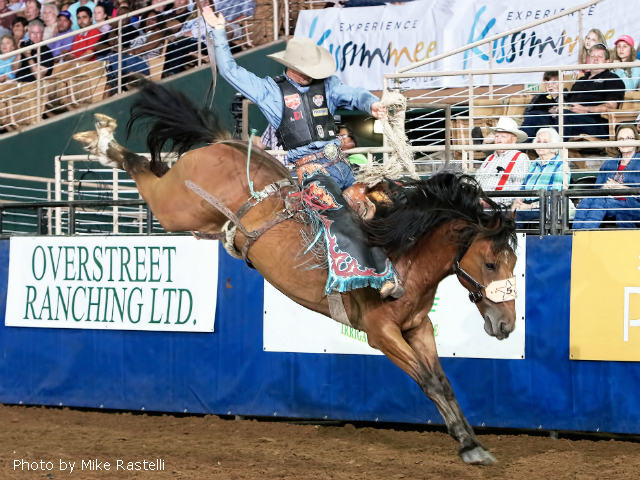 KISSIMMEE, Fla. – CoBurn Bradshaw is automatic when it comes to the Wrangler Champions Challenge presented by Justin Boots.
The 21-year-old saddle bronc rider has now earned a check at all six of the WCC events in the 2016 season, and he grabbed his second win in his last three tries Saturday night.
Bradshaw, of Team PRCA, rode for 85 points on Silver Spurs Club's Best Hope to edge out Heith DeMoss and Layton Green by a half point and earn $4,284.
"I've been really lucky to draw the right horses against the top guys at these events," Bradshaw said. "I've been happy to place everywhere, and to win again is really nice. I like these events, and I'm glad I keep getting invited to them. I think these make me take my riding to a different level, and it's a lot like the feeling I have at the (Wrangler) NFR."
The Beaver, Utah, cowboy won the May 21 WCC in Redding, Calif., and finished third in the first WCC event of the 2016 season Oct. 3, which was held in the same venue as Bradshaw's win Saturday – the Silver Spurs Arena.
He's now earned $14,682 in the six WCC events, and his win in Kissimmee could put him No. 1 in the WEATHER GUARD® PRCA World Standings when the weekend comes to a close. It would be the first time he would own the top spot – which he trailed reigning World Champion Jacobs Crawley by $1,369 for entering the weekend.
"It would be a dream come true to see my name at the top of the standings," Bradshaw said. "I want to go into the NFR this year in the No. 1 spot. It's all about the mental game, and I came out of the Finals last year with more confidence than I've ever had, and I've become a lot better bronc rider because of it."
Bradshaw, the 2015 PRCA/Resistol Rookie of the Year, is always competing against his brother-in-laws – the Wright family. His wife, Rebecca, is the sister of World Champions Cody, Jesse and Spencer, but there's also Jake and Alex, in addition to Cody's son, Rusty.
"I really hope all of us make it to the NFR this year, because I want it to be a family feud in Las Vegas," Bradshaw said. "If I was to lose to anybody, I'd want it to be family. But I hope this is my year, and I'd love to have a gold buckle."
Other winners at the $100,800 rodeo were bareback riders Tanner Aus of Team Wrangler (84 points on Rafter H Rodeo Livestock's Four Socks) and Orin Larsen of Team Coors (84 points on Painted Pony Championship Rodeo's George's Bad Cat), steer wrestler Matt Reeves of Team PRCA (4.8 seconds), team ropers Dustin Bird and Tyler McKnight of Team Wrangler (5.0 seconds), tie-down roper Hunter Herrin of Team B&W Trailer Hitches (7.7 seconds), barrel racer Mary Walker of Team Justin Boots (15.54 seconds) and bull rider Jeff Askey of Team Las Vegas (85.5 points on Big Rafter Rodeo's Outback Pharmacy).
For more coverage of the Kissimmee WCC, check out the July 1 issue of the ProRodeo Sports News.
Courtesy of PRCA