Breding Captures Fort Mohave Xtreme Bulls
by Tracy Renck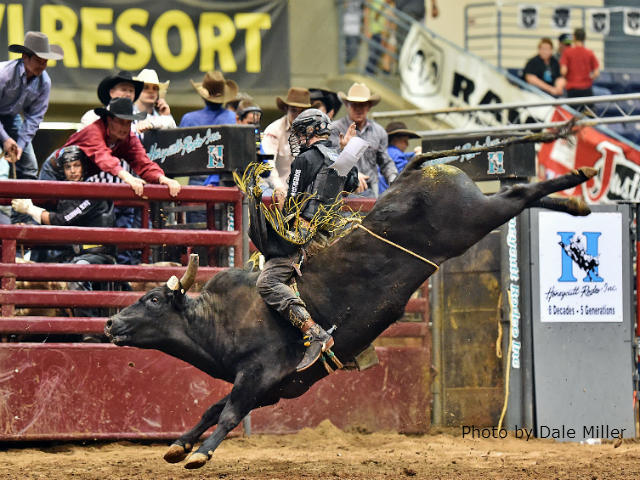 FORT MOVAHE, Ariz. – Bull rider Parker Breding had no plans of competing at the Division I Xtreme Bulls event March 12 in Fort Mohave because of a left should injury.
Breding, however, changed his mind after he had a conversation with his father, Scott, a five-time National Finals Rodeo qualifier.
The decision paid off for the younger Breding.
Breding won the Fort Mohave Xtreme Bulls event with a 163-point score on two head at the Mohave Crossing Events arena. This also was Breding first career Xtreme Bulls Division I event win
"This feels really good," said Breding, a two-time Wrangler National Finals Rodeo qualifier (2013, 2015). "I was going to go home for the rest of the month, and my dad talked me into coming here (Fort Mohave) Thursday and I decided I would do it and see what happens and I'm pretty glad I did now."
Actually a victory seemed like the last thing that was going to transpire for the Edgar, Mont., cowboy after he failed to win any money with his 76-point first round ride.
As the first rider out in the short round, Breding rocketed up the leaderboard with an 87-point ride on Bar T Rodeo's Broken Arrow.
The ride was the best in the finals and also won the average for Breding by two points over Kanin Asay.
"That was a really good bull," said Breding, 23. "I've seen him a few times and I kind of knew he would go out there kind of long and then get in the air, and then turn back away from my hand, so I was just ready for him. He stayed spinning to the right and was a good bull to have."
Despite his strong ride and score on Broken Arrow, Breding initially wasn't doing any celebrating.
"I kind of accepted in my mind that I might end up second or third or fourth (in the average)," Breding said. "I never thought I would have won it."
He did and he collected $8,122 in winnings – $5,640 for capturing the average. That performance also help relieve the pain of his left shoulder which he hurt when he was bucked off a bull last month at the San Antonio Livestock Show & Rodeo.
"I landed on my shoulder pretty hard and it has been pretty rough ever since," Breding said. "The last two weeks I've been trying to take care of it and it hasn't gotten much better. Bull riding-wise, it doesn't hurt as bad as I thought to ride though."
With his latest win, Breding plans on going home and healing his shoulder before returning to action at the RAM National Circuit Finals Rodeo in Kissimmee, Fla., April 7-10.
Courtesy of PRCA