Breuer Doubles Up at Badlands Circuit Finals Rodeo
by Tracy Renck | Oct 09, 2016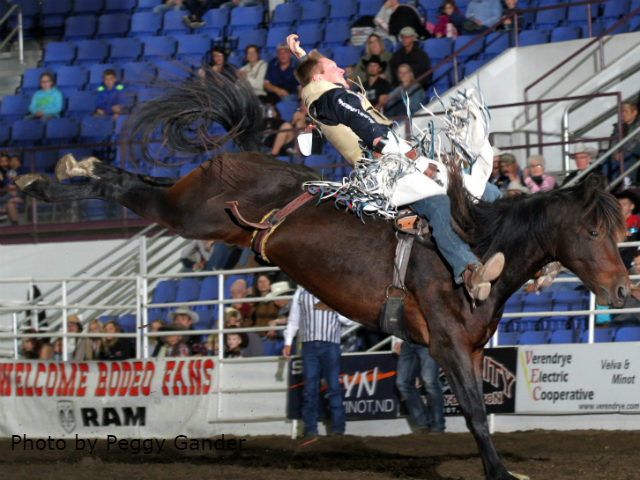 MINOT, N.D. – Circuit success is not foreign to bareback rider Ty Breuer.
The Mandan, N.D., cowboy won the RAM Badlands Circuit Finals Rodeo average in 2014 and the year-end title in 2015.
Breuer, however, made personal history Oct. 9 by winning both the average and year-end crowns at the RBCFR.
Breuer was able to celebrate the double-dip when he won the average with 334 points on four head at the State Fair Center.
"I never won the average and the year-end in the same year, so this is really cool," said Breuer, 26. "I feel really fortunate that I was able to draw good this weekend and that really helped."
Breuer clinched the average win with his 85-point ride on Bailey Pro Rodeo's Fargo in the fourth round. That ride helped him defeat Blake Smith by 6.5 points for the top average honor.
"That was a really nice horse that went straight across the pen," Breuer said. "The ride felt good. I wasn't really thinking about what I had to score to win the average. I knew I just had to go and do my job and that's what I was able to do."
Breuer was dominant at the RBCFR as he won the first round with an 84-point ride on Sutton Rodeos' Yankee Rose and then he added a third round win with an 85-point ride on Korkow Rodeos' Bad Onion. His fourth round ride tied for the victory with Shane O'Connell.
Breuer left Minot after earning $8,868 – $3,461 coming from the average.
With his performance at the RBCFR, Breuer punched his ticket to the RAM National Circuit Finals Rodeo April 6-9, in Kissimmee, Fla. All money won at the 12 circuit finals rodeos, All American ProRodeo Finals and the RNCFR – per new PRCA bylaws – count toward the 2017 WEATHER GUARD® PRCA World Standings.
"It has been a real blessing that it has all worked out this year," Breuer said. "This performance at the (Badlands) Finals will give me a headstart for 2017 and give me another chance for money at Kissimmee. There's a lot of money at Kissimmee and I really had fun there last year."
With the RBCFR in the rear-view mirror, Erickson's next focus is competing in the 2016 Wrangler National Finals Rodeo presented by Polaris RANGER Dec. 1-10 in Las Vegas. Erickson made his lone appearance in the Wrangler NFR in 2013, finishing 14th in the world standings.
Breuer enters the upcoming WNFR 12th in the standings with $71,118.
"I'm going to go to a couple of rodeos before the NFR to get ready for the NFR," Erickson said. "I have a lot of confidence right now."
Other winners at the $207,656 rodeo were all-around cowboy Tate Thybo, ($6,489, saddle bronc riding and bull riding), steer wrestler Taz Olson (19.4 seconds on four head), team ropers Logan Olson/Jordan Olson (22.3 seconds on four head), saddle bronc rider Ty Manke (314 points on four head), tie-down roper Tyler Thiel (38.1 seconds on four head), barrel racer Jana Griemsman (55.86 seconds on four runs), and bull rider Tate Thybo (211 points on three head).
For more coverage of the RAM Badlands Circuit Finals Rodeo, check out the Oct. 21 issue of the ProRodeo Sports News.
Courtesy of PRCA