Brown Doubles Up at RTCFR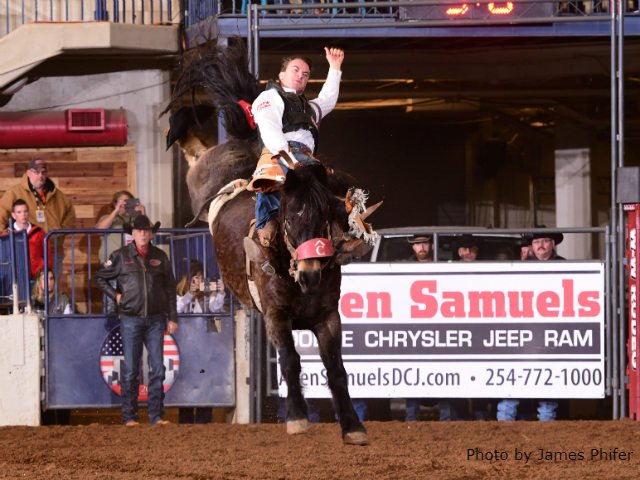 WACO, Texas – Fresh off his strong effort at the 2017 Wrangler National Finals Rodeo presented by Polaris RANGER – and winning $58,654 – bareback rider Jake Brown kept his momentum rolling Saturday.
With a score of 254.5 points, Brown won the three-head average at the RAM Texas Circuit Finals Rodeo, and also snared the Texas Circuit Finals year-end title – two firsts in his career at the Extraco Events Center.
"This feels great," said Brown, 27. "I drew good horses all weekend and I rode really well. Bill (Tutor) and I were a point apart in the average and it awesome to win. Winning the year-end title also was a goal of mine, and I was happy to accomplish that goal. I've made the (Texas) Circuit Finals so many times and I've always wanted to win it and to finally get this done means so much to me."
Brown clinched his inaugural RTCFR average championship with an 86.5-point ride on Pete Carr Pro Rodeo's Night Bells in the third round.
"I was really happy when I drew that horse," Brown said. "I knew I had a really good chance (to do well) if I just did my job. Bill (Tutor) went out right before me and he made a good ride and was 86.5 (points). When I got on Night Bells, he exploded out of the bucking chute and was leaping high and was angling off to the left. I knew I made a good ride so when I hit the ground I was happy and then when they called out my score (86.5 points), I just smiled."
Brown has qualified for the WNFR three consecutive times and the Cleveland, Texas, cowboy finished 12th in the 2017 WEATHER GUARD® PRCA World Standings with $161,866.
"Of course, you want to be a world champion, but this is second best, winning the average at the Texas Circuit Finals," Brown said. "The Texas Circuit Finals are so tough because we have so many NFR guys who compete in this circuit."
Brown earned $10,589 at the RTCFR – $3.025 coming from the winning the average.
Brown was at his best throughout, taking the first-round win with an 85-point ride on Pete Carr Pro Rodeo's Raging Angel and then he tied Tutor for the second-round victory with an 83-point ride on Stace Smith Pro Rodeos' Jbc Bent Rail Sourdough.
"I felt like I had a good NFR, the best one I had yet and coming home I was ready for the (Texas) Circuit Finals," he said. "We didn't have much time off. We got to relax for Christmas one weekend and then it was rodeo time again. I was confident and ready to go at the Texas Circuit Finals and it paid off."
Brown's effort in Waco is especially important since all money won at the 12 circuit finals rodeos, All American ProRodeo Finals and the RAM National Circuit Finals Rodeo – per PRCA bylaws – count toward the 2018 WEATHER GUARD® PRCA World Standings.
"I think it's awesome that this money counts in the standings," Brown said. "I had a good weekend here (in Waco) and I'm excited to go down to the RNCFR and try and win some more money."
The 2018 RNCFR is scheduled for April 5-8 in Kissimmee, Fla.
Other winners at the $198,394 rodeo were all-around cowboy Tuf Cooper ($6,505, tie-down roping and steer roping), steer wrestler Cade Staton (13.2 seconds on three head), team ropers Clay Smith/Paul Eaves (14.7 seconds on three head), saddle bronc rider Jacobs Crawley (259.5 points on three head), tie-down roper Sterling Smith (26.1 seconds on three head), steer roper Cody Lee (36.0 seconds on three head), barrel racer Tiany Schuster (47.78 seconds on three runs) and bull rider Sage Kimzey (244 points on three head).
Courtesy of PRCA