Brown Has Sunny Time in Florida
by Justin Shaw | Mar 13, 2016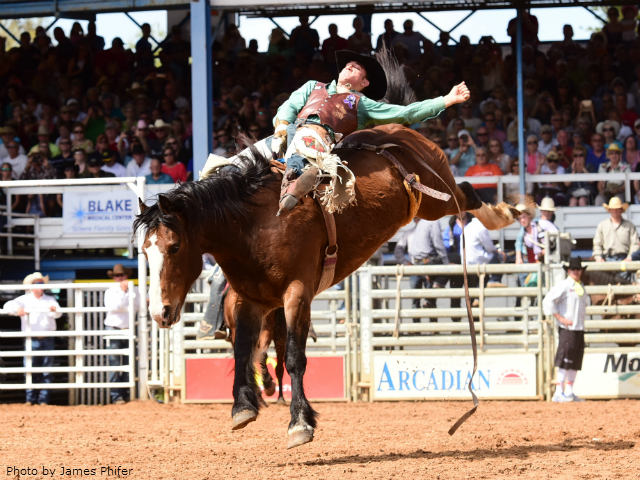 ARCADIA, Fla. – Jake Brown resides in Texas, but he enjoys spending time in Florida these days.
The Hillsboro native flew down to the Sunshine State on March 11, and left March 13 with two rodeo titles and good chunk of change.
Brown, 26, won the bareback riding titles at the Arcadia All-Fla Championship Rodeo and the Okeechobee Cattlemen's Spring Rodeo over the weekend, continuing his hot start to the 2016 season.
"It was a good weekend, and you can't ask for more than that," Brown said. "Rodeoing in Florida is awesome. There are outdoor arenas and it's 85 degrees and the sun is out. It's packed, and everyone is having fun."
Brown certainly had fun during his 48-hour stay in Florida.
He rode for 86.5 points on Frontier Rodeo's Badlands Bay in Arcadia, edging both Evan Jayne and Luke Creasy by a half point, to earn $4,498.
"I had never been on her, but I've seen her and she has always been good," Brown said of Badlands Bay. "You know when you show up at a Frontier Rodeo event, your horse is going to buck and you'll have a chance to win. Those horses are world-class, and when you add $10,000 you're going to get the best riders in the world."
Brown has gotten off to a fast start in 2016, as he sits third in the PRCA world standings, and added his Florida wins to a victory at the National Western Stock Show and Rodeo in Denver in January.
He's hoping the quick start carries over to another trip to the Wrangler National Finals Rodeo presented by Polaris RANGER. Brown's inaugural WNFR saw him struggle throughout the 10 nights and finish 15th in the WNFR average.
"I didn't have the Finals I wanted, and it made me want to work harder to get back and be successful," Brown said. "This is the best winter I've ever had. I've been riding well and drawing well, but I need to stay focused and keep having fun."
In addition to his large haul for winning Arcadia, Brown picked up another $1,452 after riding for 82 points on Silver Spurs Club's Patty to win Okeechobee.
"It's fun to cash big checks, and it makes it so that you don't have as much pressure on you in the summer," he said.
Other winners at the $102,357 rodeo were all-around cowboy Bart Brunson ($1,378 in tie-down roping and team roping), steer wrestler Wade Cooper (5.3 seconds), team ropers Clint Keller and Shane Edmonson (5.7 seconds), saddle bronc rider Taos Muncy (90 points on Frontier Rodeo's Tip Off), tie-down roper Shane Hanchey (8.5 seconds), barrel racer Kelley Carrington (17.53 seconds) and bull rider Garrett Tribble (88.5 points on Frontier Rodeo's Good Time Charlie).
For more coverage of the Arcadia All-Fla Championship Rodeo, check out the March 25 issue of the ProRodeo Sports News.
Courtesy of PRCA