Brown to be Sidelined with Thumb Injury
by ProRodeo.com | Jun 06, 2016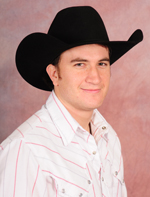 COLORADO SPRINGS, Colo. – Bareback rider Jake Brown, who is leading the June 6 WEATHER GUARD® PRCA World Standings with $66,788, will be sidelined indefinitely because of a right thumb injury on his riding hand.
Brown said he suffered the injury at the Jasper (Texas) Lions Benefit Rodeo (May 11-14) and will continue to compete with it through this weekend before having surgery June 16 in Dallas.
"I got kind of whipped down after I made the whistle and my thumb was in my riggin', and it just got pushed back too far and it tore a ligament in my thumb," Brown said of the cause of the injury. "After the surgery, I'm going to be out for a while. (The doctors) said I'm looking at being out for 12 weeks. I will be out all summer and hopefully I can come back in September; my goal is to make the Finals."
To qualify for the 2016 Wrangler National Finals Rodeo presented by Polaris RANGER in December in Las Vegas, Brown has to finish in the top 15 in the regular-season standings. The regular season ends Sept. 30.
Brown made his Wrangler NFR debut last year, and finished eighth in the world standings with $147,551. This season, Brown has won eight rodeos, including the National Western Stock Show and Rodeo in Denver.
"I've had such a good year up to now, and if I can come back the last couple of weeks (of September) hopefully I can get it done (and make the Finals)," Brown said. "At first I was pretty upset with the injury, but it's all part of a greater plan. Things happen for a weird reason, and who knows why?"
Courtesy of PRCA