Bull Rider Brett Stall Breaks Femur at Los Fresno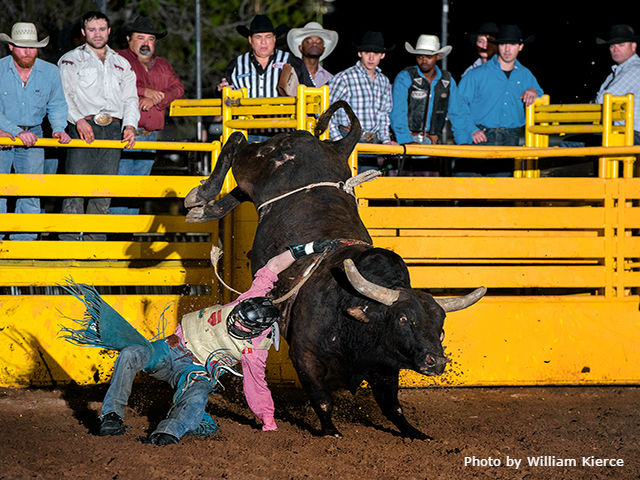 COLORADO SPRINGS, Colo. – Bull rider Brett Stall, a two-time qualifier for the Wrangler National Finals Rodeo presented by Polaris RANGER (2012, 2015), is sidelined indefinitely with a fractured right femur.
Stall was hung up, bucked off and stepped on by Brookman Rodeo's Damn It's Good at the Los Fresno (Texas) PRCA rodeo on Feb. 17.
"I was in the air and the bull drove me right down to the ground and stepped on me," said Stall, 27. "He stepped right on my femur. I knew something was wrong when I got up. I went to take a step and I could feel that bone hitting on the side of my leg and I knew it was broken. I rode that bull in 2013 in Billings, Mont., and I was 87 points on him, but he had the better day this time."
Stall was initially taken by ambulance to a hospital in Brownsville and then he was transported to a hospital in McAllen, Texas, and by Sunday he was taken to Methodist Texsan Hospital in San Antonio where Dr. Greg Gordon performed surgery on his femur.
"Dr. Gordon was an awesome doctor and I couldn't asked for a better doctor with the way he treated me," Stall said. "I don't have a cast. I just have a rod that runs all the way down from my knee to my hip and a little rod that runs into my hip socket. The femur is the biggest bone in your body and if you break it's damn sure going to hurt."
Stall, who was 47th in the Feb. 21 WEATHER GUARD® PRCA World Standings with $6,565, said he expects to be out action for at least three months.
"This just comes with the territory," Stall said about his latest setback. "If you're going to want to do it at the level we do it, you have to expect injuries. It's just a matter of how bad you want it and how bad you want to get back up and get after it again. I'm going to try and get back for the Reno (Nev.) Rodeo (June 15-24), but if I'm not ready by then, we will just have to play it by ear."
Injuries are nothing new for Stall. He was out six weeks following a left ankle surgery Feb. 8, 2016. That surgery was focused on healing an infection that developed in Stall's ankle.
The source of the infection was a plate and nine screws that were put in his broken left leg following a bull riding accident in June 2011 at Bellevue, Iowa.
Courtesy of PRCA