Bull Riding Stars Align with Hedeman for Hobbs
2018 Hobbs Tuff Hedeman Championship Bull Riding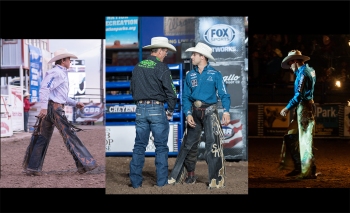 HOBBS, New Mexico – The undisputed number one bull rider in the world, three time CBR World Champion Sage Steele Kimzey, earned his fourth consecutive Professional Rodeo Cowboy Associations (PRCA) world title in Las Vegas earlier this month tying J.W. Harris's record of four PRCA World buckles. The CBR announced today that both are headed back to the CBR's Road to Cheyenne tour with the first of two stops in New Mexico on January 20 at 7:30 pm at the Lea County Events Center where it's possible you will watch four World Champions and 11 National Finals Rodeo contestants competing for over $30,000.
Four time World Champion bull rider and Pro Rodeo Hall of Famer Tuff Hedeman, who presides over the annual event, confirmed today that Kimzey, now a seven time World Champion with three CBR and four PRCA titles, has entered the 2018 Hobbs Tuff Hedeman CBR event where he is the reigning CBR World Champion.
"There are two things fans want to see, big rides and high scores and CBR provides both in a star studded entertaining event," said four time World Champion and Pro Rodeo Hall of Famer, Tuff Hedeman who oversees the production.
"I'm very passionate about all my goals," now more than anything, I want to inspire the next generation and all the young kids coming up – if I can be a positive role model for kids, that's probably the most rewarding thing I can do now," said Kimzey before he won his fourth PRCA gold buckle.
But according to Hedeman, Kimzey is not the only reason to buy a ticket, four World Champions and 11 National Finals Rodeo contestants are back on the Road to Cheyenne this week including a long list of CBR elite riders who have elected to join Kimzey and selected the CBR's first quarter to compete.
"The talent in bull riding today is phenomenal, Kimzey is like a right handed Jim Sharp the way he rides rank bulls ridiculously easy. He does it by being so fundamentally correct and sound. He's legit, he's a bad cat," said Hedeman.
Get ready to cheer these highly decorated champions including Trey Benton, the PRCA's number two bull rider who challenged Kimzey nightly at the super bowl of rodeo winning four rounds and earning $322,208.13 as he attempted to knock Kimzey off the bull riding throne. Benton who is from Rock Island, Tex. confirmed he would be in Hobbs to compete for one of the few CBR titles he has not won. Benton who hopes the momentum he found in his four round wins and second place finish will carry over on this year's Road to Cheyenne.
The 2018 Hobbs Tuff Hedeman CBR is the seventh stop on the twelve month professional bull riding tour which pays out over a million dollars annually including a $100,000 bonus check to the year-end champion – drawing the elite riders of the sport.
"If you couldn't get to Vegas, they will be right back here in Hobbs in two weeks," said Hedeman.
Defending his Hobbs CBR title will be CBR World number one and the PRCA's Rookie of the year Boudreaux Campbell, Crockett, Texas, was awarded the professional rookie of the year title and picked up the NFR Round 9 win while in Vegas.
"I am looking forward to returning to action in CBR after Vegas and competing against some of the best in the business is motivating and I plan on keeping my number one ranking, but I will have to earn it – I have had a great season so far winning two CBR events and a round at the NFR, but none of that matters each week on the road, you start over every time you pull your rope" said Campbell.
History in Hobbs
Be one of the first to see Kimzey in 2018 as he continues his quest to be the best bull rider in history. Kimzey earned over one million dollars riding bulls since he left Hobbs last January. Kimzey won his fourth PRCA title and declared from the podium he was halfway to tying Don Gay's record of eight PRCA bull riding world titles, a goal he stated when he was ten years old.
Kimzey became the only bull rider in the PRCA history to break the $400,000 mark in a single season and earned $192,134 at the NFR to give him a PRCA-record for most money won in bull riding in a year at $436,479, smashing his own record that he set of $327,178 in 2015.
"I don't see any reason not to win nine or 10 in a row," Kimzey said. "I've got the talent and drive and ability, and the Lord has blessed me in ways I can't imagine."
The Entertainers
Bring you children to jump start their career to the stick bull riding competition prior to the opening of the show. Request entry form at stickbullrider@aol.com to enter. It's free to enter and the kids will have a blast as they come out of the pint size bucking chutes complete with the announcer, cow bells, and bullfighter's protection.
Four- time World Champion Tuff Hedeman has been producing top rated events for over 30 years and ticket holders can look forward to a great night as CBR has recruited some of the industry's leading entertainment and personnel including former NFR Barrel man J.J. Harrison who will roam the crowd giving away merchandise and providing his own style of comic relief.
The CBR event also includes three unique athletes, the Famous Energy Bullfighters, who will be signing autographs and taking selfies on the concourse before they take the dirt to risk their lives each and every time the chute gate opens. Cowboy live saving, grand pyro introductions, and great family entertainment assure bull riding fans a super-live two hour adrenaline rush show.
Meet and Greet
Don't forget your tee shirts, hats, 8 Second DVDs, or anything else you want Tuff Hedeman and the bull riders to autograph because immediately following the event they will be on the arena floor.
The Tuff Hedeman Hobbs CBR is the seventh stop of the 16 city CBR Road to Cheyenne tour featuring a field of 24 elite bull riders in a three round tournament style event ending in a final four Shoot Out round worth at least $30,000 to the riders and $45,000 in competition prize monies for the four legged bucking bull athletes.
Tickets
The CBR Hobbs is powered locally by Holly Frontier, Stone Oilfield, Western Heritage Museum, Legendary Services, Martin Boot Company, Mico Oilfield Services, Tex Mex Rentals, Pacific Rim, and First American Bank.
Riders and Hedeman's appearance schedule for Hobbs:
Join Tuff Hedeman January 18 – Thursday from 5:30 – 7:30 at the Western Heritage Museum, then on Friday, the 19 – stop by Pacific Rim from 5:00 to 7:00 for a meet and greet with Tuff. They bull riders and Tuff will sign from the arena floor immediately following the event.
Tickets are available at Selectaseatlubbock.com or call 806-770-2000
Location is Lea County Events Center, 5101 N Lovington Hwy, Hobbs, NM 88240
Advertising opportunities and VIP seating contact Cheryl at 254-459-9205 or cfhedeman@aol.com
WEBSITES: Selectaseatlubbock.com; CBRBull.com and www.leacountyevents.com
For more information contact: Leigh Ann Schroeder, leighann@cbrbull.com or 940.902.1112. Follow Tuff Hedeman on the Official Tuff Hedeman Fan Page on Facebook, Twitter and Instagram and @TuffHedeman and CBR on Facebook at Championship Bull Riding, Twitter and Instagram @CBRbull.
Courtesy of CBR