Cajun Cowboy and Canada Enter Cheyenne at #13
Jeffery Ramagos and K & G Bull Team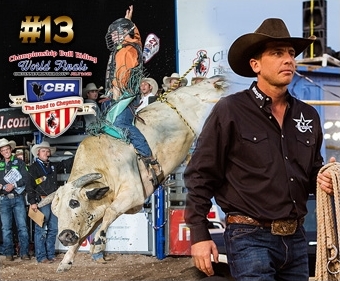 #13 Jeffery Ramagos
Jeffery Ramagos from Zachary, Louisiana just finished his second year on the Road to Cheyenne pro bull riding tour and is currently preparing for his second CBR World Finals on what is the most popular work pre Cheyenne warm up regimen of modern day bull riders – the summer rodeo run.
Known in bull riding circles as Jazzy, Ramagos is known as a "tough as nails" athlete who fought his way not only onto the CBR televised tour, but for his life a few years back when he suffered one of the most devastating bull riding accidents of this decade.
"Living a dream, God first in everything I do, blessed and thankful everyday my feet hit the floor," Jeffery Ramagos.
Ramagos missed the season opener in Huron and Window Rock last fall but joined the already in progress 2017 season in Laughlin, Nevada in September. He had a rough start and did not cover a bull until three events later in Mercedes in October.
The Cajun cowboy found his stride and ended the season competing in 11 CBR events, posting 19 outs with 8 qualified rides. He advanced to the final four Shoot Out once in Jackson, TN and that event was his best finish where he rode for 179 points on three bulls and finished in fourth place.
Ramagos advanced to the Semifinal round five times while on tour and those qualified rides earned him enough points to be ranked #13 overall coming into Cheyenne and the CBR World Finals. On his way to making the CBR finale he ran across bull of the year nominee, Stanley Hart.
"He was definitely the rankest bull I got on all year, he is one of those bulls that if a man wants to win that's the bull he wants next to his name," said Ramagos about his Salina, Kansas trip on 138 that lasted 3.13 seconds.
"What made him difficult was that he was catching a lot of air followed by a lot of kick, combine that with his speed and power and it was all there," continued Ramagos.
Ramagos has been riding bulls professionally since 2011 when he joined the PRCA. He has seven go round wins as a rider and his highest marked ride on the Road to Cheyenne this year was on 27 El Toro for 90 points in Jackson.
But his story is different than most, most bull riders have a similar path to the pros. They get on sheep, then calves, then junior bulls while competing in junior associations from the time they could walk.
But what makes Jeffery Ramagos so interesting is he didn't even take up bull riding until he was thirteen years old when he started watching it on television and decided to try it. With no rodeo experience in his family, he taught himself.
"I never had anyone to break it (bull riding) down for me," claimed the rookie that likes the CBR because the three rounds give you three opportunities and a great pen of consistent bulls.
"My first bull I knew I had to do everything right or I'd buck off, like I did on him in a Horizon event the week before, but my second bull felt great, hope to draw him again – my final four bull kicked so hard out of the gate he had me raised up and then he turned back, no blinker on or nothing – when I finally got back up where I needed to be I was so far behind and stretched out on my arm that he bucked me off."
Ramagos, known worldwide for one of the worst bull riding accidents which took place on March 8, 2014 at the Okeechobee Spring Rodeo.
It is described by one cowboy who was there as the bloodiest head injury he had ever seen. The back of the bucking bull's head hit 21-year-old Jeffrey Ramagos in the face, a catastrophe rider's call "kissing the bull." He did not have a helmet.
"It looked like his face was torn off," former PRCA cowboy Beau Schroeder said.
The Discovery Channel chronicled the accident very accurately in a prime time television special according to his Mom.
"This was a very horrific accident that was life altering for my son and our family. It is amazing that after whole day of hard work filming and after editing Jeffrey's story was told in 10 minutes. I thank God every day that the Lord spared his life that day! Thank you Discovery Life for sharing our family's journey."
Despite flying under the bull riding radar since that life threatening injury in 2014 that would have been the end to most careers, Ramagos never quivered about returning to the arena. Swapping his cowboy hat for a helmet, the determined Ramagos was back riding bulls less than eight weeks after Okeechobee where he had a five hour surgery to put five plates in his face.
The Cajun cowboy who claims pizza as his favorite food would like to raise his own bulls some day and maybe be back at the CBR as a stock contractor.
"It's your road and yours alone. Others may walk with you, but no one can walk it for you." – Jeffrey Ramagos.
#13 K & G Bull Team
The only internationally owned CBR Bull Team, K & G, heads to the CBR World Finals in Cheyenne for the second consecutive year with franchise owners Jason Komant and Travis Gawley of Alberta, Canada excited to return to Cheyenne Frontier Days and Cheyenne, Wyoming.
Moving to the CBR Bull Team Challenge competition from the futurity team side of the industry, Komant and Gawley selected Bret Barrett and Audie Willis to manage their bulls and BTC investment.
This year their team competed in El Paso, Texas, Salina, Kansas, and Fort Worth – placing second, sixth, and fifth respectively. According to Brett Barrett, who manages the team bulls, they were "one bull short" all year from having the dream team and he is thrilled to have qualified and have the opportunity to compete for the $100,000 bonus check awarded in Cheyenne and thankful all scores are dropped and the playing field is level.
Anchoring their bull team this season was 029 Back Jackin, a son of Squirt Gun who was the only bull that competed on all three outs of the K & G bull team.
With a horn infection injury keeping one of their best (82X HD) bulls from the road, Barrett rotated former CBR Bull of the Year 050 Gold Buckle with 048 Classic Whoopin, and 1925 Painkiller to get his three outs per event.
The team's best finish was second in El Paso and included an 88.5 ride from Eli Vastbinder on 116 Rock On. The team plans on using 82X HD in Cheyenne but two new bull faces will be rounding out their entry.
Courtesy of CBR