Calgary Stampede 2016 Lineup

READ MORE ON EVERYTHING-COWBOY.COM
Calgary – The Calgary Stampede is proud to announce an exceptional lineup of rodeo competitors for the 2016 Stampede, July 8-17. Over ten days, 120 superstars of the sport will showcase their skills, mixing talent with grit and determination in hopes of capturing a share of more than $2 million in prize money.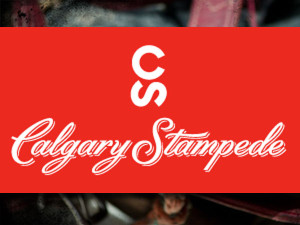 "The Calgary Stampede is one of the biggest events in rodeo, and this year we are excited to have an incredible mix of top competitors from all over the world," says John Rule, Calgary Stampede Rodeo committee chair. "France, Australia, Brazil, the United States and Canada will all be represented in the rodeo arena. But no matter where they are from, all have one goal in mind," says Rule. "They're coming here to win on Showdown Sunday, to leave with a $100,000 cheque in their pocket."
All of the 2015 Calgary Stampede Champions have accepted their invitations to return in 2016, including steer wrestler Trevor Knowles of Mt. Vernon, Oregon. Knowles has now won his event at the Stampede an incredible four times, and will be aiming for a fifth title this coming July. Also looking to defend their titles are home-grown talents Zeke Thurston of Big Valley, Alberta, and Clint Laye of Cadogan, Alberta.
"Capturing another championship won't be easy for any of them," says Rule. "We call it The Greatest Outdoor Show on Earth for a reason, with the greatest rodeo athletes and animals in the world." Among the contestants vying to become Calgary Stampede Champions in 2016 are 24 past Stampede champs, 22 World champions, and 16 Canadian champions.
2016 Calgary Stampede Rodeo Contestants

Saddle Bronc Riding
Jim Berry – Rocky Mtn House, AB
CoBurn Bradshaw – Milford, UT
Jacobs Crawley – Boerne, TX
Cody DeMoss –Heflin, LA
Heith DeMoss – Heflin, LA
Isaac Diaz – Desdemona, TX
Clay Elliott – Nanton, AB
Dustin Flundra – Pincher Creek, AB
Layton Green – Meeting Creek, AB
Brad Harter – Aledo, TX
Tyrel Larsen – Inglis, MB
Taos Muncy – Corona, NM
Cort Scheer – Elsmere, NE
Chuck Schmidt – Keldron, SD
Wade Sundell, Boxholm, IA
Zeke Thurston – Big Valley, AB
Jake Watson – Hudson's Hope, BC
Spencer Wright –Milford, UT
Jake Wright – Milford, UT
Rusty Wright –Milford, UT

Bareback Riding
Colin Adams – Deloraine, MB
Tanner Aus – Granite Falls, MN
Caleb Bennett –Morgan, UT
Kyle Bowers – Drayton Valley, AB
Jake Brown – Cleveland, TX
Richmond Champion – Dublin, TX
Kaycee Feild – Payson, UT
Austin Foss – Terrebonne, OR
Seth Hardwick – Laramie, WY
Yvan Jayne – Marseille, FR
RC Landingham – Hat Creek, CA
Larsen Orin – Inglis, MB
Dusty LaValley – Bezanson, AB
Clint Laye – Cadogan, AB
Will Lowe – Canyon,TX
Bobby Mote –Redmond, OR
Tim O'Connell -Zwingle, IA
Steven Peebles – Redmond, OR
Ty Taypotat –Regina, SK
Jake Vold – Ponoka, AB

Ladies Barrel Racing
Vickie Carter – Richfield, UT
Mary Burger – Pauls Valley, OK
Ivy Conrado – Hudson, CO
Callahan Crossley – Hermiston, OR
Nancy Csabay – Skiff, AB
Callie duPerier – Boerne, TX
Jackie Ganter – Abilene, TX
Deb Guelly – Okotoks, AB
Taylor Jacob – Carmine,TX
Cassidy Kruse – Gillette, WY
Julie Leggett – Kamloops, BC
Lisa Lockhart – Oelrichs, SD
Sarah Rose McDonald – Brunswick, GA
Michele McLeod –Whitesboro, TX
Cayla Melby – Burneyville, OK
Kelley Schnaufer – Pueblo, CO
Megan Swint – Plant City, FL
Fallon Taylor – Collinsville, TX
Mary Walker – Ennis, TX
Brittney Paige Willis – Bristol, FL

Steer Wrestling
Luke Branquinho – Los Alamos, CA
Seth Brockman- Wheatland,WY
Curtis Cassidy – Donalda, AB
Cody Cassidy – Donalda, AB
Hunter Cure – Holliday, TX
Dakota Eldridge – Elko, NV
Ty Erickson – Helena, MT
Morgan Grant – Didsbury, AB
Scott Guenthner – Consort, AB
Clayton Hass – Terrell, TX
KC Jones – Decatur, TX
Trevor Knowles – Mt. Vernon, OR
Casey Martin – Sulpher, LA
Tanner Milan – Cochrane, AB
Clayton Moore – Pouce Coupe, BC
Travis Reay – Mayerthorpe, AB
Matt Reeves – Cross Plains, TX
Jake Rinehart – Highmore, SD
Baylor Roche – Tremonton, UT
Tyler Waguespack – Gonzales, LA

Tie Down Roping
Trevor Brazile – Decatur, TX
Tuf Cooper – Decatur, TX
Marcos Costa – Parana, BRZ
Dean Edge – Rimbey, AB
Shane Hanchey – Sulphur, LA
Hunter Herrin – Apache, OK
Logan Hofer – Magrath, AB
Ryan Jarrett – Summerville, GA
Timber Moore – Aubrey, TX
Rhen Richard – Roosevelt, UT
Reese Riemer – Stinnett, TX
Clint Robinson – Spanish Fork, UT
Matt Shiozawa – Chubbuck, ID
Calen Smidt – Bellville,TX
Sterling Smith -Stephenville, TX
Ryle Smith – Oakdale, CA
Cory Solomon – Prairie View, TX
Cade Swor –Winnie, TX
Fred Whitfield – Hockley, TX
Marty Yates – Stephenville, TX

Bull Riding
Josh Birks – Merriwa, AUS
Dakota Buttar – Kindersley, SK
Tanner Byrne – Prince Albert, SK
Cooper Davis – Jasper, TX
Clayton Foltyn – Winnie, TX
Tanner Girletz – Cereal, AB
Sage Kimzey – Strong City, OK
Zane Lambert – Ponoka, AB
Stetson Lawrence – Williston, ND
JB Mauney –Mooresville, NC
Devon Mezei – Carstairs, AB
Robson Palermo – Rio Branco, BRZ
Jared Parsonage – Maple Creek, SK
Shane Proctor – Troutman, NC
Nathan Schaper – Grassy Butte, ND
Wesley Silcox – Santaquin, UT
Cody Teel – Kountze, TX
Matt Triplett – Columbia Falls, MT
Fabiano Vieira – Decatur, TX
Joao Ricardo Vieira -Sao Paulo, BRZ