California Rodeo Announces the Grand Marshals of the Colmo del Rodeo Parade
June 27, 2017 – Salinas, CA – The California Rodeo Salinas produces the Colmo del Rodeo Parade each year and part of the tradition is having a Grand Marshal to lead the parade through Old Town Salinas. This year the Grand Marshals are Ollie Lowe and Brian Holaday, the founders of Operation Give Back. Operation Give Back is a toy drive held in Monterey County and organized by Lowe and Holaday because they want to make Christmas a magical time for as many children as possible. Holaday says, "Christmas was magic for me every year and it breaks my heart to think that it isn't or that it might not be as magical for some," while Lowe says, "My mother, with three children, was a single parent. We were recipients of the Salvation Army. Every Christmas day, we would get jackets, toys…so it was ideal for me to give back." Their mission is to build an army of people who can take time out to intentionally select a toy that will put a smile on a child's face and make a difference in his or her life. The California Rodeo Association is excited to bring Christmas to July by recognizing Operation Give Back and their founders during the Colmo del Rodeo Parade.
Early July is known as Cowboy Christmas in the world of professional rodeo as cowboys are traveling to several rodeos over the 4th of July weekend to try to win as much money as possible. We are having our own type of Cowboy Christmas in Salinas from July 1st until July 15th to gather gifts instead of money by encouraging members of our community to donate toys to Operation Give Back. The toys will be stored until December when donations will be made to the Salvation Army and local church groups. Donation bins can be found at various locations throughout Monterey County such as The Salad Shoppe and Artistic Hang Ups in Salinas. We will continue to add bin locations at: www.carodeo.com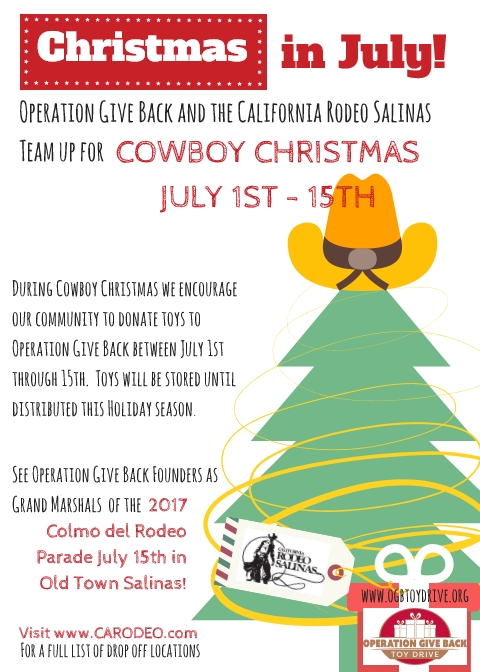 The 2017 Colmo del Rodeo Parade is presented by Star Market. The parade has been part of the traditions associated with Big Week and the California Rodeo Salinas for many years. The parade will roll through Old Town Salinas on Saturday July 15th starting at 8pm, following the Kiddie Kapers Parade. Thousands of people line the streets for this free parade that features lighted entries consisting of floats, tractors, golf carts, bands and more.
About the California Rodeo
The 107th California Rodeo Salinas will take place July 20th-23rd, 2017. The California Rodeo Association is a non-profit organization that strives to preserve and promote the traditions of the California Rodeo Salinas and the West. We support the community and other non-profit organizations through the staging of the annual California Rodeo Salinas and other year round operations of the Salinas Sports Complex. Through donation of our facility, vending and fundraising opportunities during Rodeo and other events, the California Rodeo Association returns over $300,000 annually to local non-profits. For more information about the California Rodeo Salinas, log on to www.CARodeo.com or call the California Rodeo Office at 831-775.3100. -'Like' the California Rodeo on Facebook at www.facebook.com/CARodeoSalinas or follow us on -twitter @CaliforniaRodeo for updates, photos and more.