California Rodeo Salinas Bumper Sticker Contest is Back
Travel with your Yellow Sticker and Submit Photos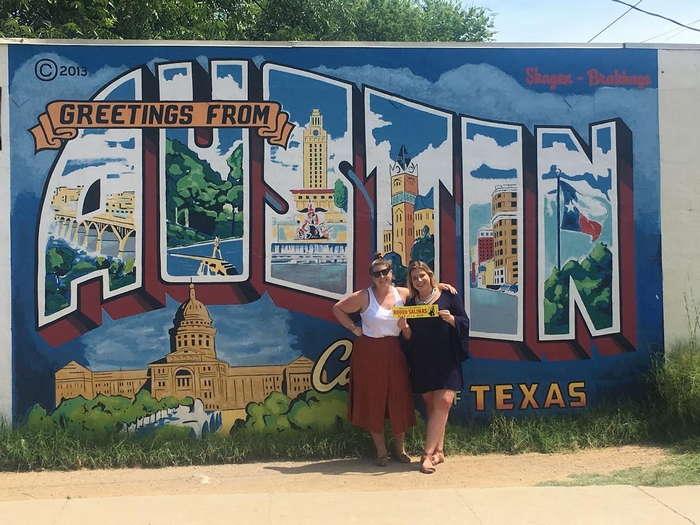 April 26, 2017 – Salinas, CA – The California Rodeo Salinas creates a signature yellow bumper sticker every year that features the logo and dates of the Rodeo. Many horse trailers travel down the road with stickers from years of participating at the California Rodeo Salinas, locals drive around with the stickers of the city's signature event on their cars and fans from all over the United States order them to promote their love of the largest Rodeo in California. All fans are encouraged to take the bumper sticker with them during their travels, snap photos and submit them to the California Rodeo and participate in our 2017 contest. The winning photo from 2016 was taken at the iconic Austin, Texas sign.
The "Stick with the Rodeo" bumper sticker contest is LIVE, so get your bumper stickers and #stickwiththerodeo! The contest will be held on Instagram and the rules are simple, just upload your photo that includes a California Rodeo bumper sticker, use #stickwiththerodeo and tag @carodeosalinas and you are entered to win awesome Rodeo swag! Be sure to follow the California Rodeo on Instagram to see what's happening at the Rodeo year-round! The California Rodeo Salinas' Marketing Committee will vote on the best photo and choose a winner. The contest is open now through June 15th. The winner will be notified by June 30th.
Bumper Stickers can be obtained for free at the California Rodeo Salinas Office at 1034 N. Main Street in Salinas Monday through Friday from 9am to 5pm (closed for lunch on Fridays) or by visiting an Oil Can Henry's location in Salinas, Soquel or Watsonvillle*. Non-locals can purchase bumper stickers at http://www.carodeo.com/p/about-us/store/309 for $1.
*Oil Can Henry's locations: 1042 N. Davis Road, Salinas, CA 93907; 2878 South Rodeo Gulch Road, Soquel, CA 95073; 1409 Main Street, Watsonville, CA 95076
The 107th California Rodeo Salinas will take place July 20th-23rd, 2017. The California Rodeo Association is a not-for-profit organization that strives to preserve and promote the traditions of the California Rodeo Salinas and the West. We support the community and other non-profit organizations through the staging of the annual California Rodeo Salinas and other year round operations of the Salinas Sports Complex. Through donation of our facility, vending and fundraising opportunities during Rodeo and other events, the California Rodeo Association returns over $300,000 annually to local non-profits. For more information about the California Rodeo Salinas, log on to www.CARodeo.com or call the California Rodeo Office at 831-775.3100. -'Like' the California Rodeo on Facebook at www.facebook.com/CARodeoSalinas or follow us on twitter @CaliforniaRodeo for updates, photos and more.