California Rodeo Salinas Honored as a 2017 Champion of Economic Impact in Sports Tourism by Sports Destination Management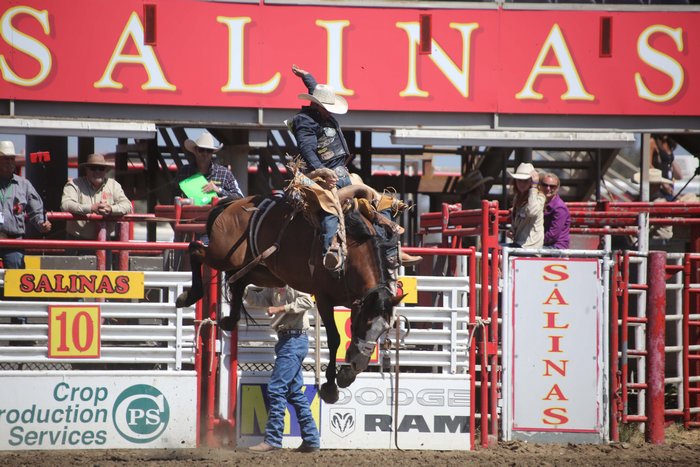 Salinas, CA – Sports Destination Management, the leading publication with the largest circulation of sports event planners and tournament directors in the sports tourism market, has announced the 2017 Champions of Economic Impact in Sports Tourism. This year's winners are responsible for contributing more than $400 million to the national economy over the past year.
Among the winners was California Rodeo Salinas, produced in cooperation with the City of Salinas.
The California Rodeo Salinas is one of the top 15 professional rodeos in the United States and the largest in California. Held annually in July at the Salinas Sports Complex, the four day event draws over 600 contestants and 60,000 attendees. The Rodeo and other events held during what locals call 'Big Week' contribute over $400,000 to local non-profits each year. The California Rodeo Association manages the Salinas Sports Complex, which is owned by the City of Salinas, and hosts numerous youth-focused events annually such as softball tournaments, high school football and soccer games and more. Jim Slaten, General Manager of the Salinas Sports Complex and Past President of the California Rodeo Salinas said, "We are honored to be recognized for our contributions to the City of Salinas and sports tourism. The California Rodeo Salinas will celebrate 108 years of tradition in 2018 and we look forward to many more years of having a positive impact in our community."
All winners of awards have been recognized in a special feature published in the November/December 2017 issue of Sports Destination Management. The entire article with full details on the winners listed below can also be found online along with a special feature on economic impact.
About California Rodeo Salinas: The 108th California Rodeo Salinas will take place July 19th-22nd, 2018. The California Rodeo Association is a not-for-profit organization that strives to preserve and promote the traditions of the California Rodeo Salinas and the West. We support the community and other non-profit organizations through the staging of the annual California Rodeo Salinas and other year round operations of the Salinas Sports Complex. Through donation of our facility, vending and fundraising opportunities during Rodeo and other events, the California Rodeo Association returns over $400,000 annually to local non-profits. For more information about the California Rodeo Salinas, log on to www.CARodeo.com or call the California Rodeo Office at 831-775.3100. 'Like' the California Rodeo on Facebook at www.facebook.com/CARodeoSalinas or follow us on twitter @CaliforniaRodeo for updates, photos and more.
About Sports Destination Management: Sports Destination Management is written for the largest audience of sports event managers and tournament directors in the sports tourism market and maintains a focus on the important issues surrounding event location decisions and event management. With content from experts and thought leaders, SDM provides in-depth coverage of sports event planning and execution through incisive and relevant articles as well as insightful, real-world case studies showcasing best practices and successful event production. In addition to the publication, SDM offers extensive digital resources through www.sportsdestinations.com and the e-newsletter SDM Blitz, both providing decision support tools for organizers to ensure successful events at all levels of play.
About Due North Media: Due North Media, a division of Due North Consulting, Inc., is a niche business-to-business publisher providing media services to executives within specialized vertical markets impacting economic development including corporate site selection, business development, market-to-market events and sports tourism via publications, digital media, qualified list marketing and custom publishing.
Founded in 2001, Due North Consulting, Inc. has helped niche marketers obtain their goals for a decade and a half. The principals of the company have over 40 years of business-to-business advertising and marketing experience. It has been their mission to serve readers, clients and employees with integrity, humility and a continuing quest for the achievement of excellence.