California Rodeo Salinas is Honored to Send a Participant for Golden Circle of Champions Events in Las Vegas During Wrangler National Finals Rodeo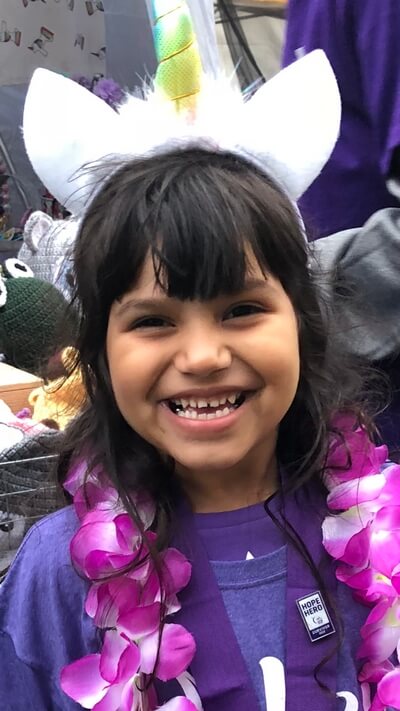 SALINAS, CA, November 15, 2018 – The California Rodeo Salinas is one of ten rodeo committees selected to send a childhood cancer patient or survivor to enjoy a banquet with rodeo champions and a night at the Wrangler National Finals Rodeo as part of the Golden Circle of Champions initiative.
Founded in 2016 in conjunction with the Santa Maria Elks Rodeo, the Golden Circle of Champions was conceived to raise awareness and provide funds to help those children in need. Each year, families are honored during the opening night of the rodeo. Through donations and fundraising efforts, support is provided directly to the families to fulfill their most urgent needs: paying bills, buying medicine and caring for their family.
What started at the Santa Maria Elks Rodeo is now making its way to Las Vegas to continue the vital mission of the Golden Circle of Champions. Ten local Las Vegas families along with 10 families chosen from PRCA-sanctioned rodeos from across the country will be treated like champions at rodeo-themed activities in their honor. Each of the 20 families in attendance will include a child between the ages of 6 and 14 years of age who has been diagnosed with a life-threatening cancer or associated illness.
"The California Rodeo Salinas has worked hard to raise funds and awareness for many causes, but this is the first time we are honoring a child who has survived cancer and we are looking forward to following along with our survivor's journey as she experiences a once in a lifetime trip to the Wrangler National Finals Rodeo made possible by the western community," stated Mandy Linquist, Marketing Manager for the California Rodeo Salinas.
The California Rodeo Salinas is excited to announce that six year old Isabella (Bella) Valdez-Varela will be our "Golden Champion" child making this special trip to the Wrangler National Finals Rodeo. Bella was diagnosed with LCH (Langerhans Cell Histiocytosis, a type of cancer that can damage tissue or cause lesions to form in one or more places in the body) at the age of 5 months old. Now 6 years old, Bella has been in remission for over 5 years. She will be joined in Las Vegas by her parents Gabriel and Nancy along with her 3 older siblings. Read more about Bella's story here.
The California Rodeo Salinas was connected with Bella via Karina Rusk at Salinas Valley Memorial Healthcare System (SVMHS) who has worked with Bella's mother, Nancy, on the American Cancer Society luncheon held annually in Monterey County. Nancy has also participated in Rodeo fundraising activities as a leader for LULAC who sells programs each July to raise funds for their organization. The California Rodeo Salinas is connected to SVMHS by Wrangler Tough Enough to Wear Pink programs, sponsorship and more.
While in Las Vegas, the children and their families will be honored at the Golden Circle of Champions Banquet at the South Point Hotel, Casino & Spa on Sunday, December 9 at 1 p.m. PT. The children will have an opportunity to dine with rodeo champions, receive special gifts and learn about the sport of rodeo. That evening, all honorees will attend the Wrangler NFR at the Thomas & Mack Center. The following day, the group will make their way to Cowboy Christmas at the Las Vegas Convention Center for a photo shoot in the Wrangler NFR Arena, followed by live viewing of the Junior NFR presented by YETI.
The California Rodeo Salinas is responsible for covering travel expenses for the family and will be earning funds by managing the bar at Flair on the Farm this, a local event featuring over 140 vendors, at the Salinas Sports Complex. Flair on the Farm takes place this weekend and will be open Saturday, November 17th from 10am to 4pm and Sunday, November 18th from 10am to 3pm; there is a $5 admission fee unless you bring a new unwrapped toy, jacket or pair of shoes to donate at the gate.
About California Rodeo Salinas
The 109th California Rodeo Salinas will take place July 18th-21st, 2019. The California Rodeo Association is a not-for-profit organization that strives to preserve and promote the traditions of the California Rodeo Salinas and the West. We support the community and other non-profit organizations through the staging of the annual California Rodeo Salinas and other year round operations of the Salinas Sports Complex. Through donation of our facility, vending and fundraising opportunities during Rodeo and other events, the California Rodeo Association returns over $400,000 annually to local non-profits. For more information about the California Rodeo Salinas, log on to www.CARodeo.com or call the California Rodeo Office at 831-775.3100. 'Like' the California Rodeo on Facebook at www.facebook.com/CARodeoSalinas or follow us on twitter @CaliforniaRodeo for updates, photos and more.