California Rodeo Salinas Salutes Veterans
Social Media Promotion to Raise Money for Monterey Veterans, Inc.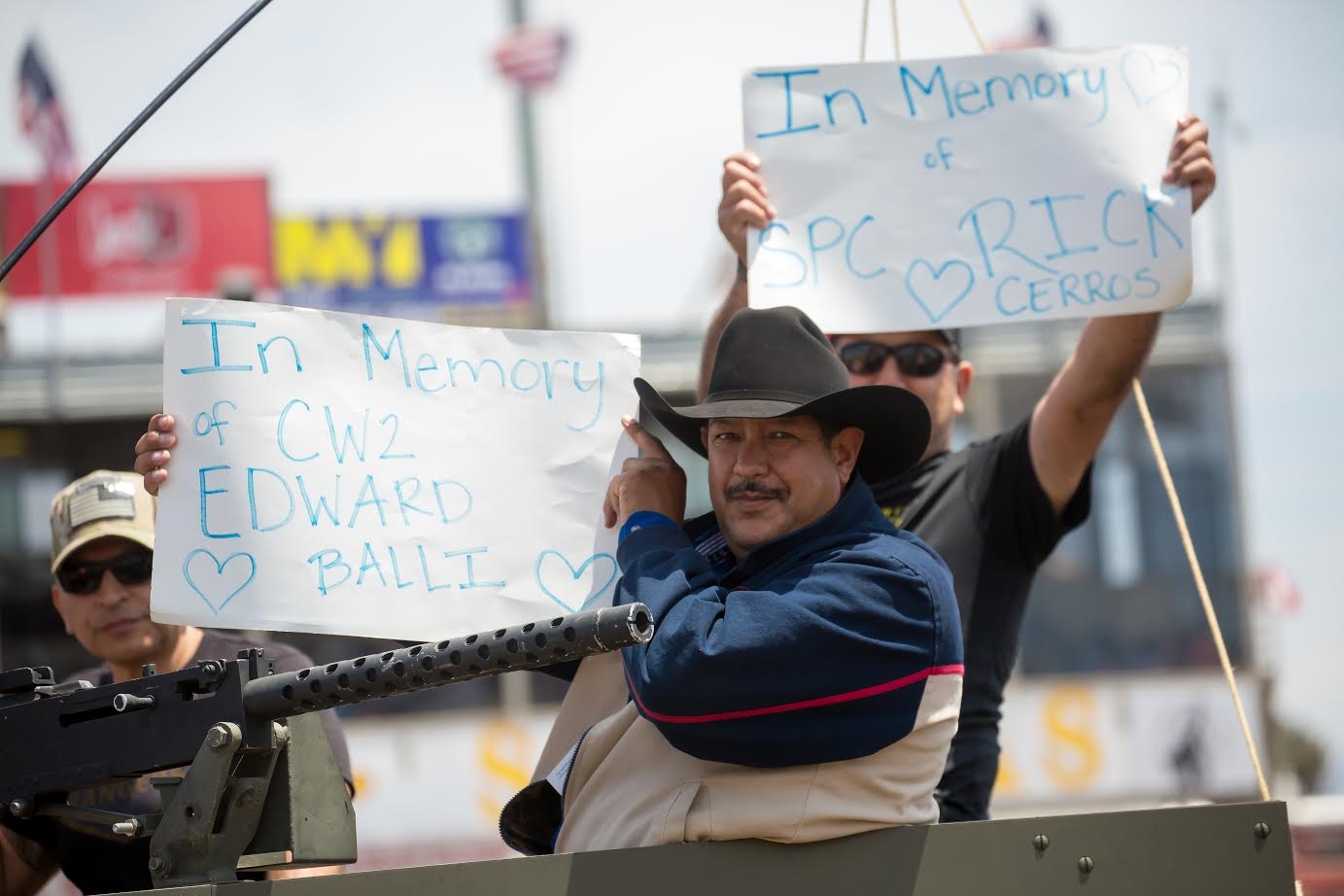 SALINAS, CA, November 2, 2016 – The California Rodeo Salinas salutes Veterans each July during Military Day at the Rodeo, but this November the association would like to engage social media fans in a promotion to salute Veterans online and raise money for a local charity, Monterey Bay Veterans, Inc (MBV). The California Rodeo Salinas has partnered with MBV for the past 5 years as part of the Wrangler National Patriot Program, a nationwide program that raises funds for Military causes and allows rodeo committees to choose local charities to support. There have been various fundraisers in the past, including dinners at local restaurants and raffles, to raise funds for MBV, but this year rodeo fans can post photos of the Veterans in their lives to the Rodeo's Facebook, Instagram or Twitter accounts between November 2nd and November 16th and the California Rodeo will donate $1 for every unique post to MBV, up to a maximum of $500. Participants should use the hashtag #carodeosalutesveterans and try to include the Military branch, years of service, rank and any other significant details about the Veteran that is near and dear to their hearts.
To learn more about the California Rodeo's involvement in the Wrangler National Patriot Program click here: http://www.carodeo.com/events/2017/wrangler-national-patriot-program-2017
The links to each of the Rodeo's social media pages are below:
Facebook: https://www.facebook.com/CARodeoSalinas/
Instagram: https://www.instagram.com/carodeosalinas/
Twitter: https://twitter.com/CaliforniaRodeo
About California Rodeo Salinas
The 107th California Rodeo Salinas will take place July 20th-23rd, 2017. The California Rodeo Association is a non-profit organization that strives to preserve and promote the traditions of the California Rodeo Salinas and the West. We support the community and other non-profit organizations through the staging of the annual California Rodeo Salinas and other year round operations of the Salinas Sports Complex. Through donation of our facility, vending and fundraising opportunities during Rodeo and other events, the California Rodeo Association returns over $300,000 annually to local non-profits. For more information about the California Rodeo Salinas, log on to www.CARodeo.com or call the California Rodeo Office at 831-775.3100. 'Like' the California Rodeo on Facebook at www.facebook.com/CARodeoSalinas or follow us on twitter @CaliforniaRodeo for updates, photos and more.