California Rodeo Still Accepting Colmo del Rodeo Parade Entries
Entries are due by June 15th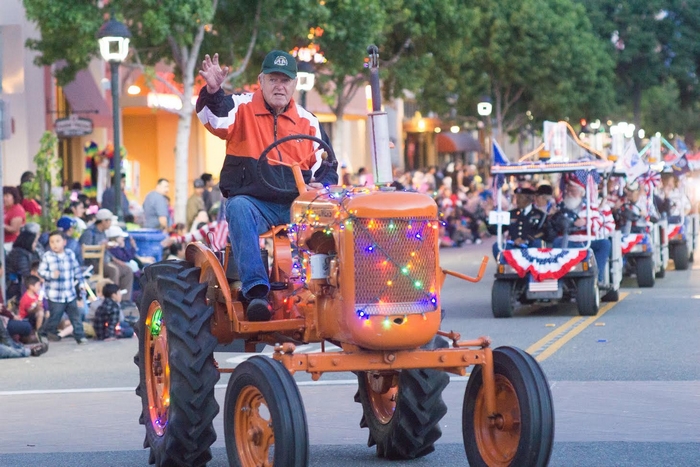 June 12, 2017 – Salinas, CA – The California Rodeo Salinas is still accepting entry applications for the 2017 Colmo del Rodeo Parade presented by Star Market. The parade has been part of the traditions associated with Big Week and the California Rodeo Salinas for many years. The parade will roll through Old Town Salinas on Saturday July 15th starting at 8pm, following the Kiddie Kapers Parade. Thousands of people line the streets for this free parade that features lighted entries consisting of floats, tractors, golf carts, bands and more.
Information and entry forms can be found at www.carodeo.com and will be accepted until June 15th.
History of the Colmo del Rodeo Parade:
As the California Rodeo was first produced in 1911, so was the first informal night parade. The parade was organized by local townsfolk, and included decorated automobiles that would drive down Main Street Salinas to wrap up Big Week festivities. Later in 1913 the parade was formalized. At this time the "Colmo del Rodeo" was recognized as the largest and greatest night-lighted parade west of the Mississippi. Sadly, after the 1985 Big Week, the Colmo was eliminated from Rodeo activities, though a few years later in 1987 it was brought back and was a part of the Saturday horse parade. The parade was such a huge success in 2010 when it was revived for the 100th Anniversary of the Rodeo that this will be the eighth consecutive year of holding the parade again.
Photos by Interface Visual.
About California Rodeo Salinas
The 107th California Rodeo Salinas will take place July 20th-23rd, 2017. The California Rodeo Association is a non-profit organization that strives to preserve and promote the traditions of the California Rodeo Salinas and the West. We support the community and other non-profit organizations through the staging of the annual California Rodeo Salinas and other year round operations of the Salinas Sports Complex. Through donation of our facility, vending and fundraising opportunities during Rodeo and other events, the California Rodeo Association returns over $300,000 annually to local non-profits. For more information about the California Rodeo Salinas, log on to www.CARodeo.com or call the California Rodeo Office at 831-775.3100. -'Like' the California Rodeo on Facebook at www.facebook.com/CARodeoSalinas or follow us on -twitter @CaliforniaRodeo for updates, photos and more.