California Ropers Take Clovis Crown
by Justin Shaw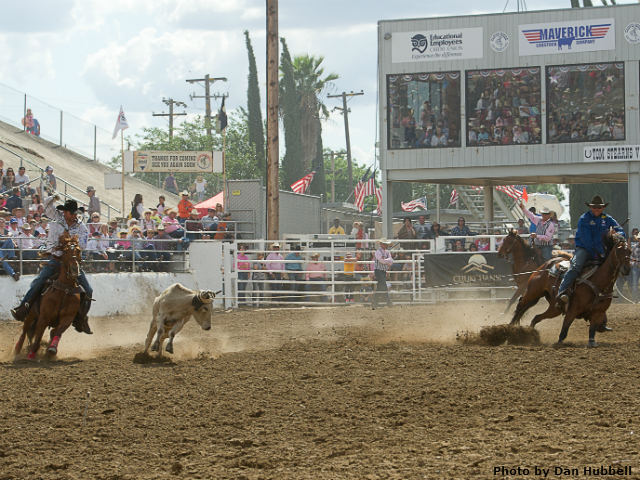 CLOVIS, Calif. – Spencer Mitchell and Justin Davis had always wanted to win the Clovis Rodeo, and they seized the opportunity Sunday.
The pair won the team roping title at the Wrangler Million Dollar Tour presented by Justin Boots gold rodeo with a four-head average time of 24.0 seconds.
Mitchell, of Calusa, Calif., and Davis, from Cottonwood, split third in the final round with a 6.0-second run, which allowed them to win the average by .6 seconds.
"To come to a prestigious California rodeo like this and be able to win feels great," Mitchell said. "We grew up in California, so we're used to chasing down steers in bigger, more open setups."
The arena in Clovis offers a large amount of real estate for the steers to navigate once the chute opens.
Mitchell and Davis knew they'd have their work cut out for them in the finals.
"We probably had the worst steer in the herd, because he was the fastest," said Davis, the heeler. "My plan was to get up there and keep the steer from running right to give Spencer a better go. That was the fastest run on that steer all rodeo, by about a full second."
But winning the rodeo title wasn't the only damage the duo did in Clovis last week. In the April 21 second round, they broke the arena record with a 4.2-second run. The previous record of 4.5, held by Brady Wren and Brett McDowell, had stood since 2000.
Combine that with winning the average and each man took home $5,983.
"Chemistry is the name of the game in team roping," Davis said. "You don't have to be the best team in the world to win if you have good chemistry."
Mitchell says familiarity is the key to their successful partnership.
"Justin and I have roped together since we were kids, and most of the time we don't even need to talk about our runs," Mitchell said. "We both know what the other guy is thinking, and today everything worked in our favor."
There was also a record performance at the roughstock end in Clovis, and it came Sunday.
Bareback rider Jake Brown rode for 89 points on Growney Brothers Rodeo's Wild & Blue, which tied Will Lowe's arena record from 2005.
"I felt good about my chances to win when I saw the draw, and I didn't know how many points I'd be, but I knew that horse would give me every opportunity in the world," Brown said. "I saw that horse here last year, and she's very fun to get on and today she had a great day."
Brown entered the weekend third in the WEATHER GUARD® PRCA World Standings, and with the $8,178 he earned for his Clovis triumph, he may move to the top spot.
"I'm a big fan of the one-head format, especially when you can draw one like I did," he said. "We had a great week at this rodeo, and this is one of my favorite places to ride."
Other winners at the $281,292 rodeo were all-around cowboy Josh Peek ($4,483 in tie-down roping and steer wrestling), steer wrestler Jacob Talley (18.7 seconds on four head), saddle bronc rider Rusty Wright (88 points on Burch Rodeo's Lunatic From Hell), tie-down roper Stetson Vest (38.8 seconds on four head), barrel racer Sarah Rose McDonald (49.03 seconds on three head) and bull rider Joseph McConnel (88.5 points on Growney Brothers Rodeo's Crystal Deal).
For complete coverage from Clovis, check out the May 6 issue of the ProRodeo Sports News.
Courtesy of PRCA