Cameron Messier Wins RAM California Circuit Finals Rodeo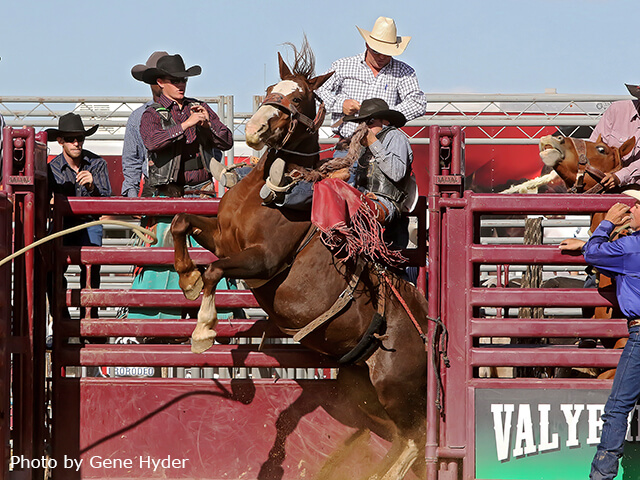 LANCASTER, Calif. – Competing with a busted saddle and fresh off his rookie year, saddle bronc rider Cameron Messier won the RAM California Circuit Finals Rodeo.
"My odds of winning were little to none," Messier said. "I actually had some tough luck. I came into the finals like $4,900 out of the lead for the year-end deal and I had some good horses drawn, but I ended up breaking my saddle."
Messier's saddle was running back, keeping him and his bronc from performing to the best of their ability, he said.
"In the third round, I tried to win some money in the go round, and it played out comically," Messier said of his 68-point ride in the third round.
Messier knew something about his saddle was impacting his broncs based on how they behaved in the arena compared to their previous rides with other cowboys.
"I'd seen them have a nice and honest trip every time," Messier said. "But when I was using that saddle, they didn't like it and would do the opposite of the tricks they normally have."
Messier changed his approach in the final round by putting a neoprene pad beneath his saddle.
"Initially, I wanted to place in the round and get some money for the weekend," Messier said. "But there were only five or six of us with two horses ridden. … At first I thought surely one of these guys would ride one and knock me out of the race."
Unlike his situation with his saddle, luck was on Messier's side as he watched each cowboy get bucked off or mark out. This put Messier at the top of the average as the only one to cover three head. The California cowboy won with 191 points on three head.
"I watched it to the end and was like, 'Wow, that just happened,'" Messier said. "It was a frickin' long shot. If you had told me that was how it was going to play out I would have told you it was crazy. It was a miracle, but it worked out and I will get to go to Kissimmee."
While competing on his permit, Messier was part of a three-way tie for fifth place in the average at the 2017 RAM National Circuit Finals Rodeo.
"It's a heck of an experience," Messier said. "I was one place out of making the four-man round there, so I have an idea of what I need to do. Just go in and ride as hard as I can and hopefully everything clicks, and I'll make the four-man finals and win a big ol' pile of money."
Although he didn't make it to the semifinals during his first trip to the RAM NCFR, Messier gained the experience he needs for the 2019 RAM NCFR.
"Man, it's cool," Messier said. "I was kind of the low dog on the totem pole (in Lancaster), and I was getting a little frustrated and discouraged with the saddle, and for it to play out like this, it was, 'Wow.'"
Messier ranked eighth in the 2018 PRCA | Resistol Rookie Standings for saddle bronc riding with $16,514 and ranked second in the 2018 California Circuit standings.
"I was trying to stay positive," Messier said. "I've had people tell me my whole life to fight it out to the end and see what happens. That's what I did, and it worked out in my favor. What's shocking and cool are the odds of it coming into the final round today."
Messier has high expectations, having kicked off his PRCA career with a bang. Messier ranked second in the 2016 RAM Rodeo Permit Standings for saddle bronc riding with $12,153, and he was atop the 2017 permit standings with $20,905.
Messier won $3,943 for winning the RAM California Circuit Finals Rodeo, which will give him a solid foundation to build on in the 2019 season. The 20-year-old cowboy is planning on competing throughout the winter and has San Antonio on his itinerary.
But first, he's getting his saddle fixed.
"It's that saddle, man," Messier said. "The first horse I got on I was like 50-something. It was like I wasn't having the ride I usually have, and it wasn't clicking. There were guys getting in the 80s, and that's where I wanted to be. With my saddle running back, it just wasn't clicking, and it just came down to have three scores.
"It's amazing because 68 points isn't going to place anywhere else. It was a miracle."
Messier's also competing in college rodeo as part of the Feather River College rodeo team in Quincy, Calif. He's finishing his associates degree this year and will start an ag business program in the fall of 2019.
Other winners of the $177,011 rodeo were all-around cowboy Doyle Hoskins ($3,450, tie-down roping and team roping); bareback rider Clayton Biglow (252.5 points on three head); steer wrestler Blaine Jones (15.5 seconds on three head); team ropers Blake Hirdes/Kyle Lockett (31.5 seconds on three head); tie-down roper Ryle Smith (28.0 seconds on three head); barrel racer Nellie Miller (52.58 seconds on three runs); and bull rider Justin Rickard (169 points on two head).
For more coverage of the RAM California Circuit Finals Rodeo, check out the Oct. 19 edition of ProRodeo Sports News.
Courtesy of PRCA