Cassidy Wins Grande Prairie for First Time
by Tracy Renck | May 29, 2016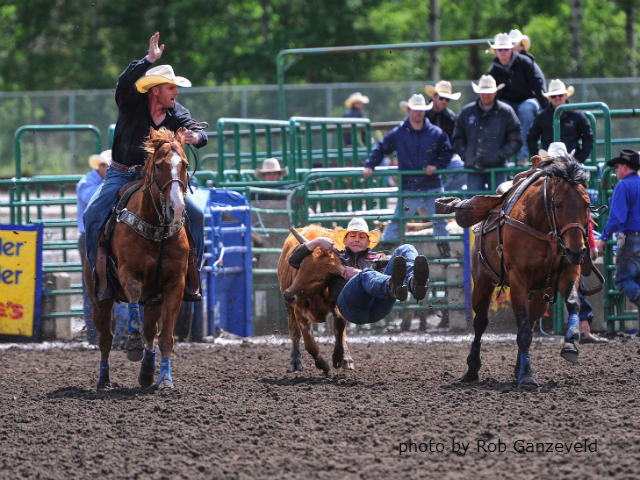 GRAND PRAIRIE, Alberta – In his home country, steer wrestler Cody Cassidy has nothing to prove.
The Canadian cowboy has won four Canadian Professional Rodeo Association national championships (2008, 2009, 2011, 2015). He also has qualified for the Canadian Finals Rodeo 12 times.
Now, he can check another item off his bucket list – Grande Prairie Stompede champion.
Cassidy won the Stompede, which concluded May 29, by stopping the clock in 3.9 seconds.
"I have been coming to Grande Prairie for 15 years and I've never won hardly anything out of here," said Cassidy, who made his winning run May 28. "It's nice to finally win here."
During his run, Cassidy was riding Dusty Walker's CPRA Horse of the Year, Tank.
"I had a steer that was supposed to be pretty good and he was slower," said Cassidy, 34. "I wouldn't say I made a great run or anything, I just did what I was supposed to do and it happened to work out that I won first."
Cassidy, who qualified for the Wrangler National Finals Rodeo in 2010, would love to make another trip to Las Vegas, but is keeping things in perspective.
"If I had a good June up here (in Canada) I would certainly try and make the NFR, but it's awfully tough. I have a young family and I also have a business up here. It's very tough (to go fulltime in the PRCA) almost any other Canadian cowboy would attest to that. It's a huge sacrifice to be gone that much. There's absolutely no other place I would rather be than in Las Vegas in December, but it's a tough long ol' summer to get there."
Cassidy and his wife, Tanya have two children, a boy, Clyde, who is 2, and a three-week old girl, Quinn. Cassidy and his brother, Curtis run, Big Knife Outfitters, a guiding and outfitter business. Curtis has qualified for the WNFR five times (2002, 2008-10, 2014).
"Obviously the ultimate goal is to win a world championship (in the PRCA), but the next best thing is to win a Canadian world championship. It's always good to win at any rodeo, but it's nice to finally do good at this rodeo (Grande Prairie Stompede). I've always enjoyed this rodeo and it's nice to finally win here."
Other winners were bareback rider Ty Taypotat (86.5 points on Duffy Rodeo's Tweety Bird), team ropers Garrett Rogers/Jacob Minor (4.9 seconds), saddle bronc rider Luke Butterfield, (85.5 points on Prime Time's Rodeo's Smokin Hot), tie-down ropers Rhen Richard and Shay Carroll (8.5 seconds), barrel racer Cranna Roberts (16.054 seconds), bull rider Jordan Hansen (84.5 points on Vold's Slick).
Courtesy of PRCA