CBR Bull of the Year Nominee: 1086 Big Lew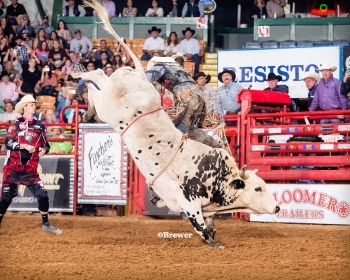 Sire: Chester
Owned by D4 Cattle and Rhon Brown
Bred by: Gaye McGinn
With hundreds of bucking bulls to select from, four time World Champion and Pro Rodeo Hall of Famer Tuff Hedeman separated Big Lew from the herd three times to buck in the final four man Shoot Out round on the 2017 Road to Cheyenne.
"He's very laid back behind the scenes, but explosive out of the chutes, he bucks hard every time, but is easier to handle now and hauls well, he adjusted to the lights and music of the CBR show very well for a young bull," said Brown.
Wearing fire brand number 1086 on his hip, the bull named Big Lew, owned by Texas bucking bull stock contractors Rhon Brown and Bubba Storey, is on the ballot for the first time as a nominee for Bull of the Year.
1086 bucked in ten events during this year's Road to Cheyenne tour and was only ridden once in a rematch with five time World Champion Sage Steele Kimzey in El Paso. It was against Kimzey that Big Lew posted his highest bull score, 45.5 which put Kimzey in the winner's s circle with 91.5 points.
"This was my third time on him, but he is a very different bull now than last year in Del Rio, he is bigger, but most importantly he's a lot stronger and he's smarter and he never quits moving, and that's what threw me off in Bossier," added Kimzey.
Big Lew won CBR Bull of the Event honors in Mercedes, Texas last October and when he arrives in Cheyenne he will have been challenged by five National Finals Rodeo qualifiers, Joe Frost, Kimzey, Jacob O'Mara, Chandler Bownds and Aaron Pass, all coming up short except Kimzey.
According to these professional bull riders that have tried him he is known for not just leaving, but exploding out of the bucking chutes with a wild move that happens so fast there is no hesitation by the animal from one leap to the bucking motion.
Nine of ten bull riders have left the arena scratching their heads trying to figure out how to stay on him for the required 8 seconds, and there are many in this year's CBR World Finals that would love a second try.
Rookie rider Colten Jesse was the first to take a spin on the bull in 2016 in Salina, Kansas and had this to say about the experience.
"He's kind of a smaller bull and he kind of bucked out of there hard, I just over estimated him and he started to step out, which caused me to well (slide off to the inside of the rotation of the bull) myself, he's a jam up bull that I'd love to have another crack at," said Jesse who lasted only 2.43 seconds.
Big Lew was the highest marked rank bull score of the Fort Worth Tuff Hedeman Championship Bull Riding in 2016 with two time National Finals Rodeo qualifier Aaron Pass.
"He was strong and a little long out there before he turned back, but in all in he is the perfect bucking bull…big and strong, bucks hard and nothing trashy to him," said Aaron Pass.
Big Lew was named after the late Lewis Woodull from Laredo, Texas, a family friend of the owners who passed away after a courageous battle with cancer.
Big Lew's bull scores ranked among the top five bull scores recorded during the 2016 CBR Road to Cheyenne season and he was also selected as the Bounty Bull for the Jackson, Tennessee event in January.
Rhon Brown, Brown Ranch, Perrin, Texas bought him as a two year old and planned to compete with him on the competitive futurity and derby circuits with the intention to develop him into a rider bull as he matured, but when Brown bucked him for the first time he saw his potential and decided with patience and time he would make a great bucking bull.
1086 Big Lew is sired by Chester and out of a Sky King-Big Red crossed cow and was bred by seasoned Texas bucking bull breeder Gaye McGinn of Buyabucker.com.
For more information on CBR see www.cbrbull.com or contact leighann@cbrbull.com. Follow CBR on social media @cbrbull.
Courtesy of CBR