CBR Bull of the Year Nominee: 243 Breaking Bad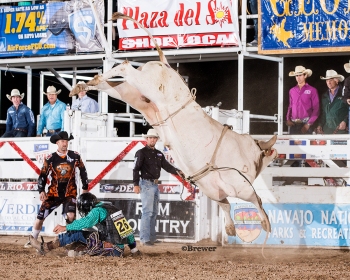 Owned by Lyndal Hurst, Hurst Pro Rodeo
Sire: Mooseknuckle
In livestock terms one would describe CBR bucking bull of the year nominee 243 Breaking Bad as a "double bred Hurst."
Ask a bull rider and you will probably hear some combination of the following facts – he is a five year old bull out of Lyndal Hurst's favorite home grown bucker – if you draw him it probably doesn't matter if you are left handed, right handed, a rookie or a veteran – it is highly unlikely you will ride him.
Tuff Hedeman thought enough of this bull to nominate him to his current list of the best buckers of the season after only three CBR outs. Bull riders who have had a shot at 243 while competing in CBR over the past two seasons include Horizon Champion Koby Radley, 2014 CBR World Finals average winner Neil Holmes, Wyatt Rogers, Denton Fugate, and CBR's #2 gunner, Eli Vastbinder.
Reigning World Champion bull rider Sage Kimzey has had one attempt on Hurst's prize bucker and that ended with a buck off in four seconds flat at the NFR in December in round 2. Tim Bingham would also buck off 243 in round 8, also at the 4 second mark.
"If you can make it 4 seconds on most bulls you usually have a shot, but he (243) just grabs another gear if you are still there at 4," continued Hurst.
243 bucked in Window Rock, Fort Worth, and Del Rio on the 2017 CBR Road to Cheyenne and the longest recorded attempt in CBR competition was 4.43 and came from Neil Holmes at the Fort Worth CBR in April.
"He got stronger and stronger this season and in the last event in Del Rio, he was the best I have seen him – he just got better and better with each rotation," said Hurst in describing his last out against Koby Radley.
Serving as this year's poster child for Lyndal Hurst's thirty year old bred to buck program, 243 Breaking Bad is a son of Mooseknuckle, a grandson of M-17 – sired by Houdini. Hurst 243 is the damn.
"Watching a bull being born to winning, that we raised from its first two year old trip to the top of his career, watching him work his way thru the system – that is the most rewarding feeling ever," said Hurst last fall when 243 was selected for the draw at the National Finals Rodeo in Las Vegas.
Veteran CBR rider Cody Rostockyj has seen this bull go several times and says left handers might have a better chance of riding him, but the bull remains undridden after 21 recorded professional outs in three different associations. He has never been covered in 15 pro rodeo sanctioned events, five televised CBR events, and five five PBR attempts.
While it is difficult to measure an unridden bull, statistics show two of his rankest trips have been his most recent. He posted a 47 bull score at the PRCA Extreme in San Antonio when Adam Lucero attempted him in February and he marked a 46.5 in Del Rio in April while bucking off top ten CBR cowboy Koby Radley.
"He will have one of two trips, he will either blow big coming out and then go left and just buck with good timing, or he will throw in a belly roll, which got me loose, and then he beat me around the corner," said Wyatt Rogers after losing the contest with 243 on the Road to Cheyenne tour event in Window Rock, Arizona.
Six times the big white bull has round wins with his best recorded out being 47 points in San Antonio at the San Antonino Livestock Show and rodeo sanctioned by PRCA.
The best advice from the bull riders who have attempted 243 is to stay small and stay close to him as possible, until you make the corner – where he usually levels out – with the emphasis on the word usually.
Editor's Notes: You can follow 243 Breaking Bad and his full brother 343 Rio on Hurst Rodeo Ranch social media and CBRbull.com. For more information on Hurst breeding – www.hurstrodeobulls.com.
Courtesy of CBR