CBR Countdown Reaches the Top 5 with Tyler Taylor and Elite Bull Team #2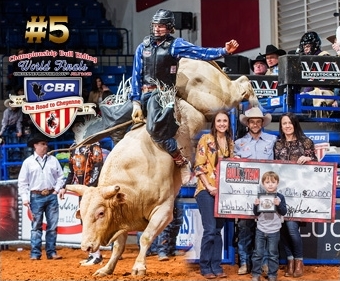 #5 Tyler Taylor
Tyler Taylor rode three bulls on February 4 to collect one of the largest CBR purses this season on the Road to Cheyenne. In just his third CBR Shootout appearance, Tyler Taylor followed Tuff Hedeman's advice and covered three bulls to take home over $23,000.00 and his first Road to Cheyenne event title. That win which came on top of an already consistent start would place him firmly inside the top ten rankings of the CBR World Standings where he sits today at number 5.
"Slide up there and do my job and don't worry about the lights or the money," was Tuff Hedeman's advice to the Stephenville, Texas bull rider just moments before he was presented with the jumbo check, the Hyo Silver custom engraved buckle and the CBR prize package in front of a packed house.
Taylor rode past five World Champions and ten Wrangler National Finals Rodeo qualifiers to win both the second and third round on his way to earning his first Road to Cheyenne tour event. Sixteen bull riders rode one, six succeeded on two and Caleb Sanderson and Tyler Taylor were the only competitors to conquer three and split the richest event prize package of the CBR season, $48,500.00.
"The Lord blessed me tonight and I knew it was my time to win, and I know I can be one of the best bull riders in the world, I just have to keep believing in myself," said an ecstatic Tyler Taylor at the out gate.
Taylor who just finished his first full season with CBR was an alternate at last year's World Finals and ended up riding three of five including an appearance in the final four Shoot Out round.
This season he rode in thirteen televised tour events missing Salina, Window Rock, and Laughlin. He advanced to the second round six times and made two Shoot Out round appearances (Hobbs and Bossier). His top finish was winning Bossier but he rode three in Hobbs to finish second behind Campbell who outscored him in the final round.
Taylor's highest marked ride score, 90, came in Bossier on 2575-0 Flab Slab (Jaynes) in the semifinal round on his way to his first event championship and he took advantage of the opportunity that bull presented.
"I got Flab Slab in round two and he is the old veteran bull on tour, heck he might be older than me… I was 90 points on him and he felt great, just up and down with lots of timing, I was super happy I got him," finished Taylor.
With that semifinal score Taylor would be in the driver seat in Bossier where the events are won or lost.
"I was number one coming back in the four man, and I had seen Lyndal's bull (343 Rio) a bunch, but I picked the one I didn't really know, cause it keeps my mind fresh, keeps you from thinking about it too much… he was rough in the chute now, but they got me out," said Taylor of his winning eight second winning ride aboard 831 Restraining Order owned by Rhon Brown, Brown Ranch / D4 Cattle Company.
Taylor would go on to hear the whistle nine times in this season's 26 attempts.
Born in Midland, Taylor's Dad started him riding on sheep. He was a regular at Dos Amigos in Odessa where he remembers Jim Sharp pulled his rope one time.
"I just worked my way up and rode calves, steers and junior bulls in AJBRA," said Taylor who is a senior at Tarleton State University and on schedule to receive his degree in Ag Development next spring.
How is he's preparing for Cheyenne?
Like most of the top riders he is on the summer rodeo trail staying in shape by rodeoing, but this summer he has enjoyed a famous traveling partner, Sage Kimzey, whom he is currently traveling with and no doubt picking up a few pointers from the five time World and reigning CBR World Champion.
"You know I am trying to keep it as simple as possible, you have to ride 'em front to back every time," said Taylor from the rodeo road.
What bull would Taylor like to have the opportunity to ride in Cheyenne?
"Yellow Hair of Lyndal Hurst's, I have never gotten a chance to get on him and I watched Boudreaux win on him the other day and thought I would really like to get on him before he is retired," added Taylor.
#5 CBR Bull Team Qualifier – Jerilyn Harmon Elite Bucking Bull Team #2
September 10, 2016 along the banks of the Colorado River – it was Jerilyn Harmon's Elite Bulls first event for the 2016-17 CBR Bull Team Challenge season and they made the most of it winning the $20,000 first place prize with three seasoned buckers. The team would go on to earn three top five finishes earning a total of 33 points and $33,000 on this year's Road to Cheyenne.
Harmon's Elite Bull franchise qualified three teams this season as they did in 2016, where they finished three teams in the top 20 at the CBR World Finals in Cheyenne.
Harmon's winning team consisted of 166 Big Tex, 059 Boomer, and 626 Karaoke for their first two BTC outs and then in Fort Worth at the final out for this team, manager Mike White substituted N1 Bet N Black for Big Tex.
This team labeled Jerilyn Harmon's Elite Bulls #2 team earned a first place in Laughlin, third in Lufkin, and fourth in Fort Worth – never failing to earn a check in the CBR's three bull team challenge competition.
In Laughlin the winning team scored a total of 286.19 points for the win, 3.73 points ahead of second place team. Event champion Eli Vastbinder was crucial to this team's success in Laughlin as 626 Karaoke anchored the team with Vasbinder's 91.5 semifinal round win.
The second MVP of the Harmon Elite bull franchise this season was 059 Boomer who was on all three team outs in the 2017 BTC season. 059 has always been one of the rider's favorite bull to draw if he's on the day sheet. 059 and Vastbinder were 89 in Laughlin, but Boomer would surprising buck off Boudreaux Campbell and Trey Kimzey in Lufkin and Fort Worth respectively.
Big Tex, Harmon and Elite's third bull for Laughlin and Lufkin posted an 88 point bull score as he bucked off Corey Atwell in 6.19 seconds in Laughlin and a rematch in Lufkin would result in the same only he did it in 4.84 seconds in Texas. Ben N Black was moved to the lineup for the final out at the Tuff Hedeman Championship CBR on April 8. The team finished fourth in Ft Worth with honors going to 626 Karaoke for being the rankest bull of the event. He posted 90.5 points against NFR cowboy Jeff Askey while bucking him off in 2.52 seconds.
The Harmon bull team franchise, owned by Jerilyn Harmon of Denver, Colorado qualified three teams for Cheyenne including winning the largest BTC purse of the season in Del Rio, $40,000, at the George Paul Memorial Bull Riding. CBR television broadcaster, former professional bull rider, and the winner of the CBR's 2014 BTC World Finals, Mike White, manages the bulls for the Harmon franchises.
Courtesy of CBR