Celebrate America Honors Big-Hearted Arkansas Policeman
By: Andrew Giangola
March 08, 2017
LITTLE ROCK, Ark. – Tommy Norman was all of 13 years old when he found his life's calling.
The kid from North Little Rock was hard working and industrious. On weekends, he'd mow laws for good spending money.
After one particularly productive workday, Tommy was in his room, watching TV, still sweaty with fresh grass shavings clinging to his skinny legs.
"I turned to 'Feed the Children,' and it just captured my heart," Norman said. "I took the 60 dollars I'd made mowing lawns to my mother and asked her to send it to those children."
On that steamy-hot summer day, Norman knew he wanted to dedicate his life to serving others. For making good on that promise, Norman will be honored in PBR's Celebrate America tour at the Little Rock Invitational on Saturday night at Verizon Arena.
Now a patrol officer with the North Little Rock Police Department, Norman is a beloved figure making a difference with struggling youth, mending fences with the minority community, and influencing law enforcement strategy nationwide.
Local residents are most likely to see Norman outside his police car, walking the beat, routinely handing out candy bars, snacks and sodas to children. If a kid needs sneakers, he'll buy a pair.
The shoes are put to good use. In times of heightened tensions between police and minorities, kids of color run toward this white police officer rather than away from him.
Officer Norman will clown with kids and shoot funny videos posted to an Instagram account boasting more than 1 million followers.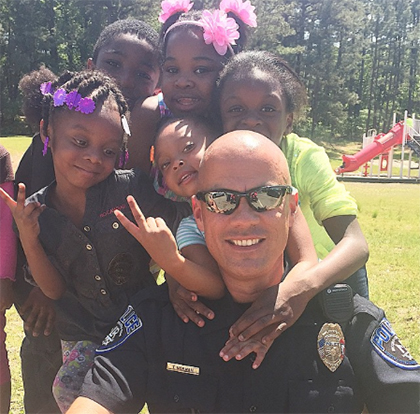 His constant stream of videos, photos and inspirational words of advice with the hashtags #CommunityPolicing and #StayCommitted is helping change how people view police and has earned Norman the moniker "the social media cop."
His devoted followers across the world have sent more than a thousand packages for North Little Rock residents containing clothing, snacks and toys.
He even caught the attention of rapper The Game, who started a GoFundMe page that's raised tens of thousands of dollars to help local kids.
On Friday, Officer Norman will have another set of arms to help dip into the trunk full of food, snacks and drinks as PBR rider Chase Outlaw rides shot gun. The men plan to visit community shelters and stop by a food kitchen to bring provisions and smiles.
"It will be fun to see Tommy put smiles on a lot of kids' faces," Outlaw said. "Smiles are contagious."
"I'm not good at much," Norman said. "I don't have many skills. I do have a heart and a connection to people that is rare. I try to capture the community's own heart with trust and respect."
While he's a household name locally and has been featured in national media, Norman's primary responsibility, of course, is to enforce the law.
"I know the same people I meet and form relationships with won't think twice about breaking the law," he said. "If there's a reason to take them to jail, I will."
Even when that happens, the results can be surprising. A former career criminal Norman had arrested 10 years ago recently thanked him for the kindness that helped the grateful man turn his life around.
Before realizing as a 13-year-old that he wanted to serve others, Norman had his mind fixed on being the next Michael Jordan.
"I tried to walk and talk like Michael Jordan," he said. "But before long, I realized I couldn't play basketball like Michael Jordan."
Norman would follow the career path of another personal hero – his uncle, who was a small-town police chief in Hot Springs Village, Arkansas.
He loved his uncle's uniform, his badge, and his gun as well as the stories he'd hear on special trips in the chief's cruiser.
The trappings of a modern-day cop are unfortunately often viewed as symbols of aggression. Norman is turning that all-too common perception on its head.
"This uniform, badge, and gun create so much opportunity to connect with the community," he said. "But it's ultimately not the uniform and badge people see. They look into your heart and see the way you treat them."
One of nine siblings, Norman credits his mother for shaping his selfless disposition and sense of service.
"My mom, an extremely loving person, was always helping people, always teaching her children to give back and help those less fortune," he explained.
In a predominantly black town where the poverty rate exceeds 21 percent, he says his policing philosophy "is really as simple as treating people the way you want to be treated. When a police officer gets out of the car and his boots hit the ground, the first mission should be to love, trust and respect people. When you lead with your heart, they'll respect you even more in return."
He may be pleased to be recognized on the latest PBR's Celebrate America tour stop, but don't expect it to go to Norman's head.
"I'm on the inside looking out trying to smash barriers and build bridges," he said. "I don't see what you see. It's a way of life for me so, honestly, I don't see this amazing work, and I don't need to see it. I don't want to lose my focus."
© 2017 PBR Inc. All rights reserved.