Class of 2016 Set to Enter the California Rodeo's Hall of Fame
Induction Takes Place Thursday July 21, 2016
May 10, 2016 – Salinas, CA – Over 100 years of community celebrations and rodeo competitions have brought the California Rodeo Salinas to where it is today. The Hall of Fame, established in 2010, was created to honor those who have helped to elevate the rodeo to its current status. The California Rodeo Salinas is one of the elite rodeos in the United States and the largest in California. Members are inducted into the following categories: Committee Members, Supporters/Contributors, Performers/Personnel, Contestants, Livestock or Notables.
The annual induction ceremony is full of tales about the rodeo and what it means to the individuals being honored. The 2016 induction ceremony and luncheon will be held on Thursday July 21st at 11:30am on the Mike Storm Director's Patio at the Salinas Sports Complex. Tickets are $30 each and includes lunch, a hosted bar and awards ceremony where inductees or their representatives accept their trophies and say a few words. The luncheon is sponsored by Jim Martins and Clifford & Marguerite Happy. Reserve your seats by calling 831-775-3100 or purchase online at http://www.carodeo.com/events/2016/hall-of-fame-induction-2016. The class of 2016 includes:
Committee Members:
Walt Cameron
J. Michael 'Mike' Storm
Contestants:
Clay Carr
Perry Ivory
Notable:
Julius G. Trescony
Full biographies are below and low resolution photos are attached. Please call or email Mandy Linquist for additional media needs.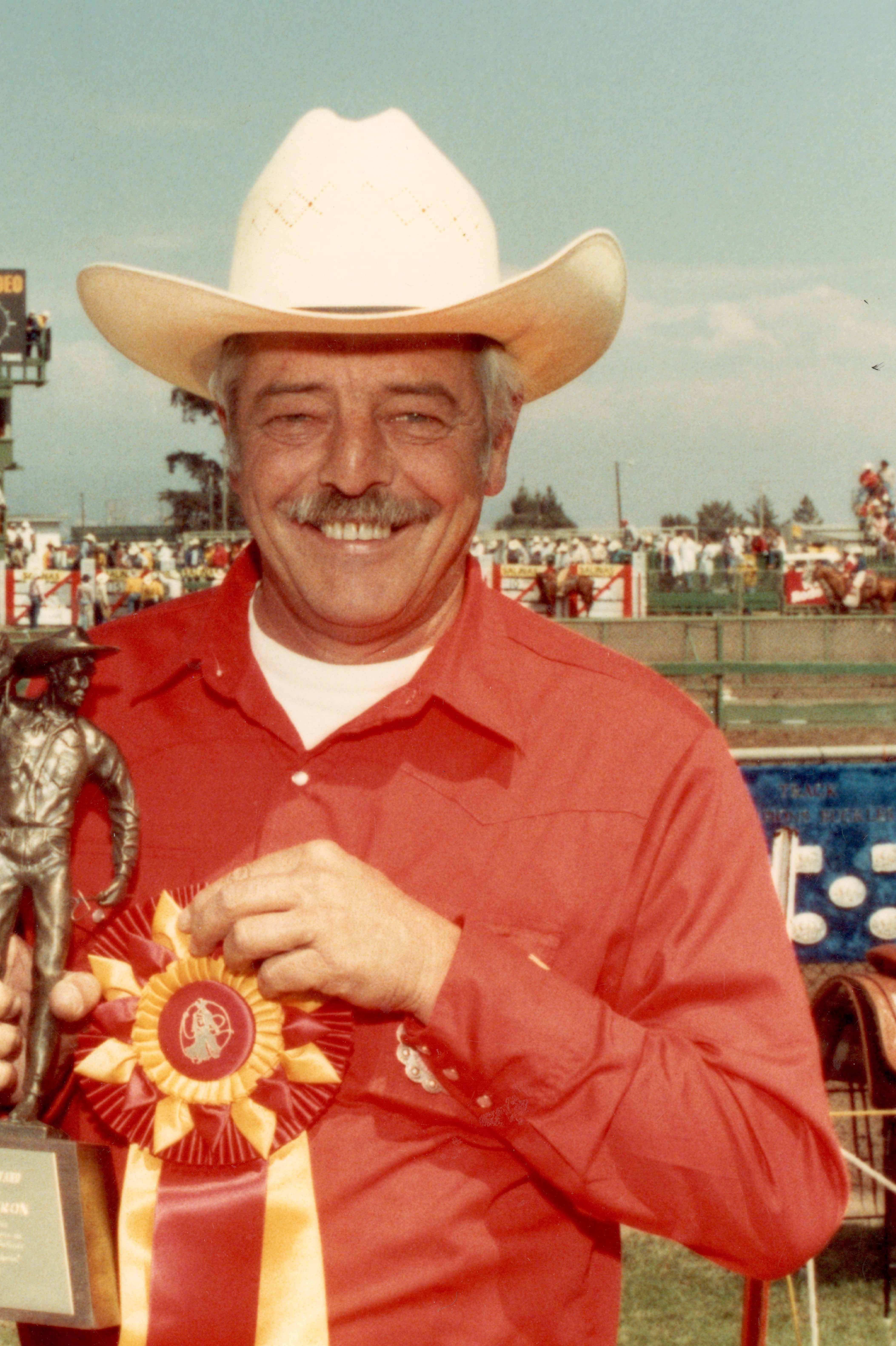 Walt Cameron – Committee Member
Walt Cameron was born April 20th, 1936. He moved to Salinas to work as an engineer for Spreckels Sugar Company and was involved with 4-H and the Salinas Jaycees, an involvement that led to Cameron becoming Chairman and President of the Colmo del Rodeo Parade. In the late 1960's, Walt got involved with the Rodeo as Chairman of the Maintenance and Construction Committee. He was named a Director in 1972, was awarded the Gold Saddleman Award in 1985, became Vice President in 1988 and served as President from 1992-1993. Walt supervised the replacement of wooden pens and chutes with steel structures, development of the Hansen Pavilion, construction of Parking Lot A, earthwork for the softball complex and, in 1996, the replacement of the main grandstand structure. Walt worked tirelessly year round to improve the facilities at the Rodeo Grounds and drove out almost daily to eat his lunch here for years. Walt passed away in 2004 leaving behind a facility that will serve the California Rodeo Association for generations.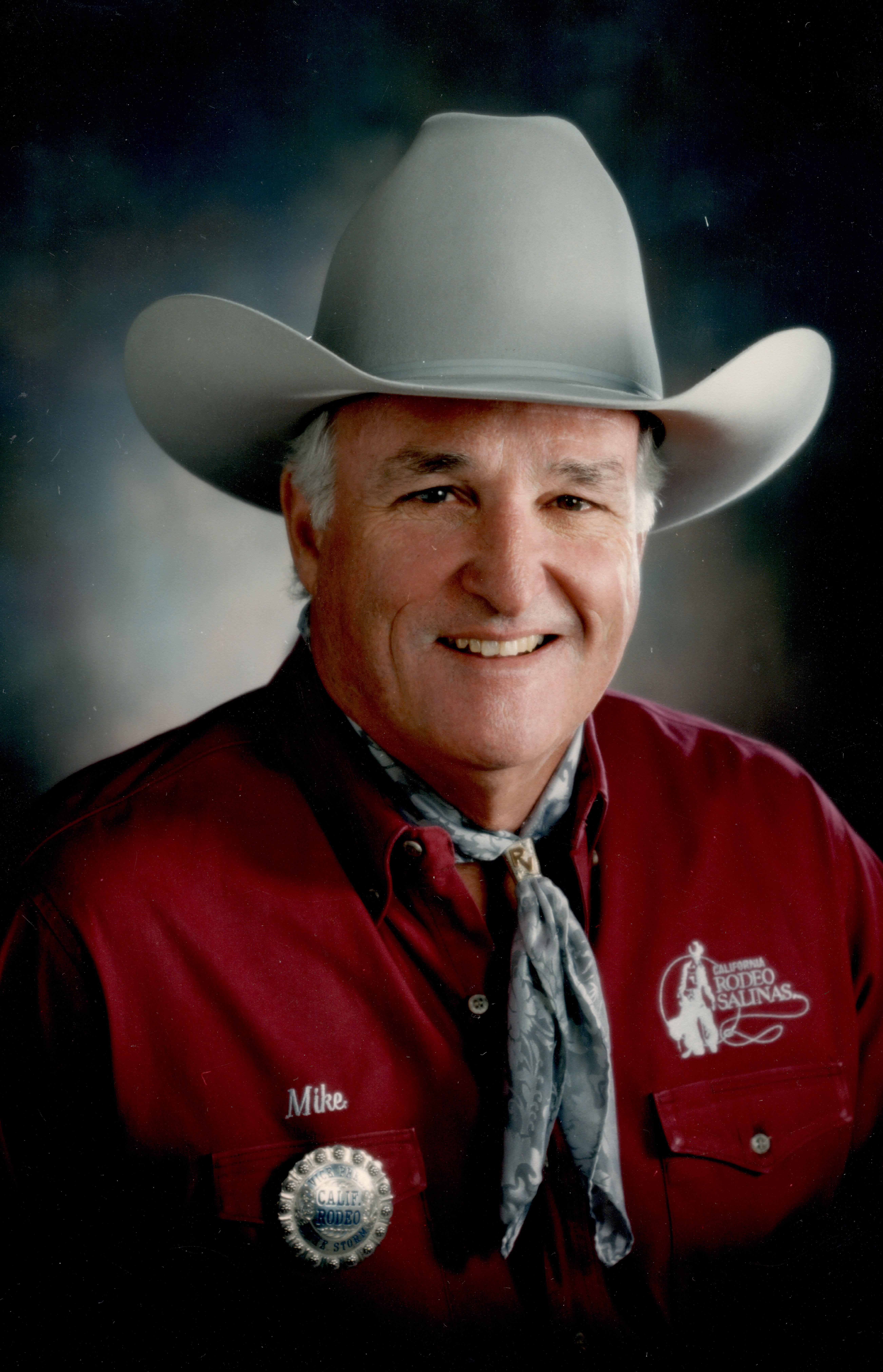 J. Michael Storm – Committee Member
Born December 18, 1937, J. Michael 'Mike' Storm was a third generation Californian, born and raised in Salinas. Always active in the agricultural community and a vigilant public servant, Mike served as a Rotarian, Vice President of Salinas Valley Chamber of Commerce, President of Grower Shipper Vegetable Association, Treasurer and Director of the Western Growers Association and was a member of Rancheros Vistadores. Mike served as President of the California Rodeo from 1996-1997, and was a Director of Public Recreation Unlimited while serving on many other boards. As Director of Rodeo Concessions, Mike was instrumental in bringing the concession operation in-house, running the entire operation with volunteers and funding hundreds of local charities in the process. Due largely to the efforts of Mike Storm, The California Rodeo annually gives hundreds of thousands of dollars back to the community. For his outstanding service to the Rodeo he was awarded the Gold Saddleman Award in 1998. Mike passed away in October of 2010.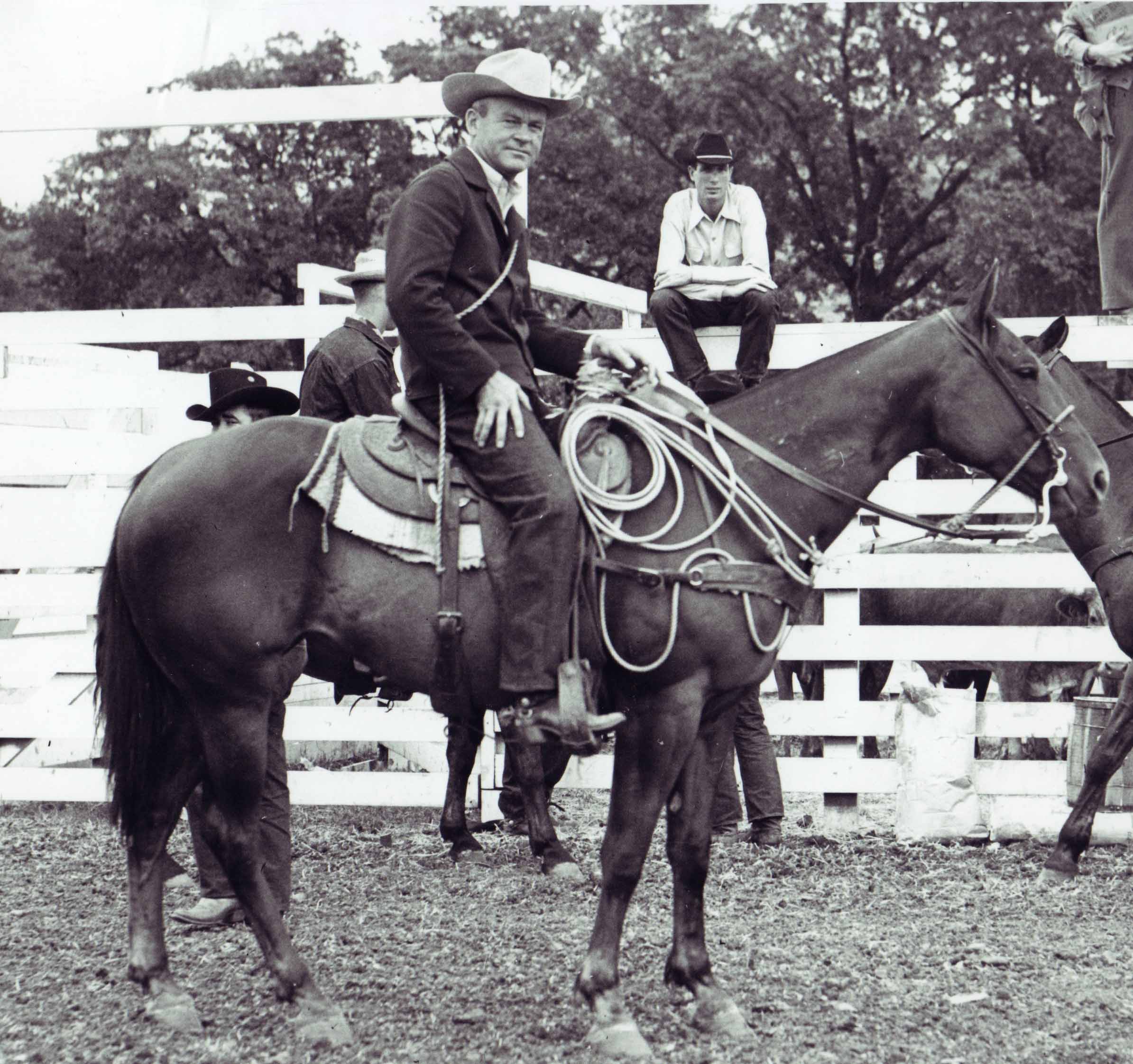 Clay Carr – Contestant
Born in 1909 in Farmersville, California, Clay Carr was a ranch hand and an all-around cowboy who earned 15 championships at the California Rodeo. In 1928 he won the saddle bronc riding and in 1929 the steer decorating event. 1930 brought a steer roping championship, 1931 a tie down roping buckle and in 1932 he won the saddle bronc riding again. Carr won the team roping, the saddle bronc riding and the all-around title in 1933. He took home the all-around prize again in 1934 and 1935 adding another steer decorating win in 1935. In 1937 he won the tie down roping, in 1938 the steer wrestling and in 1939 the steer roping; he had back to back wins in the team roping with Vern Castro in 1949 and 1950. Carr passed away in April 1957 in Visalia, California.
Perry Ivory – Contestant
Perry Ivory was born April 1, 1905 on the JF Ranch in Dorris, California. A top hand from a young age, Perry won championships across the US consistently. In Salinas alone he won nine championships in various events over a span of almost ten years. He won the bull riding in 1922, both the bull riding and saddle bronc riding in 1926, 1929 and 1930 and in 1931 he won the saddle bronc riding again along with the steer decorating event. Perry rodeoed with greats like Billy Ward and Pete Knight. Even when he wasn't competing he would ride horses for $2 a head for Harry Rowell in Hayward to see if they were good enough for Harry's string of bucking stock. After Perry retired from competition, he was a rodeo judge, flagging the team roping here at Salinas for many years, and managed the Rowell Ranch for Harry Rowell as well. Perry passed away in 1983.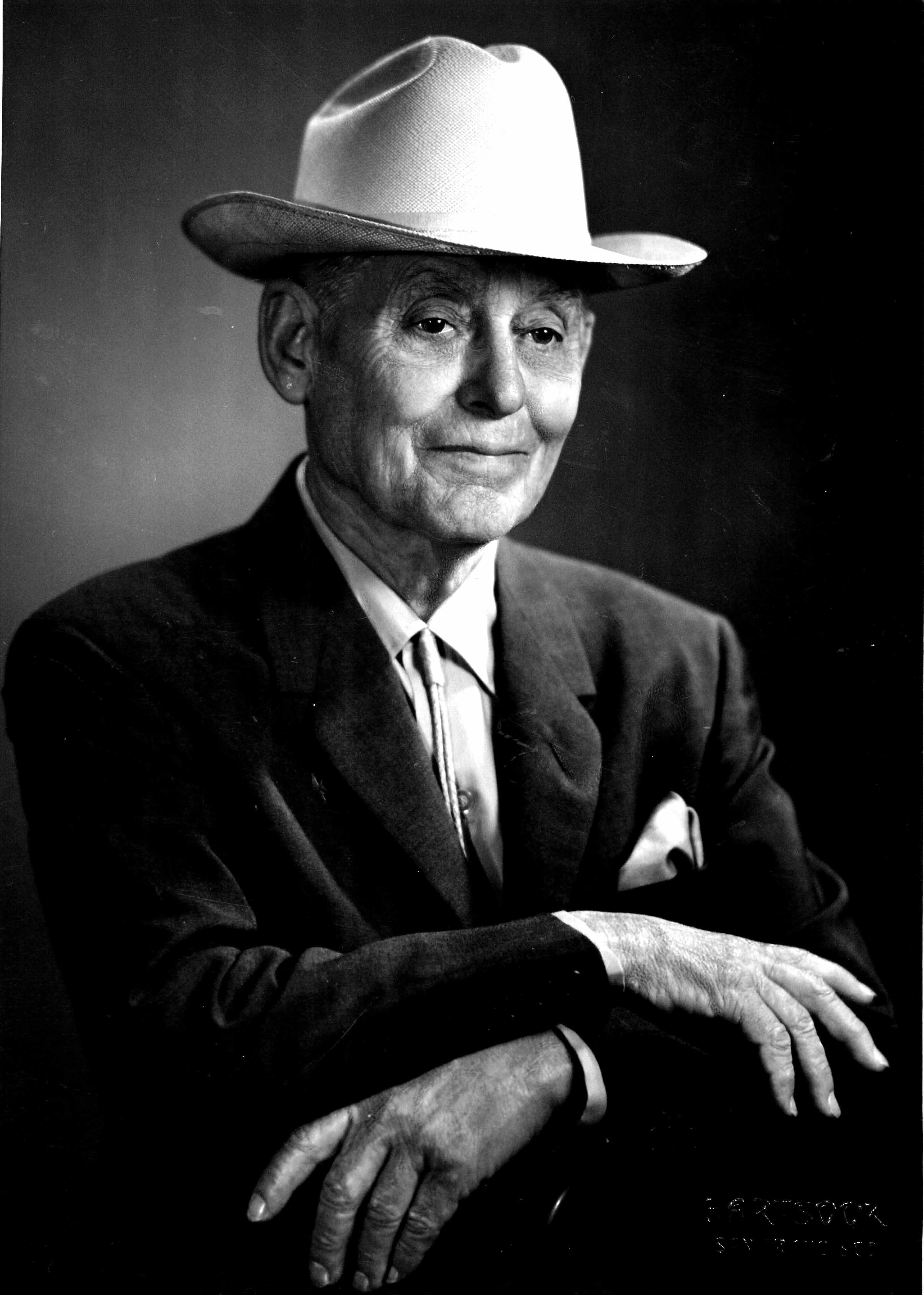 Julius G. Trescony – Notable, Inducted 2016
Julius G. Trescony was born on March 18, 1890 and had an unbroken record of attendance at the California Rodeo from 1911 until his death in 1982. He was in the first contingent of 43 cattlemen and cowboys who rode to Salinas from their ranches in southern Monterey County to perform at the inaugural Rodeo. "We just went up there to have fun-ride some bulls, bucking horses and exhibit our roping skills. My good friend Walter Lynch of Tierra Redondo country and I won the first team roping," Julius was proud to say. He rode one of his favorite mounts, Chapo, with only a rope around his neck, no bridle, to become the champion trick rider at the California Rodeo in 1913 and 1914. Another of his beloved horses, Bayo, helped Julius earn the Bert Sooy silver cup in the Reined Cow Horse competition. In the years after he could no longer ride he loved nothing better than watching the next generation of cowboys continue the tradition of the California Rodeo.
About the California Rodeo
The 106th California Rodeo Salinas will take place July 21st-24th, 2016. The California Rodeo Association is a non-profit organization that strives to preserve and promote the traditions of the California Rodeo Salinas and the West. We support the community and other non-profit organizations through the staging of the annual California Rodeo Salinas and other year round operations of the Salinas Sports Complex. Through donation of our facility, vending and fundraising opportunities during Rodeo and other events, the California Rodeo Association returns over $300,000 annually to local non-profits. For more information about the California Rodeo Salinas, log on to www.CARodeo.com or call the California Rodeo Office at 831-775.3100. 'Like' the California Rodeo on Facebook at www.facebook.com/CARodeoSalinas or follow us on twitter @CaliforniaRodeo for updates, photos and more.