Clay Elliott Enjoys Klondike in Strathmore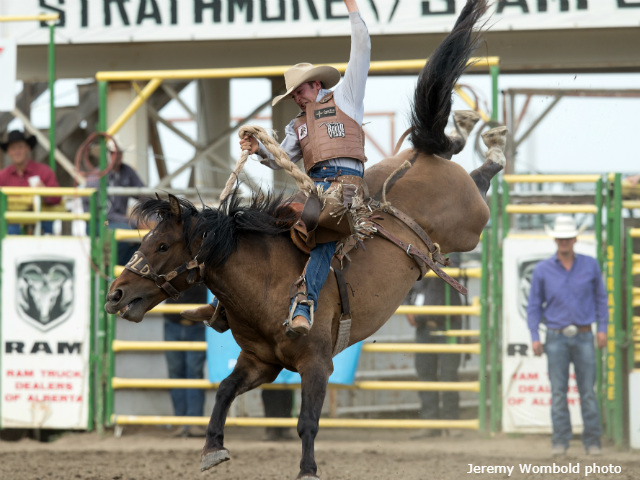 STRATHMORE, Alberta – Canadian saddle bronc rider Clay Elliott won the Strathmore (Alberta) Stampede with an 86.5-point ride on Vold Rodeo's new bronc, Klondike.
"He's new, but Rusty Wright rode him in Calgary and that's all I knew about him," Elliott said. "Wayne (Vold) gave me the lowdown on how much rein I should give him and the horse was really nice – he had some moves off the bat and then he was jumping and kicking.
"You have to go to a lot of rodeos before you get a horse like that, and you have to be ready for the good ones. My bronc riding is based on a good mark-out – the better I can ride, the better the horses are, and it was nice to get on a bucking son-of-a-gun like that."
Although this is the 23-year-old cowboy's first win at Strathmore at the pro level, he also won Strathmore's novice bronc riding when he was younger.
"Strathmore is a rodeo I've been to since I was real little – from the steer riding to watching my brother (Ty Elliott) in the bull riding," Elliott said. "It's the first time I've won the open bronc riding – this is cooler – to get on it in the open bronc riding with a nice horse is a pretty good feeling."
Prior to Strathmore, Elliott was sitting at 12th in the WEATHER GUARD® PRCA World Standings with $63,073. He earned $5,854 for the victory, which will allow him to crack the Top 10 in the world standings.
"You try not to worry about what the world standings are – the only time they mean anything is when it's the end of the year," Elliott said. "To be honest, I try not to look at it, but you dang sure hear about it – but that can't influence my bronc riding by any means."
Right now, the race is tight to keep within the Top 15 and make a qualification to the Wrangler National Finals Rodeo presented by Polaris RANGER, with only about $3,500 separating No. 10 and No. 15.
"It has built some momentum and I feel like I'm riding good and I'm dang sure ready to get on the good horses," Elliott said.
Down the stretch of the regular season, Elliott estimates he'll hit about five or six rodeos per week while traveling in his new Dodge ProMaster van.
"It will get real busy here – I'm excited and have a lot of rodeos to go to," he said. "It won't be bad, you stay in better shape when you are getting on every day and you're ready for it. We will fly every now and then, but I'd rather drive, it's a lot more reliable."
Elliott is seeking his second consecutive qualification to the WNFR after placing 11th in the 2016 world standings. He just missed the Las Vegas cut in 2015, finishing 17th.
"When I got 17th, it made me crave it more and was healthy in the long run," Elliott said. "I just set higher goals each year and try to obtain them and keep things straight forward and basic. I'm excited to be getting on horses every day for the next month-and-a-half and I'll stay in good shape that way."
Elliott and his traveling partners Chuck Schmidt and Shorty Garrett didn't let the dust settle long on Strathmore's arena, as they hit the road for the Omak (Wash.) Stampede.
Other winners included bareback rider Richmond Champion (87.75 points on Vold Rodeo's True Grit), steer wrestler Baillie Milan (3.3 seconds), team ropers Rocky Dallyn/Clint Buhler and Justin McCarroll/Clark McCarroll (4.4 seconds each), tie-down roper Blane Cox (8.0 seconds), barrel racer Tiany Schuster (17.277 seconds) and bull rider Garrett Smith (88 points on Vold Rodeo's Sheep Creek).
For more coverage of the Strathmore Stampede, check out the Aug. 18 edition of ProRodeo Sports News.
Courtesy of PRCA