Clements, Solomon Recovering from Injuries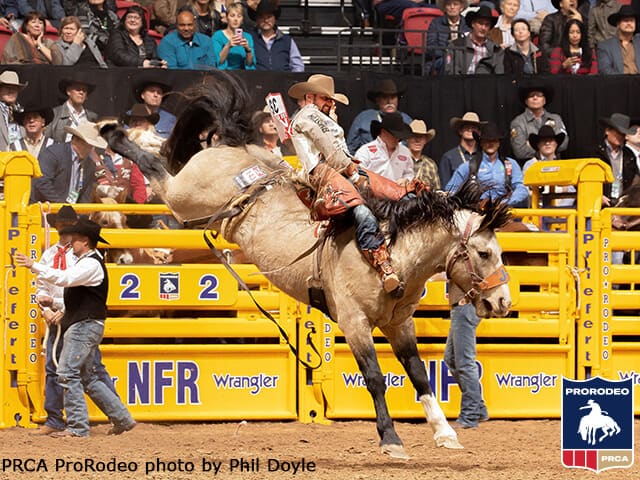 Competition at the pinnacle of professional rodeo requires a cowboy to be at their best, both mentally and physically. With that in mind, bareback rider Mason Clements and tie-down roper Cory Solomon are taking time to recover so they can hit the 2019 season at full health.
As of Jan. 9, Clements expected to be out of competition until the beginning of April.
Solomon was hoping to return to the rodeo scene in time for the Southwestern Exposition and Livestock Show in Fort Worth, Texas, which runs Jan. 25 through Feb. 9. But he won't know if he can compete at Fort Worth until a couple of days before the rodeo begins.
"If I re-injure it, I could be out two or three more months, so I'm waiting as long as I can so the 2019 season isn't hurt," Solomon said.
Clements initially injured his knee during an unsanctioned event in July and had to miss four weeks of ProRodeo competition. He chugged along through the regular season and the 2018 Wrangler National Finals Rodeo before having ACL surgery Dec. 20.
"We're making a full recovery as we speak," Clements said. "It's coming back strong. Working out is a full-time job now since I can't rodeo. I'm in the gym two to four times a day getting this thing strong and back to 100 percent again."
Having a couple of months off for recovery between the end of the regular season and the 2018 Wrangler NFR allowed Clements to compete in Las Vegas. He covered nine of the 10 horses he drew at the Wrangler NFR, placing ninth in the average with 757.5 points on nine head.
"It didn't give me any heck," Clements said. "It hindered me in what I could do in training to perform better, but that's what makes me excited about this season. I'll be 100 percent from July through the Finals."
Clements was walking the day after his surgery and started biking about six days later. He's added weights and range-of-motion exercises to his rehabilitation – along with plenty of ice.
"If I'm out of the house, I might as well grab a 20-pound bag of ice each day," Clements said. "I've got a deep freezer with about three extra bags of ice. I'll go through 20 pounds of ice every two or three days to keep the swelling out of it and to keep on track. I just need to keep the inflammation down so I can continue pushing it."
Although the 26-year-old bareback rider will miss big rodeos early in the season, he's optimistic about qualifying for the 2019 Wrangler NFR.
"I have a shorter time frame and I love the challenge," Clements said about trying to make his third qualification. "I'm up for it, injuries are no stranger to me as a rodeo guy. … It'll be a late spring and then I'll step on the peddle and never let it off."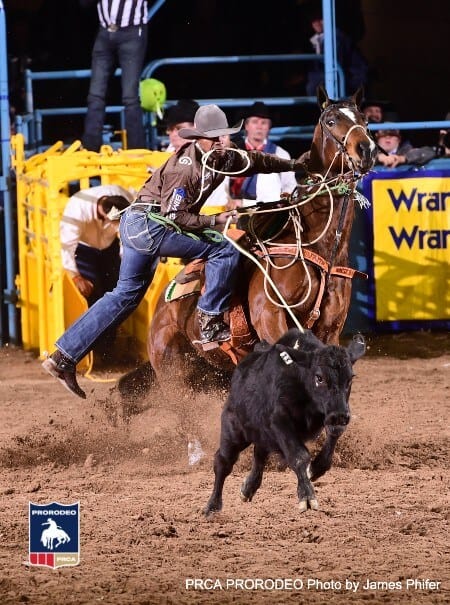 Before the 2018 Wrangler NFR, Solomon spent October and November training at the gym in preparation for his sixth trip to the Thomas & Mack Center. Unfortunately, he hurt his hand during the third round of the Finals.
"I trained before the Finals more than I ever have, and to get to the Finals and be basically left with no left hand for seven calves was a hard pill to swallow, Solomon said.
The Texas cowboy suffered tendonitis in his left hand, which is immobilized in a brace to keep his middle finger straight.
"I'm right-handed, but you can't flank the calf with your left hand," Solomon said. "When you go to tie the calf and squeeze the front leg to hold it, it shocks it (my hand) and it goes numb or it's a pain you can't believe. The doctors told me breaking it would have been better and healed it faster."
Solomon placed 13th in the average with 87.1 seconds on eight head.
"Who wouldn't try to rope at the Finals," Solomon asked.
Initially, Solomon was told it would be at least two months before he could rope again.
"I had tests at the NFR and then X-rays after and they said they didn't know how I could attempt to rope," Solomon said. "The most painful thing to do was close your hand."
The 28-year-old cowboy wasn't about to roll over and quit.
"I ran seven calves at the NFR with no left hand," Solomon said. "I'm hoping to return for Fort Worth."
The best form of rehab for his injury is to keep his tendons from stretching so they can heal.
"I haven't swung a rope since the last night of the Finals," Solomon said.
"It's a strange injury because my fingers need to be straight to heal," he added. "It's a tough pill to swallow but everything happens for a reason. It gives me a new mind-set. I'll appreciate and do my job even better now."
Solomon plans on limiting his competition this winter and spring to the larger rodeos so that he's not too far behind in the world standings once the summer run begins.
"I'm just going day by day," Solomon said. "It's going to be cutting it close to rope in 16 days from Jan. 8."
Solomon estimates that if he has between $20,000 and $30,000 won by June he'll be in good shape for the remainder of the season.
"I can hardly close my left hand to make a fist," Solomon said. "I'm trying to wait the longest I can to be healthy at those (big spring rodeos)."
Courtesy of PRCA