Clint Kindred Wins First Badlands Circuit Year-End Title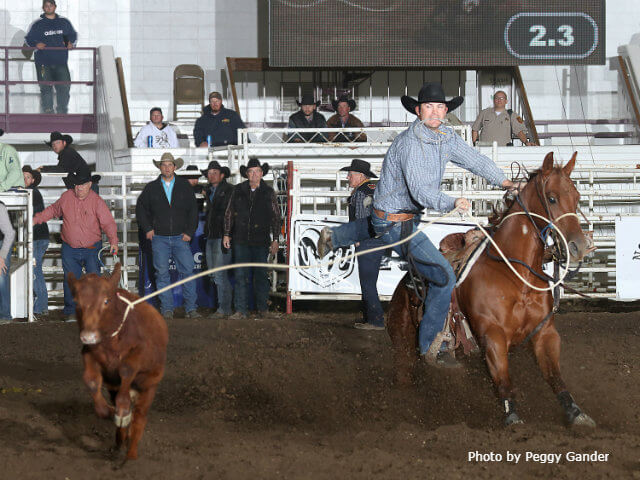 MINOT, N.D. – Tie-down roper Clint Kindred isn't keeping his buckles from the RAM Badlands Circuit Finals Rodeo on Sunday. Both the RAM BCFR buckle and the year-end buckle are going to his mom, Renee.
Kindred won nearly $7,000 while winning his first RAM BCFR year-end title and his second circuit finals title, while aboard Muley, a horse his mom picked out for him.
With his mom and dad (Mike) and his wife, Cally, all on hand in Minot on Sunday, Kindred capped the win with a 9.9-second run in the finals, giving him a rodeo-winning time of 38.6 seconds on four head.
The money helped vault him from third to first in the year-end Badlands Circuit standings.
"I think they (my family) were tickled," said Kindred, 28. "My mom was really tickled. I told her she could have the buckles because she bought the horse."
Several years prior, Renee saw an advertisement and liked the way Muley was bred. So, she bought him, splitting the cost with Kindred. The plan was to eventually sell the horse. Instead, Kindred liked the way Muley worked so much, he bought out his mom's half of the share.
After winning the first round of the RAM BCFR, taking third in the second round, tying for second in the third round and winning the average to cash in for $6,880, Kindred and Muley are hitting the rodeo road.
That was Kindred's hopes, and he and his horse made it a reality for the Oral, S.D., native who works on his family's ranch and his in-laws' ranch. He'll be hunting for his first Wrangler National Finals Rodeo qualification.
"I had planned to try it this year," Kindred said. "I told my wife I was going to try it this year if I had a good circuit finals. So I plan on trying it a bit more, especially with that horse that I got."
No way he's getting rid of Muley right now.
"He's not a very big horse, he's got a lot of try and he fits me," Kindred said. "When you train one, you know the ins and outs of him. He fits me, and he gives it his all every time. That's what I like about him."
Kindred's first circuit finals rodeo title came in 2015. That led to his qualification for the RAM National Circuit Finals Rodeo in Kissimmee, Fla. He's hoping this year's qualification for the RAM NCFR will be as successful as that 2016 trip, when he won the RAM NCFR and more than $18,000.
"That was pretty cool," he said. "I was pretty proud of that one, still am. That was a neat deal, it all came together for me. It shocked me when I won it."
He'll get a chance to duplicate that effort when the RAM NCFR kicks off in March. For now, he might not be wearing those buckles from Minot, but he'll be able to see them.
"She deserves them," he said about his mom. "… She has a (display) case."
Other winners at the $199,310 rodeo were all-around cowboy Eli Lord ($6,880, steer wrestling and team roping); bareback rider Ty Breuer (321 points on four head); steer wrestler Cameron Morman (17.2 seconds on four head); team ropers Turner Harris/Ross Carson (46.4 seconds on four head); saddle bronc rider Jade Blackwell (302.5 points on four head); barrel racer Lisa Lockhart (55.09 seconds on four runs); and bull rider Jeff Bertus (168.5 points on two head).
For more coverage of the RAM Badlands Circuit Finals Rodeo, check out the Oct. 19 edition of ProRodeo Sports News.
Courtesy of PRCA