Cody Devers Claims Lovington Crown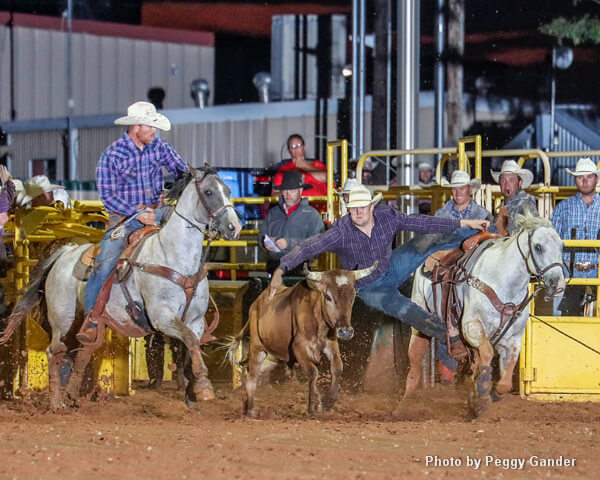 LOVINGTON, N.M. – Rodeo has its share of up and downs.
Steer wrestler Cody Devers has been a passenger on that roller-coaster ride since the last week of July.
The Alva, Okla., cowboy tore the medial collateral ligament in his right knee at Cheyenne (Wyo.) Frontier Days.
After doctoring out of several rodeos, Devers not only fought through the pain, but also captured the title at the Wrangler ProRodeo Tour Rodeo's Lea County Fair & PRCA Rodeo, which ended Aug. 11.
Devers won the average with a 7.6-second time on two head.
"This is the first time I have ever won this rodeo," said Devers, who made his inaugural appearance in Lovington last year and didn't have much luck. "I'm super excited. This is one of the top wins of my career."
Devers set the pace for his victory with a solid, 4.0-second run in the first round and then came back with a quick, 3.6-second effort in round two, which tied for first in the round and secured the average.
"It had rained like three inches in 30 minutes right before the rodeo started," said Devers, who made his runs Aug. 10. "I knew I had a pretty good steer in the first round and I just had to blow the barrier out. Then, to get that 3.6 (in the second round) was so exciting. The rodeo committee worked hard on things (because of the rain) and we were able to still compete and be competitive there."
For his performance, Devers earned $4,829, which came at a great time. As of Aug. 10, Devers was 35th in the 2018 PRCA | RAM World Standings with $28,212.
"This win was really good for me and a big confidence booster," Devers said. "I tore my MCL over there at Cheyenne, and I had to doctor release quite a few rodeos. So to be able to know that I can compete with all these guys feels good. I've been taping my knee and putting a brace on it and it is healing. I am feeling better every day."
During his victory runs, Devers was riding Django, a horse owned by his traveling partner, Blake Mindemann, who also hazed for him.
"Everything came together for me and that horse worked great," Devers said.
Devers not only won nearly $5,000 toward his spot in the world standings, but also earned first-place points in the Wrangler Tour standings. This is his second Wrangler ProRodeo Tour victory this season, as he also won in Corpus Christi, Texas.
The Wrangler Tour consists of 22 of the PRCA's biggest rodeos and culminates with the Justin Finale in Puyallup, Wash., Sept. 6-9. The top 24 competitors in the Tour standings in each event will earn a spot at the Justin Finale, as cowboys make a final push toward the all-important Top 15 in the world standings.
"That's one of my big goals this year," Devers said. "I should be in the top six in the Wrangler ProRodeo Tour standings after this win. It would be great to get to go up to Puyallup and try to win a chunk of money toward the end of the season."
Other winners at the $222,817 rodeo were all-around cowboy Marcus Theriot ($6,374 in steer wrestling and team roping); bareback rider Bill Tutor (87 points on Pete Carr Pro Rodeo's Good Time Charlie); team ropers Marcus Theriot/Cody Doescher (10.5 seconds on two head); saddle bronc rider Taos Muncy (86 points on Pete Carr's Classic Pro Rodeo's Drama Queen); tie-down roper Hudson Wallace (17.7 seconds on two head); barrel racer Andrea Busby (17.61 seconds); steer roper Bryce Davis (44.4 seconds on three head) and bull rider J.W. Harris (88 points on Pete Pro Rodeo's Cat Skat).
Courtesy of PRCA