Cody Teel Conquers Penny Lover to become the 38th Champion of the George Paul Memorial Bull Riding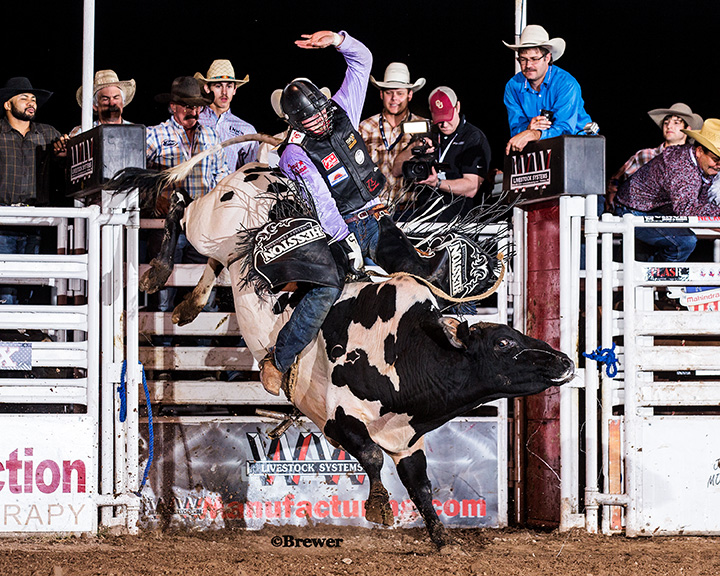 Del Rio, Texas (April 26, 2015) – Three times Cody Teel has faced Benny Cude's all star bucker, 8043 Penny Lover, and three times the 2014 CBR Bull of the Year has won. In front of a beyond capacity crowd at the Val Verde Fairgrounds, the 2012 bull riding champion of the World faced his arch rival for the fourth time and won. Cody Teel would ride Penny Lover for the first time in his career to win $20, 750, two custom engraved belt buckles, a custom pair of Fenoglio boots, and most importantly to him, the oldest continuous stand-alone bull riding in the world, the George Paul Memorial.
Named in memory of George Paul, the bull rider that still holds the record for the bull rider with the most consecutive bull rides, 79 in 1968, the annual two day bull riding produced by Bobby Paul, is a ritual for bull riding fans and western lifestyle enthusiasts in south Texas.
Making his second appearance in Del Rio, Teel had this to say about his journey to the top of the leader board of what is still considered the most prestigious win in bull riding, "I decided not to over think it, I didn't do anything I had tried in the past, I just relaxed and said to myself, just ride it out..and it worked, the bull felt really good to me tonight," said the twenty-two year old from Kountze, Texas.
Winning his third CBR event title on the 2015 Mahindra Road to Cheyenne televised tour, Teel's three qualified rides in Del Rio gave him the points needed to take the lead in the CBR World Standings race where he will arrive in Cheyenne with a 33 point lead over the reigning CBR and PRCA World Champ, Sage Steele Kimzey.
Round one consisted of nine qualified rides with the bulls taking care of business bringing 18 riders down early. Neil Holmes, Houston, Texas won the round with a thrilling 91 points on Silver Creek's American Fire. Paired with a rookie bull, Juan Alonzo, a retired United States Army veteran who was featured in the opening ceremonies, would prove he belonged to be among the top cowboys finishing second with an 89.5 on Cude's Energy Too.
Four 88.5 scores would be turned in by Bothwell, Toon, Toves, and Roundy. After a reride was awarded to Corey Bailey he would hear the whistle at 88 points followed by Teel with an 87.5 and Kimzey with an 87, both on bulls they had never attempted.
With the CBR World Finals qualifying positions at stake for each cowboy and every bull, the semi- finals began with the three riders who qualified on time bucking off. Kimzey would strike first on J87, a son of Real Deal making his CBR debut representing the Cunningham & Scoggins bull team. Not moving ten feet from the out gate, Lil Red would crank it up to give Kimzey 89 points to be the first man to ride two in Del Rio.
Teel would keep pace with 88.5 on a bull he had not seen before, 1160M Mr. Wilson from M & M Rodeo Co. Halfway thru the second round, Lane Toon stepped up to be the first cowboy of the season to ride 54 Cadillac Red, a bull that had not been ridden since the 2014 Del Rio event. The next four would come down early leaving Neil Holmes to determine if he would be one of the final four cowboys to make the final four Shoot Out Round in the CBR winner take all tournament style format. The luck of the draw would continue to match the bull riders on stock they had never attempted, but Neil Holmes would take Pointed Rock's Arm Candy for a 90 point spin to set the stage for the final round.
With a 91 and a 90 thus far, Neil Holmes was 181 on two, earning him the right to select bull rider favorite 846 Black Betty for his final ride. Toon was next and he chose Rocking R's A-Whooping. Kimzey, who rode into Del Rio as the number one bull rider in the CBR was tied with Cody Teel for 176 after two rounds. Kimzey, who has attempted Penny Lover five times, would pass on a sixth attempt and select the bull he was 90 plus points on last year in Cheyenne, Cory Melton's Crimson King, leaving Teel with Penny Lover.
As the final bull rider qualified for the Shoot Out Round, Cody Teel, would ride first. Taking his time to prepare, Teel would stun the crowd, the CBR and himself with his 90 point domination of Penny Lover. Melton's Crimson King won the rematch with Sage Kimzey as he came down early just shy of the whistle. A Whooping would get the best of the rookie Lane Toon and Holmes, who rode three to finish second in the 2014 George Paul Memorial Bull Riding, was set on Black Betty, a bull who has taken ten cowboys to 90 point plus rides on the CBR tour. Holmes, the CBR 2014 Finals average champion would be overpowered by the big black high flying bull at 5.7 seconds.
For thirty eight years professional cowboys, bulls, and fans have made the trek to the border town to either make or be a part of bull riding history. As fate would have it, the 2012 PRCA World Champion bull rider, Cody Teel, would take his place on the wall of fame as the 38th George Paul Champion in Del Rio, Texas as well as advance to the number one ranking in the CBR World Standings for the 2015 Mahindra Road to Cheyenne tour.
The Million Dollar Bull Team Challenge finished up the 2015 season in Del Rio with Mike Rawson winning his second George Paul Memorial Bull Riding team championship. The 2013 Stock Contractor of the year was proud of his buckers in Del Rio and thought they all turned in outstanding performances despite not one cowboy covering his bulls.
Rawson, who shot to the top of the CBR Bull Team standings, will continue on to Cheyenne to compete for the $100,000 bonus prize money. Rawson's team win edged out Brad Vogele's Silver Creek team by a mere .13 points, the closest team competition win of the year. White Wolf, who returned to action with Rawson's team after recovering from a horn infection, led the team as the highest marked bull score of the night, 90 points.
Del Rio was the final event of the 2015 CBR Mahindra Road to Cheyenne regular season for both riders and bull teams.
Del Rio Results –
Round One
1, Neil Holmes, 91 points on American Fire (Silver Creek). 2, Juan Alonzo 89.5 on Energy Too (Cude). 3 (Tie) 88.5, Tanner Bothwell on Bounce It (Silver Creek) Lane Toon on Big Sexy (Rockin R), Taylor Toves on Showtime (Hurst), Chris Roundy on No Hands (Cude). 7, Corey Bailey 88 on Cracker Jack, 8,Cody Teel, 87.5 on Honey Badger (Pointed Rock). 9, Sage Kimzey 87 on Shindig (Rockin R).
Semi Final Round
1, Neil Holmes, 90 on Arm Candy (Pointed Rock). 2, Sage Kimzey, 89 on Lil Red (Cunningham Scoggins). 3, Cody Teel on Mr. Wilson (M & M). 4, Lane Toon 87.5 on Cadillac Red (Benny Cude).
Shoot Out Round – 1, Cody Teel 90 on Penny Lover (Benny Cude) $20,750
Bull Team Results
1. Mike Rawson 281.65 $20,000
2. Silver Creek 281.52 $12,000
3. CPR/Cude 281.30 $8,000
4. Rockin R 281.17 $5,000