Colmo del Rodeo Parade Grand Marshal has a Good Medal Attitude
Nick Cunningham is from Monterey County and loves the California Rodeo Salinas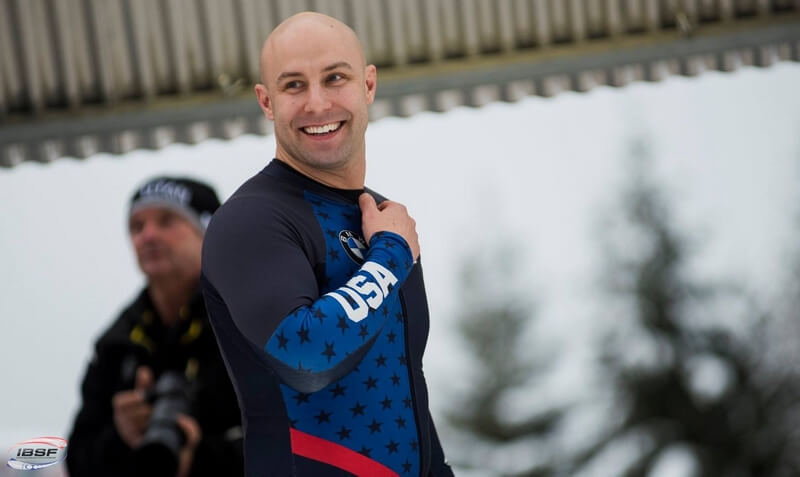 SALINAS, CA, June 21, 2018 – The annual Colmo del Rodeo Parade produced by the California Rodeo Salinas and presented by Star Market will take over the streets of Old Town Salinas on Saturday, July 14th with former Olympian Nick Cunningham leading the festivities. Nick grew up in Monterey, attending Monterey High School, Monterey Peninsula College and then moving on to Boise State University, before starting his bobsled career. That career lasted nine seasons including three Olympics and six World Championships earning nine Cup medals and one United States National Championship. Nick also served seven years in the United States Army Corp of Engineers where he was a Sergeant and a Team Leader in the World Class Athlete Program. Nick recently achieved his Master's Degree in Athletic Coaching Education from Ohio University. After years of attending the California Rodeo Salinas, Nick wanted to have more involvement in California's largest professional rodeo and now volunteers each July. Passionate about education, athletics and community, Nick has talked to over 10,000 students and businessmen and women alike to help foster teamwork, set attainable goals and embrace a competitor's mentality.
Witness Nick leading the Colmo del Rodeo Parade at 8pm on Saturday, July 14th in Salinas from Acacia Street all the way to the Steinbeck Center at 1 Main Street. It was once the largest night-lighted parade west of the Mississippi and was revived in 2010 during the California Rodeo's centennial celebration. Over 15,000 people come out annually to enjoy the free parade full of floats, dance groups, bands, horses, tractors and more. Entries are now closed. Over 40 groups have committed to participate including eight marching bands coming from Fremont, Sacramento, Gonzales and Salinas. Among the other entries in this year's parade, the Alisal Community Arts Network Marching Band and their Mariachi Juvenil program, Gilroy Rodeo with a horse-drawn wagon, Salinas High School All-District Marching Band, Monterey County Fair with a float titled 'Play Music' with the Monterey Sound Machine and the Sacramento Youth Band will all partake in the festivities. Parade chairman Mikel Ann Miller said, ""I am thrilled to have the Colmo del Rodeo Parade once again; I love seeing the families enjoying the kick off to the California Rodeo."
More information about the parade can be found here: https://www.carodeo.com/events/2018/colmo-del-rodeo-parade-2018
About California Rodeo Salinas
The 108th California Rodeo Salinas will take place July 19th-22nd, 2018. The California Rodeo Association is a not-for-profit organization that strives to preserve and promote the traditions of the California Rodeo Salinas and the West. We support the community and other non-profit organizations through the staging of the annual California Rodeo Salinas and other year round operations of the Salinas Sports Complex. Through donation of our facility, vending and fundraising opportunities during Rodeo and other events, the California Rodeo Association returns over $400,000 annually to local non-profits. For more information about the California Rodeo Salinas, log on to www.CARodeo.com or call the California Rodeo Office at 831-775.3100. 'Like' the California Rodeo on Facebook at www.facebook.com/CARodeoSalinas or follow us on twitter @CaliforniaRodeo for updates, photos and more.