Colton Miller Notches Saddle Bronc Win at Casper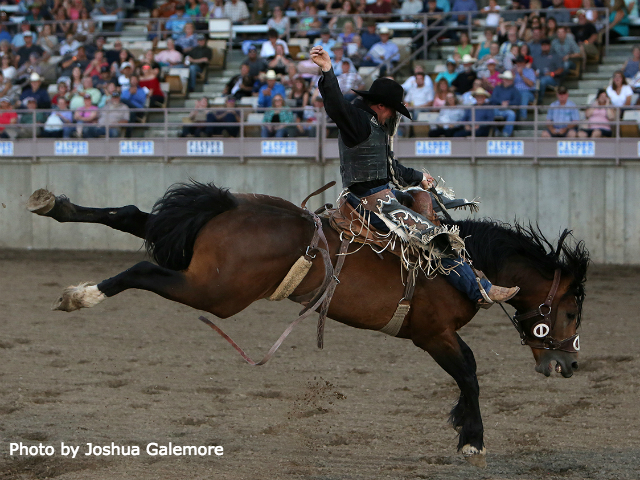 CASPER, Wyo.- Saddle bronc rider Colton Miller is a resident of the Cowboy State, and he was certainly in a cowboy state of mind this week at the Central Wyoming Fair and Rodeo.
With a two-head average of 166.5-points, Miller clinched the victory with a short round ride of 84.5-points. Miller's average total scored just north of two-time World Champion Taos Muncy, who closed with a two-head sum of 163. Combining his two rides, as well as the average crown, Miller was on the receiving end of $5,030 come Saturday night.
"I drew pretty good", Miller said. "My first horse was a Big Rafter horse called Who Knows, and I didn't know much about him but I had heard a lot of good things, and he was really good."
Miller's 82-point ride atop of Who Knows secured him a place in Saturday night's final round, where the 24-year-old cowboy saved his best, against the best. Squared off with Cervi Championship Rodeo's Lunatic Street, the offspring of noted bucking horse Lunatic Fringe, Miller managed to beat the eight-second clock and mark a winning 84.5-point concluding ride, securing the win.
"(Lunatic Street) was really good, and felt really good," Miller explained.
A resident of Lance Creek, Wyo., Miller's drive to Casper covered roughly 100 miles down Interstate-25, and naturally, the Mountain Circuit cowboy wasn't shy in soaking up the emotions that come with winning a close-to-home rodeo.
"It feels pretty good to do well in front of the home state crowd," Miller said. Chuckling, he added, "I'm guessing I had some fans up there."
He certainly had fans in the stands of the Central Wyoming Fairgrounds, as the short trip to Casper meant that Miller was able to share the thrill with members of his family.
"My grandpa and grandma had come up to watch me in the long round and in the short round," Miller said.
Despite an "up-and-down" start to his 2017 season, Miller believes that his Casper win is the start to a late-year rally.
"Maybe it'll help me get my name out there a little more," Miller noted. "I didn't have any circuit money won until now, and I hadn't been to too many circuit rodeos, so this will help with that."
Other winners at the $239,118 rodeo are all-around cowboy Trevor Brazile ($1,747 in tie-down roping and team roping), bareback rider David Peebles (168 points on two head), steer wrestlers Cole McNamee and Tom Lewis (7.8 seconds on two head each), team ropers Nelson Wyatt/Trace Porter (10.5 seconds on two head), tie-down roper Scott Kormos (15.6 seconds on two head), barrel racer Taci Bettis (34.56 seconds on two runs) and bull rider Boudreaux Campbell (175 points on two head).
Courtesy of PRCA