Cooper Martin Cashes in at St. Paul Rodeo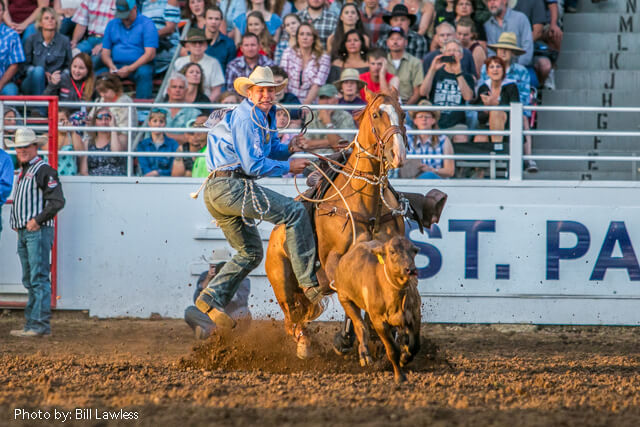 ST. PAUL, Ore. – Riding Payday led to a big paycheck for Cooper Martin at the St. Paul (Ore.) Rodeo.
The tie-down roper won the two-head average with an 18.0-second time.
"This is a big win and I want to keep the ball rolling," said Martin, 21.
For his effort, he departed town after earning $9,366. The timing of the victory was ideal for Martin as he began July 7 in 19th place in the PRCA | RAM World Standings with $36,571.
Martin was solid throughout in St. Paul. He had a 9.4-second run in the first round and followed that with an 8.6-second time in the second round.
"In the first round, I ran her out there and she stepped right, and I popped her down," Martin said. "When I flanked her, I thought she was going to kick and she took the tie. That's just where I wanted to be after the first round. Then on my next one I knew I had a really good one. I knew all I needed to do was catch her, and it was going to be easy."
Martin purchased Payday in May 2017 from fellow tie-down roper Reese Riemer. Payday and Martin have meshed from the start.
A year ago, with Payday providing the horsepower, Martin made his Wrangler National Finals Rodeo debut. He finished ninth in the final world standings and earned $65,846 in Las Vegas, highlighted by winning Round 4 with a 7.6-second time.
"He (Payday) is awesome and he can really run," Martin said. "It always helps to draw good calves, but you darn sure have to have a fast horse, and he has been awesome. I'm really glad that he stayed sound, and I'm going to keep riding him all summer. He's 18 now, and my goal is to keep him as long as I can."
The win at St. Paul added another layer of success for Martin during Cowboy Christmas. He was victorious at the Cody (Wyo.) Stampede (July 1-4) and pocketed $10,046, and he finished third in the average at the World's Oldest Rodeo in Prescott, Ariz., (June 28-July 4) to earn $4,532.
Those earnings put Martin one step closer to returning to the Wrangler NFR, but he's keeping things in perspective.
"Everybody who makes the NFR, it is always their dream come true, but for me there's more pressure making it again," Martin said. "At the beginning of the year, I was trying to prove myself to make the Finals again rather than just going out there and realizing if I make the Finals I will make it and if I don't, I don't. I realize that nothing is guaranteed."
Other winners at the $360,982 rodeo were all-around cowboy Clayton Hass ($3,966, steer wrestling and team roping); bareback rider Tim O'Connell (85.5 points on Bridwell Pro Rodeos' Ted), steer wrestler Tyler Pearson (8.1 seconds on two head); team ropers . Garrett Rogers/Russell Cardoza and Kolton Schmidt/Cole Davison (10.0 seconds on two head); saddle bronc rider Chase Brooks (87.5 points on Corey & Lange Rodeo's Diamond Fever); barrel racer Tracy Nowlin (17.26 seconds) and bull rider Stetson Wright (91 points on Big Stone Rodeo Inc's Mortimer).
Courtesy of PRCA