Cooper's Comet, Get Smart Shine at NFR
Courtesy of Wrangler Network contributor Ted Stovin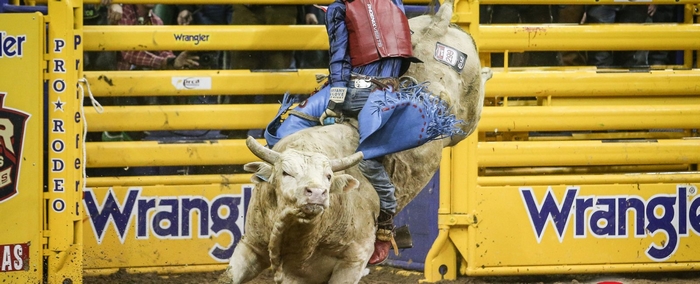 LAS VEGAS, Nevada — The stars aligned on Friday night at the Wrangler National Finals Rodeo for Canadian bucking stock. Both the bronc riding and bull riding was won on animals from north of the 49th.
First off, Utah's youngest Wright here at the finals put up an extravagant 86 points on Get Smart from the Northcott/Macza firm for the first place $26,231 check.
Then, something happened that I don't have many words for yet.
Cooper Tonneson passed away two years ago, to the day, at the age of 19. Cooper was Nansen Vold's brother.
On Friday in Las Vegas at the NFR, Nansen flanked his first bull ever here on rodeo's biggest stage.
That bull's name?
Cooper's Comet.
Tonight, in the marquee matchup of Round 2, Cooper's Comet matched up with Roscoe Jarboe of New Plymouth, ID for a score of 88.5 points, the round win, go-round buckles and $26,231.
"It's been an emotional day, it's crazy," Nansen said. "It doesn't make any sense, it's crazy."
Something bigger was happening on Friday, something special.
"That's what it's always about. Covy (Moore) called it the best 'like a comet in the sky' that's what it was all about. Looking from up above."
Hudson Hope, BC's Jake Watson earned his first check ever at the NFR in Round 2 thanks to an 83 on Tip Off from Frontier rodeo. The score put him in third place for an $11,000 check moving him to 13th in the world standings. Zeke Thurston almost made another huge ride on Killer Bee, the same horse he won Tucson on with a 91 point score but came up short at 7.92 seconds. Clay Elliott put up 75.5 points but finished out of the money. Jake Wright was 80.5 points to earn $6,769 on Tiger Warrior from the Calgary Stampede.
Levi Simpson and Jeremy Buhler are two-for-two placing wise, they caught sixth for $4,231 with a time of 4.9 seconds. Six seconds back were Kolton Schmidt and Shay Carroll, after Carroll slipped a leg. They didn't place.
Both Orin Larsen and Jake Vold didn't have any luck on Friday finishing in 13th and 14th with scores of 73 and 69.5 respectively.
#TeamCanada earnings to date: $75,591 (plus $80,000 in appearance fees.)
Canadian bucking stock earnings to date: $83,558
Coverage of the 2016 Wrangler NFR on Everything Cowboy is brought to you by 3D Bull Riding Inc. Click or tap the logo below for new styles of hats, on sale today!