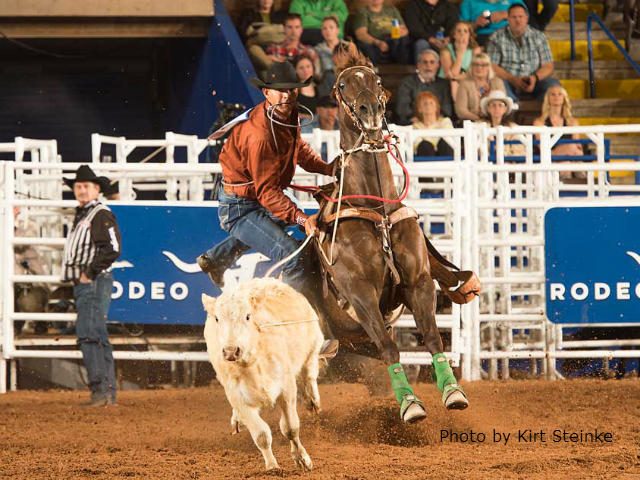 AUSTIN, Texas – A year ago, Marcos Costa made PRCA history.
Costa became the first Brazilian tie-down roper to qualify for the Wrangler National Finals Rodeo – and he finished 11th in the world standings with $148,073.
This year Costa doesn't show any signs of slowing down.
Costa was in top form March 26 as he won Rodeo Austin with an 8.6-second time in the finals at the Travis County Expo Center.
"This is a result of hard work and the blessing that God gave me and I made three good runs," said Costa, 25.
Costa has had a solid season so far as he was 11th in the March 21 Weather Guard PRCA World Standings with $15,688. He added $10,973 to that total with his win at Rodeo Austin, which ran from March 12-26. Costa had an 8.8-second time in the first round and a 9.9-second time in the semifinals.
"In the first round I didn't draw a very good calf and my calf in the second round wasn't very good either, but I just tied them both down and came back for the short-go," Costa said. "I have a young horse and I've just been riding her for three months and she was really good (in the finals) and helped me a lot."
Costa's new horse's name is Paraguia, who he bought with a partner from Ryan Jarrett in December.
"She was a young horse and he (Jarrett) didn't ride her in too many rodeos," Costa said. "She has all the tools and should be good, and I've already won a lot of money on her."
Costa was especially happy about how things unfolded for him in the finals.
"The calf wasn't fast and was big, but I made a good run," Costa said. "I just roped sharp and tied her down, and I thought my time would be good enough (to win)."
Costa's hometown is Parana, Brazil, but since he joined the PRCA in 2014 he has lived in Childress, Texas. He acknowledged qualifying for the 2015 Wrangler National Finals Rodeo presented by Polaris RANGER is something he will never forget.
"Those 10 days were a dream for me and I never wanted to wake up," said Costa, who won $63,731 at the WNFR. "All the people who I love and my friends were there to watch me. It was really hard because I left everything in Brazil to rope here (in the PRCA), so going to the Finals meant a lot to me. If I can make it back this year, I know what to expect, so things will be different for me."
Other winners at the $517,282 rodeo were bareback rider Jake Vold (86.50 points on Andrews Rodeo's Ptsd Power Play), steer wrestler Logan Gledhill (3.6 seconds), team ropers Cale Markham and Billie Jack Saebens (4.5 seconds), saddle bronc rider Nat Stratton (88 points on Beutler & Son Rodeo's Wound Up), tie-down roper Marcos Costa (8.6 seconds), barrel racer Abby Penson (15.29 seconds) and bull rider Shane Proctor (87.50 points Beutler & Son Rodeo's South Point Style).
For more coverage of Rodeo Austin, check out the April 8 issue of the ProRodeo Sports News.
Courtesy of PRCA